Retailers Are Now Slashing Prices on Ivanka Trump Products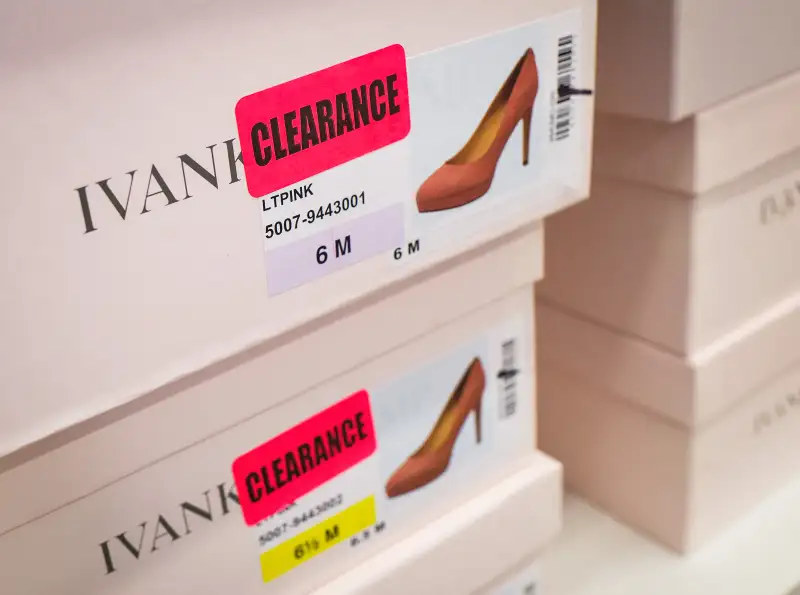 Drew Angerer—Getty Images
Nordstrom says that its recent decision to stop selling Ivanka Trump designs has nothing to do with politics. "Sales of the brand have steadily declined to the point where it didn't make good business sense for us to continue with the line," a Nordstrom statement explained.
The White House, however, has refused to believe that the decision was simply about business. President Donald Trump criticized Nordstrom on Twitter for treating his daughter Ivanka "so unfairly," and Press Secretary Sean Spicer followed up by defending the president's right to defend his daughter. "This was less about his family business and more about an attack on his daughter," Spicer said. "This is a direct attack on his policies and her name."
Perhaps the White House argument would have some merit if Ivanka Trump's products were selling like hotcakes. But instead, there are signs that her designs have been in a slump, with online sales of the brand reportedly down 26% in January 2017 compared to the same month a year ago, according to one analysis from a market research firm.
Politics may be playing some role in the downfall of the brand, which has been targeted for boycott by the anti-Trump #GrabYourWallet movement. But there is another possible explanation for why Ivanka Trump sales have been dismal: As one writer at Wonkette observed, perhaps the president's daughter is "actually just bad at fashion."
It's not just Nordstrom pulling the plug on Ivanka Trump's merchandise. Neiman Marcus, T.J. Maxx, Marshalls, Belk, ShopStyle, and the Home Shopping Network are among the retailers that have recently decided to not sell or scale back on Ivanka Trump products. "If Ivanka's line were selling, these stores would keep it in stock," the Wonkette post stated.
Mind you, there are some retailers still selling Ivanka Trump goods. Yet in many cases, they too seem to have a hard time convincing shoppers to bite. The shopping page at IvankaTrump.com links to a few dozen products listed at full price, mostly via Zappos and Bloomingdale's. But at many other sites, shoppers can expect enormous discounts on Ivanka Trump products. Here are some sites resorting to fire-sale prices—50%, 60%, even over 70% off—to move whatever Ivanka Trump merchandise they still have in inventory.
6pm.com: The discount e-retailer—which doesn't sell anything at full price—lists 326 different Ivanka Trump products now on sale, including more than 100 pairs of shoes and sunglasses for at least 50% off. Trump's Carra3 shoes, for instance, are listed at $54.99, or 59% off the $135 retail price, while sunglasses originally priced at $98 are on sale for $14.99.
Lord and Taylor: Dozens of Ivanka Trump shoes are now on sale on a buy-one, get-one-50%-off basis, and others are subject to plain old clearance discounts. For example, a pair of Domin Patent Leather Pumps originally listed at $145 has been marked down to $58.
DSW: Nearly 50 Ivanka Trump products are on sale at DSW, with discounts often surpassing 50% off. Ithea 2 Wedge Sandals were selling for $49.94, rather than the list price of $140, for example.
Century 21: The vast majority of Ivanka Trump coats, sunglasses, dresses, and blouses on the retailer's website are at least 40% off, and some discounts go much higher. More than 15 Ivanka Trump dresses are now listed at $49.99, down from their original prices of $119 to $138.
Walmart.com: Third-party sellers list many Ivanka Trump products for sale on Walmart's website, and the discounts are often huge—think $58 for a pair of heels that were originally priced at $130 or even $200, with free shipping on most orders.
Amazon: A wide range of Ivanka Trump merchandise is up for grabs at Amazon, some of it at phenomenally cheap prices. One pair of black leather flats shown with a list price of $155 is going for just $26.99 via a third-party seller.
Macy's: More than half the Ivanka Trump fashions at Macy's are on sale right now, including coats for $159 (originally $325) and dresses for $53.99 (originally $148).