Jennifer Lawrence Has a Key Piece of Advice for Getting a Raise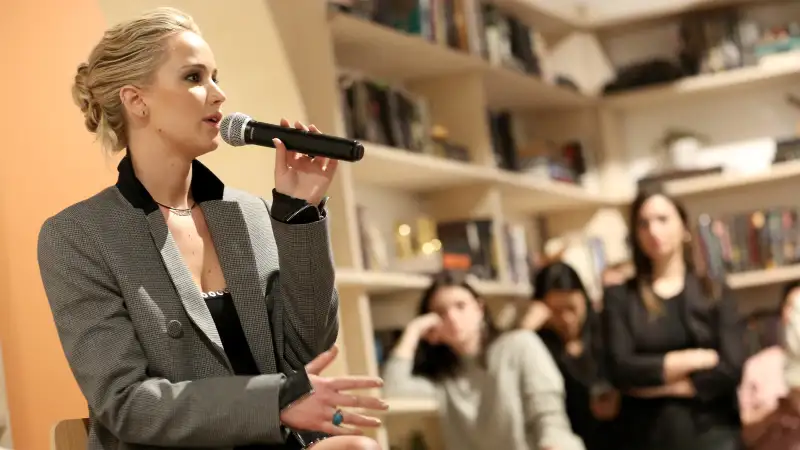 Monica Schipper—Getty Images for The Wing
It's your responsibility to know your worth — and to fight to defend it.
That's according to Jennifer Lawrence, one of the highest paid actresses in Hollywood and a vocal advocate for equal pay. "I feel I know my worth, and I feel like I work to keep it that way," Lawrence told 60 Minutes Sunday in a wide-ranging interview that explored her meteoric rise in the film industry.
But Lawrence did not always have that mentality. In 2015, the actress wrote an op-ed in Lenny Letter that detailed how she earned less than her male co-stars in 2013's American Hustle, a role she later received an Academy Award nomination for. Lawrence wrote that despite a systematic, sexist culture that plagues negotiation talks, she was the one that "failed as a negotiator."
"Because I didn't fight hard enough," Lawrence told 60 Minutes. "It was my own mentality that led me to believe that I didn't deserve to be paid equally."
To be clear, Lawrence's situation differs from those experienced by women and people of color who have also historically earned less than their white, male peers . "I didn't want to keep fighting over millions of dollars that, frankly, due to two franchises, I don't need," she wrote of her American Hustle negotiations in 2015. But finding that power to negotiate, as evidenced by her story, can be applied universally.
When negotiating her salary, Lawrence said she didn't want to come off as "difficult" or "spoiled" — qualities she said she doubts her male co-stars worried about. "If anything, I'm sure they were commended for being fierce and tactical, while I was busy worrying about coming across as a brat and not getting my fair share," Lawrence wrote in the 2015 op-ed.
Indeed, navigating the murky waters of negotiation power is a tricky task for women. Lawrence's philosophy mirrors others from women who believe it's up to them to fight for higher pay. But external factors in the workplace can impact how that can be conducted. For example, speaking up on any issue for that matter is seen as a negative quality for women in the workplace, but a positive one for men, according to a 2012 study.
Changing laws and transparency about pay in recent years are a step in the right direction. Several cities have passed legislation that bans companies from asking prospective employees their salary history — a tactic seen by equal pay advocates as something that perpetuates wage discrimination. In Hollywood, male actors have taken pay cuts to ensure they earn the same as their female co-stars (though some advocates will tell you lessening the wages for men is not the point), and television writers and producers created a Google Doc to anonymously share their compensation to grant more negotiating power to those in similar positions earning less.
But Lawrence told 60 Minutes that negotiations can sometimes differ in Hollywood depending on how well her previous films have done at the box office. "If the next few movies don't do well in the box office, I won't get paid the same," Lawrence said. "That's how it works. If you can't prove that you deserve that number, then you're not gonna get it."
That hasn't stopped some male actors from earning more. A recent Forbes list measured the most over-paid actors in Hollywood based on their pay day for a film and its subsequent box office performance. That list only featured men.
"This, it's all very temporary," Lawrence said. "Hollywood is very fickle."
"I don't want to sound like I'm on a high horse, 'cause I might be on a tiny little Shetland pony in a month," she added.