Jeopardy Has a Pretty Good Response to That Beatles Clue Everybody Hated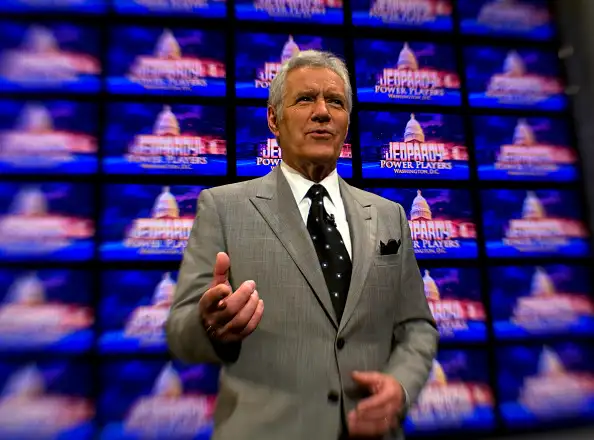 Tracy A. Woodward/The Washington Post via Getty Images
If you think love is the equivalent of a grueling week at work, you may be eligible to compete on Jeopardy.
The long-running game show puzzled some viewers and The Beatles fans Tuesday night with a Final Jeopardy round that may have misinterpreted the band's 1964 hit "Eight Days a Week."
Before wagering thousands of dollars to determine the game's winner, contestants were given the prompt under the category of 1960s No. 1 songs: "Complaints about heavy workloads inspired the titles of 2 songs by this group, No. 1 hits 7 months apart." Two of the contestants — Katy, who was in the lead heading into Final Jeopardy, and Robert, who was several thousand dollars behind — guessed correctly with The Beatles. But Robert took the win with game-winning wager of $11,000, giving him $23,601 in the end.
Alex Trebek explained the two back-to-back Beatles hits suggested from the clue were "A Hard Day's Night" and "Eight Days a Week." Now, The Beatles are perhaps a shoo-in for a category asking about a popular band from the 1960s, but some fans noted that "Eight Days a Week" isn't about a "heavy workload." Exhibit A: "Ain't got nothin' but love baby, / Eight days a week," the song goes.
But in a statement to Money, the show emphasized how the song "Eight Days a Week" isn't about a heavy workload, but instead inspired by it. A representative from Jeopardy said Paul McCartney had the idea for the song after chatting with a taxi driver on the way to the studio.
"Have you been busy?" McCartney asked him, according to the show. "I'm been working flat out, eight days a week," he replied, the show said.
"There are also stories that Ringo coined the phrase with a similar backstory, but either way, it seems to be a pretty fairly worded clue," the show said.
With previous controversial rulings on the show, Jeopardy sometimes takes to its online blog to explain what happened. Back in January, for example, a contestant incorrectly mispronounced Coolio's "Gangsta's Paradise" and subsequently lost $3,200. Back then, the show explained that "gangsta" and "gangster" — the latter being how the contestant pronounced the song — had two different definitions in the Oxford English Dictionary.