Kanye Wants to Return His $14 Million Christmas Present for Kim. It Might Not Be That Simple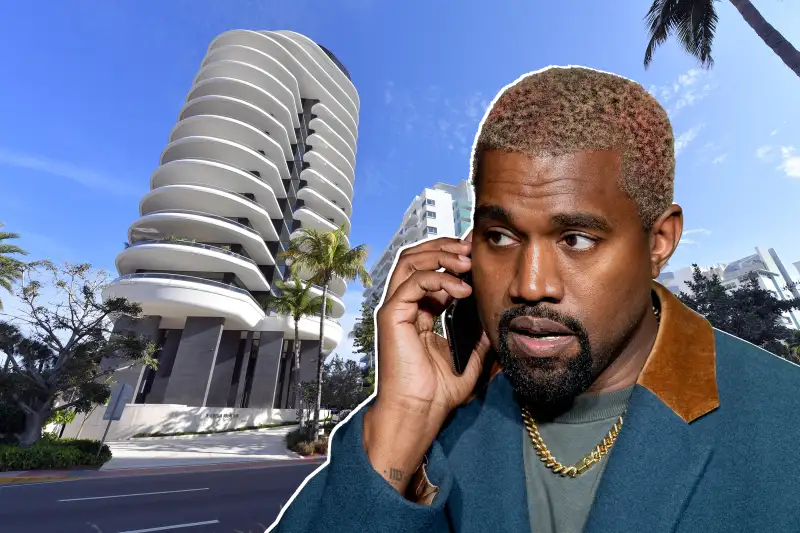 Photo illustration by Sarina Finkelstein for Money; (Faena House) Storms Media Group—Alamy; (Kanye) Roy Rochlin—Getty Images
Sometimes Christmas gifts just don't work out. Unfortunately for Kanye West, it's hard to return a multimillion-dollar condo.
A condominium listed for $15.5 million at Miami's Faena House is back on the market after the musician backed out of the sale — a move in the interest of privacy that reportedly cost him his deposit of around $600,000, according to Page Six. "It was not private enough for them," a West representative told the outlet.
News of West's interest in the 4,700-square-foot spread, part of the so-called "Billionaire Beach Bunker" that serves as a summer home to CEOs and banking executives, broke shortly after Christmas. The musician reportedly agreed to pay $14 million for the condo in the luxury building as a Christmas gift for his wife, Kim Kardashian West. Several days later, the pair were photographed by paparazzi at the property, which comes with four bedrooms, five-and-a-half bathrooms and an oceanfront balcony.
"It was just not a good fit for the family," a source told PEOPLE. "It's not private and not enough rooms for other family guests."
While $600,000 sounds like a lot of money to lose — and, indeed, that deposit alone could buy about two average houses — it's not a significant chunk of West's estimated $250 million net worth. West and Kardashian's primary residence, located at Lisa Marie Presley's former home in Hidden Hills, is reportedly valued at $60 million.