How to Handle a Kanye West in the Workplace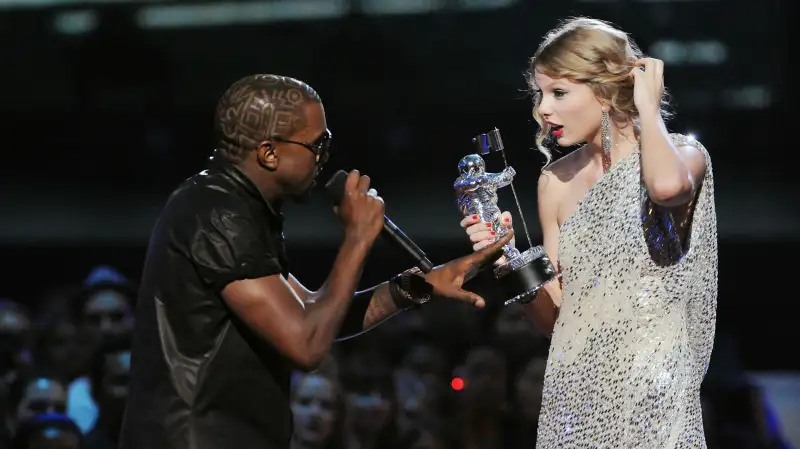 Jeff Kravitz—FilmMagic/Getty Images
No Kanye West, Taylor Swift doesn't owe you sex for "aiding" her career. Even in an age when it's second nature for artists to seek attention by being intentionally outrageous and offensive, the latest controversy created by Kanye hits a new low.
In case you haven't heard, social media users blew up Thursday morning after Kanye West released his new album, "The Life of Pablo," which included a song with this verse referring to Taylor Swift: "I feel like me and Taylor might still have sex/Why? I made that [expletive] famous."
West carried on the goodwill Friday morning by defending himself on Twitter, claiming that Swift herself had credited her career to him and approved the lyric (Swift's reps have denied the claim).
The comments are certainly bizarre and potentially laughable. Taylor Swift, the biggest pop star in the world, did not need Kanye West to become the powerhouse that she is. Also, West is apparently saying he made Swift's career by famously stealing a microphone from her after she was winning awards and selling out arenas. Even more despicably, West thinks whatever success he believes he generated for Swift is a justification for sex.
Unfortunately, it's an issue women in the workplace are all too familiar with. Over half of workers say they have experienced sexual harassment on the job, and 79% of those who have been harassed are female. Sexual harassment in the workplace is a form of sex discrimination, and it violates Title VII of the Civil Rights Act of 1964.
Read Next: These Grammy Nominees Are the Most Money Savvy
If this happens to you, here's what you can do. Experts say that if the offender makes you uncomfortable (but isn't, say, physical with you), talking to him or her as a first step may be enough. The person in question may not know what they're doing is harassment, and will curb their behavior after the issue is raised.
But West and Swift seemed like friends, and it could be beyond awkward to have such a discussion. So if you feel talking to the person won't be enough (or you're just not comfortable doing so for any reason), make very specific notes about the incidences, documenting the time, place, comments/behaviors, and any witnesses who can back you up. Take the information to a supervisor or to HR to talk about your options.
If you still do not receive a satisfactory result or are feeling pressured to give up on your argument, you do have legal options. Within 180 days of an incident, you can file a complaint, without a lawyer, with the Equal Employment Opportunity Commission, the federal agency that enforces Title VII. You can find more information on that here.
Now let's look at the other aspect of West's assertion, that he made Swift famous. Taking credit for someone else's ideas and success is also common in the workplace, and it is incredibly frustrating.
One way to address the situation is to document everything you work on. As Donna Rosato has suggested in Money, "copy key people involved in a project on emails or memos on important updates and accomplishments. Offer yourself up as a point person. Ask other team members to submit updates too." If that doesn't work, speak up in meetings and try to align yourself with senior people in the company. These tips won't solve every problem, but they're a good start.
Most importantly, don't just shake it off—do something, whether that's cluing in your boss to what's happening or filing a formal complaint. It's an uncomfortable and unfair position to be put into, but it's necessary to take action against it.