Here's How Much Katherine Schwarzenegger's Engagement Ring from Chris Pratt Is Worth, According to Jewelry Experts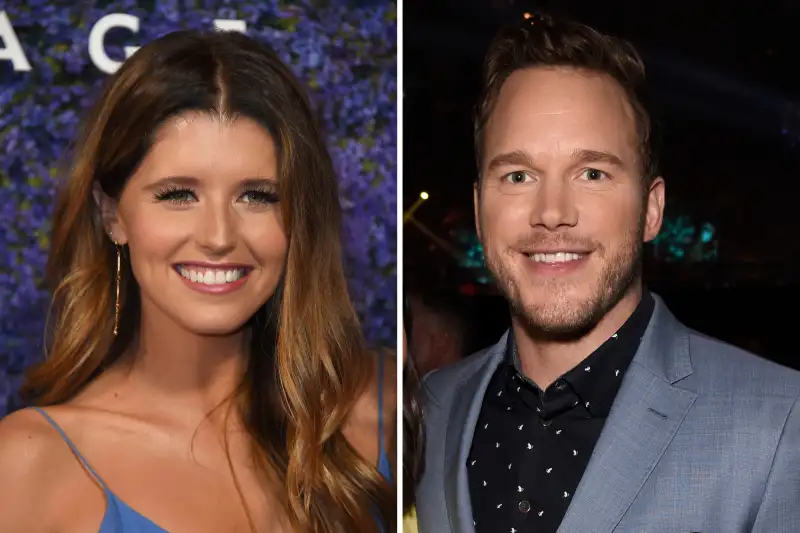 (left) Shutterstock; (right) Getty Images
It is no surprise that Chris Pratt got Katherine Schwarzenegger an engagement ring of galactic proportions.
The Guardians of the Galaxy star likely spent hundreds of thousands of dollars on his engagement ring for Schwarzenegger, according to jewelry experts. Assessing an image of the new ring posted to Pratt's Instagram account, experts say the cushion-cut diamond could easily be around six to 10 carats.
"At a quality befitting a Guardian of the Galaxy, we're easily talking about several hundred thousand dollars," says Michael Fried, the CEO of Diamond Pro, a website that helps people find and buy diamonds.
"The workmanship on this ring is fantastic," adds Benjamin Khordipour of New York-based Estate Diamond Jewelry, a curator of vintage rings. "The mounting was hand-crafted for the center diamond."
The ring's style and cut is similar to that of model Karlie Kloss, who married multi-millionaire Joshua Kushner in 2018, says Kathryn Money, the vice president of strategy and merchandising at Brilliant Earth, a company that specializes in ethically-sourced jewelry. Cushion-cut diamonds "are becoming increasingly popular," Money says, adding that they "create a flattering look as their shape lengthens the wearer's finger."
Pratt shared an image of him, Schwarzenegger, and her new ring on Instagram over the weekend.
"Sweet Katherine, so happy you said yes," Pratt wrote. "I'm thrilled to be marrying you. Proud to live boldly in faith with you. Here we go!"
The actor has raked in tens of millions of dollars over the years with the help of franchises like Guardians of the Galaxy, Jurassic World, and The Avengers. He was one of the highest paid actors in Hollywood in 2016, earning $26 million that year, according to Forbes, and GoBankingRates estimates his net worth is around $40 million.
Schwarzenegger, the daughter of Arnold Schwarzenegger and Maria Shriver, is an author and an ambassador for the American Society for the Prevention of Cruelty to Animals.
The couple's engagement comes just months after Pratt's divorce with actress Anna Faris was finalized. Pratt and Faris, who have a son together, announced their split in 2017 after eight years of marriage.
Certainly, Pratt likely spent hundreds of thousands more on Schwarzenegger's engagement ring than the average couple. According to The Knot's 2017 survey of 14,000 engaged or recently married couples, the average engagement ring costs $6,351 — a price that grows larger with each year.