Home Sellers Feel Trapped By Their Low Mortgage Rates: Survey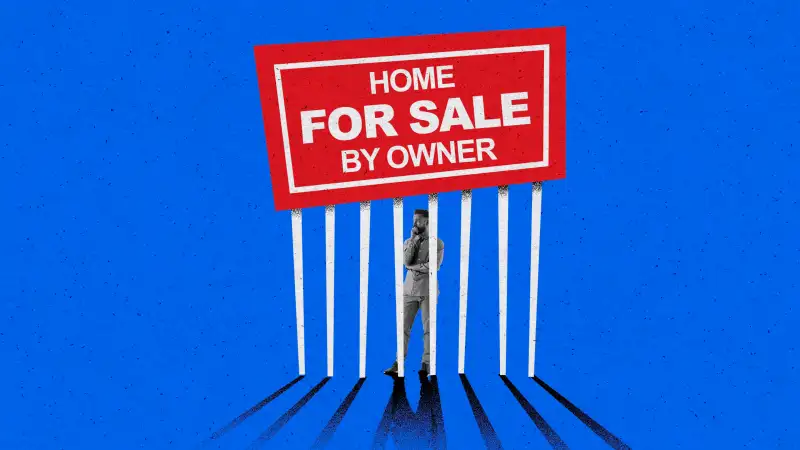 Home sellers are heading into the spring market with flagging confidence and a persistent feeling that they're "locked in" by ultra-low mortgage rates they snagged during the peak of the pandemic.
With home prices and mortgage rates now elevated due to repeated interest rate hikes by the Federal Reserve, sellers and buyers alike are facing a tough market in 2023. A survey from real estate listing site Realtor.com of 1,200 recent or potential home sellers found that many homeowners who want to sell are holding off on listing their homes in hopes of mortgage rates decreasing.
What the data says
More than 85% of sellers plan on buying a new home as they sell, which means sacrificing their current mortgage rates for higher ones.
The average on a 30-year fixed-rate mortgage is hovering between 6% and 7%, and as a result, 82% of sellers surveyed said they feel "locked in" to their current home because of the low mortgage rates they're paying.
More than half (56%) of sellers plan to wait until rates decline.
Younger homeowners, who typically have more mortgage debt than older ones, were more likely to feel stuck in their homes. Ninety-seven percent of Gen Z homeowners said they feel locked in by their current mortgage rate, compared to 87% of millennial and Gen X homeowners who said the same.
"Homeowners who locked in a 30-year fixed rate in the 2-3% range don't necessarily want to give that up in exchange for a rate in the 6-7% range," Realtor.com Chief Economist Danielle Hale said in a news release.
On the other hand
Even with these mortgage rate qualms, many potential home sellers still expect to walk away from a home sale with a favorable outcome.
The market is cooler now than it was in 2022 and 2021, when fierce competition had homebuyers fighting to outbid one another. Still, more than 25% of current sellers expect a bidding war, 31% expect an offer above asking price, and 34% are banking on an all-cash offer.
Realtor.com says these expectations are even higher than that of potential sellers in August 2022, when high mortgage rates took the wind out of market momentum.
The takeaway
Even though home prices are historically high — up 7.8% as of March compared to the same time last year, according to Realtor.com — potential and current home sellers don't necessarily have the advantage they did in 2021 and 2022's hot housing markets. Listings are sitting on the market longer, and many would-be buyers can't afford new homes.
That said, data from the National Association of Realtors shows that sellers are still making moves: Existing home sales increased 14.5% in February, the largest monthly uptick since July 2020.
The potential for sellers to profit remains appealing enough for many to give up their current mortgage rates, especially as they begin to trend downward.
More from Money:
People Aren't Buying Vacation Homes — and That's a Bad Sign for the Housing Market
Rent Prices Post Their First Annual Decline Since 2020
A 'Credit Crunch' Is Looming. Here's How It Could Affect Your Wallet