Matt Lauer Made at Least $100 Million Before NBC Fired Him. Here's What We Know About His Money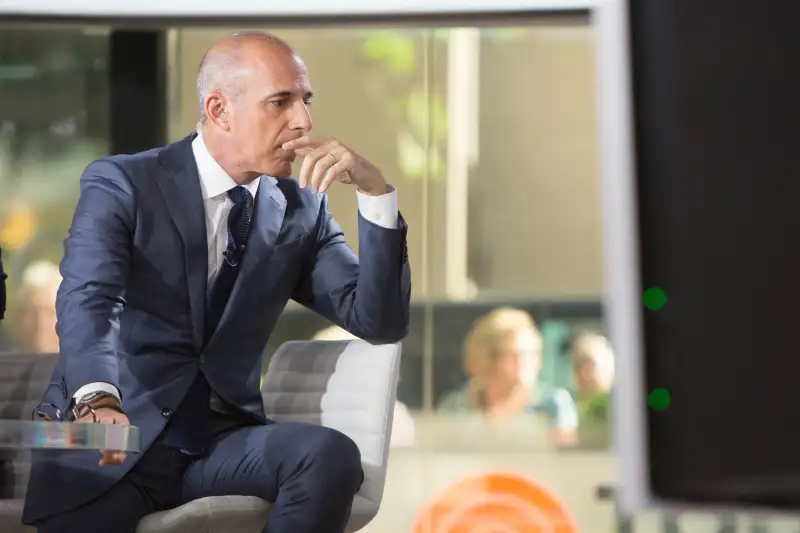 NBC—NBCU Photo Bank via Getty Images
Today show host Matt Lauer has been fired for "inappropriate sexual behavior in the workplace" by NBC News—the company that made him one of the richest men in television, paying him in excess of at least $100 million over his career.
Lauer was terminated after a colleague filed a complaint this week, according to a statement by NBC News Chairman Andrew Lack. Lauer has not publicly commented on the firing. NBC did not immediately return a request for comment.
The news of Lauer's firing comes on the heels of several other high-profile sexual misconduct scandals involving rich and powerful men, including the Hollywood producer Harvey Weinstein and Lauer's fellow TV hosts Charlie Rose and Bill O'Reilly. Another thing Lauer shares with O'Reilly: Before they were fired, the two were among the highest-paid hosts on TV, with O'Reilly reportedly making $18.5 million per year and Lauer pulling in $25 million annually.
Bill O'Reilly's net worth has been estimated at $85 million, compared to Matt Lauer's net worth estimation of $60 million. But there are reasons to believe Matt Lauer's net worth is much higher. In 2012, he signed a new contract with NBC that paid him a reported $25 million per year, up from $17 million annually prior. So Lauer's gross career worth easily top $100 million, and are perhaps even over $200 million.
Lauer has enjoyed a wealthy lifestyle over the years. He and his wife Annette Lauer have bought and sold multiple homes in the ritzy Hamptons over the years, including the 2016 purchase of the actor Richard Gere's 12-bedroom waterfront house in North Haven for $33 million. Nearby, Matt and Annette also own a 40-acre, world-class horse-training facility, Bright Side Farm, where they keep their horses and board the horses of wealthy clients in oversized stalls.
Here's more of what we know about Matt Lauer's net worth and money.
How Much Money Does Matt Lauer Make?
NBC—NBCU Photo Bank via Getty Images
Matt Lauer's first job was at a clothing store in Greenwich, Conn., where he earned a whopping $2.50 an hour. Lauer has since gone on to command a salary among the highest on TV.
In 2001 Katie Couric, Lauer's then-co-host of Today, "set new pay standards for the television news," according to the New York Times, when she received a contract paying a reported $15 million to $16 million per year. At the time, Lauer was earning perhaps $4 million per year. By 2002 Lauer's salary was up to an estimated $8 million.
Couric left NBC in 2006, and within a year Lauer's salary was bumped up to a reported $17 million. Roughly five years later, Lauer's new Today contract paid him $25 million per year, and his annual earnings have been estimated as high as $28 million. In 2016, Forbes named Lauer as the fifth-highest-paid TV host, and late that year he signed a new contract that would have paid him $20 million per year into 2018 had he not been fired.
Matt Lauer's Homes and Horse Farm
Russell Turiak—Getty Images
During the normal work week, Lauer reportedly lives in a co-op apartment in Manhattan's Upper East Side, where the disgraced Ponzi scheme swindler Bernie Madoff also used to live. The Lauers bought the apartment in 2004 for $5.9 million. When Madoff's penthouse apartment in the same building sold in 2014, the buyer paid $14.5 million.
Matt and Annette Lauer have also owned multiple swanky properties in the Hamptons, on the eastern end of Long Island. In late 2016, the Lauers sold a three-bedroom cottage in Southampton for $3.5 million. They'd purchased the 1,800-foot Cape Cod cottage in 2009 for $2.1 million.
Another Hamptons home owned by the Lauers—a 25-acre estate in Sag Harbor—is currently listed for sale with an asking price of $14.9 million, after being listed as high as $18 million in the past.
The reason the Lauers are selling their 8,000-square-foot home in Sag Harbor appears to be because in 2016 they purchased Strongheart. That's the name of the 6.3-acre waterfront North Haven estate once owned by the actor Richard Gere. The Lauers paid $33 million for the property, which includes a 12-bedroom, 12-bathroom, 12,000-square foot mansion, a separate tea house poised on the edge of a private pond, a basketball court, a 60-foot pool, and 300 feet of sandy beach on the bay.
Finally, there's Bright Side Farm. The Lauers reportedly paid $3.5 million in 2012 for the 40-acre tract in the Water Mill area where the farm is located. They then spent two years and countless dollars to turn the property into Bright Side Farm. As Hamptons Cottages & Gardens reported in 2015, Bright Side Farm employs at least three trainers, and the grounds "include a 24,000-square-foot, temperature-controlled indoor ring, two outdoor rings, a cross-country field, a derby field, and access to trails in the woods beyond."
At the time, the Lauers owned five horses. The farm is equipped with a total of 36 oversized stalls, according to Bright Side's website, and each comes with "individual hay drops, dutch windows and fans to make sure that each horse has a clean, safe and comfortable home." Full board at Bright Side Farm costs $2,500 per month for each horse most of the year, with the rate hiked to $2,900 per month during the peak summer months of June, July, August, and September.
Matt Lauer's Firing Makes Megyn Kelly NBC's New Highest-Paid Anchor
Noam Galai—WireImage/Getty Images; Nathan Congleton—NBC/NBCU Photo Bank/Getty Images
Now that Matt Lauer has been fired from NBC, it appears as if the network's highest-paid TV news host is Megyn Kelly. The former Fox News anchor, who announced she was leaving Fox after accusing chairman Roger Ailes of sexual harassment in a memoir published last year, joined NBC News in 2017 as the world's highest-paid female TV news anchor.
Kelly's contract with NBC reportedly pays her $20 million per year, and some estimates indicate her salary is actually closer to $23 million. Either way, that would make her the highest-paid female TV news anchor, placing her above ABC's Robin Roberts (estimated annual salary: $18 million). With Lauer's firing, Megyn Kelly also seems to be NBC's highest-paid news anchor—period.
On Wednesday, Kelly opened her portion of the Today show by directly addressing Lauer's firing. "This one does hit close to home," she said. "I too have known Matt for a long time, and he has been a friend, and kind and supportive to me in my transition to NBC News and I see the anguish on my colleague's faces."
But, Kelly continued: