How to Watch the Mayweather-Pacquiao Fight, Including Free Pay-Per-View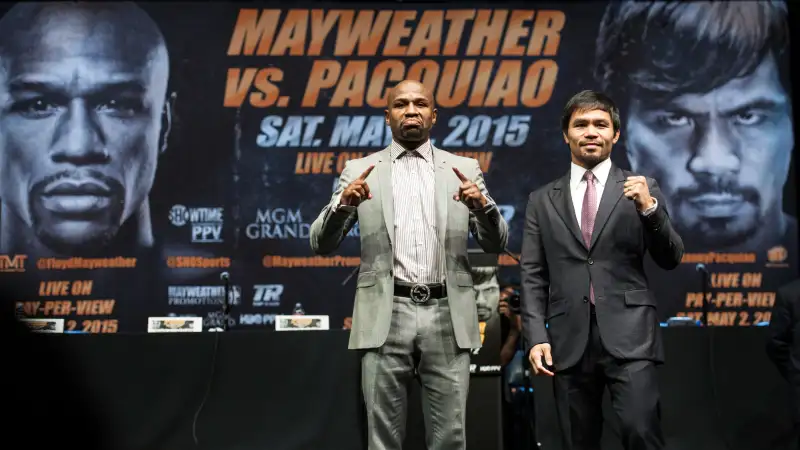 Only a few hundred tickets to the "Fight of the Century," pitting 47-0 Floyd Mayweather versus 57-5-2 Manny Pacquiao this Saturday in Las Vegas, were actually made available for purchase to the general public. They sold out in less than two minutes last week. Anyone hoping to watch the fight in person at the MGM Grand is now at the mercy of ticket brokers and the secondary marketplace, where seats are starting at over $4,000 apiece at sites like StubHub and TiqIQ. Some floor seats for the fight have been listed at asking prices in the low six figures, and as of Monday one bold seller was hoping to get $350,000 apiece for prime-time ringside seats.
The fight is also being shown on closed-circuit TV at 10 MGM Resorts properties in Las Vegas, with an admission cost of $150 per ticket. These tickets are also sold out, however, and now they too are commanding big bucks on the secondary market—upwards of $700 or $800 to catch the fight on TV at the Luxor or Mandalay Bay, for example.
All of the above only applies if you're in Las Vegas. The rest of us have a host of other, far more affordable options for watching the big fight. Here are four of them:
Standard Pay Per View
Pay TV operators in the U.S. such as Verizon Fios, DirecTV, and Time Warner Cable are generally charging $90 to watch the night's boxing bouts in standard definition and $100 to view in HD. Depending on your service, subscribers can order the pay-per-view event online, over the phone, or through your remote.
Switch to DISH and Watch for Free
A special promotion from DISH allows new subscribers to get the pay-per-view fight at no charge. To qualify, however, new customers must agree to a 24-month contract with DISH. An offer like this really only makes sense if you were close to switching over to DISH anyway, and the free viewing of the "Fight of the Century" just sweetens the deal. In order to get the PPV for free, be sure to use the code "BOXING" when signing up.
Mooch PPV at a Friend's House
Probably the most sensible approach is for one subscriber to pony up for the cost of the pay-per-view event and invite a group of friends over to watch—and perhaps chip in to cover a portion of the expense. If your buddy who is hosting won't take money, the least you can do is arrive with some beer or chips and dip.
Watch at a Bar, Restaurant, or Casino
With the purchase of a commercial pay-per-view license, bars, restaurants, and other business venues can broadcast the fight and charge patrons a fee to watch. A commercial license for a night of UFC or big-time boxing typically costs $1,500 to $3,000, and the fee for a business to broadcast the Mayweather-Pacquiao fight likely costs much more (details haven't been released publicly). In the past, hundreds of lawsuits have been filed against venues that allegedly showed high-profile pay-per-view sporting events, only instead of a commercial license they paid for the much cheaper residential fee.
If you're lucky, someone in your neck of the woods has gone to the trouble of rounding up establishments where customers can catch the fight, like this list for the Washington, D.C., area. In most cases, you'll have to check around with sports bars, local watering holes, and other venues to see if they're showing the fight and what they're charging to watch. Expect to be asked to pay a cover charge above the usual $5 or $10 to watch this fight on PPV at a bar or restaurant. A $20 cover is fairly typical, though some establishments are charging more. Casinos around the country are hosting viewing parties of the match, and the Horseshoe Hammond in Chicago and the Mohegan Sun in Connecticut are both charging $35 for general admission seating. After Ticketmaster fees are added in, admission comes to $43.55, or nearly half the price of ordering the pay-per-view event in your own home.
Read Next: The Huge Money Behind Boxing's Big Mayweather-Pacquiao Fight