Here's How Much Money ABC & the NBA Make with an NBA Finals Game 7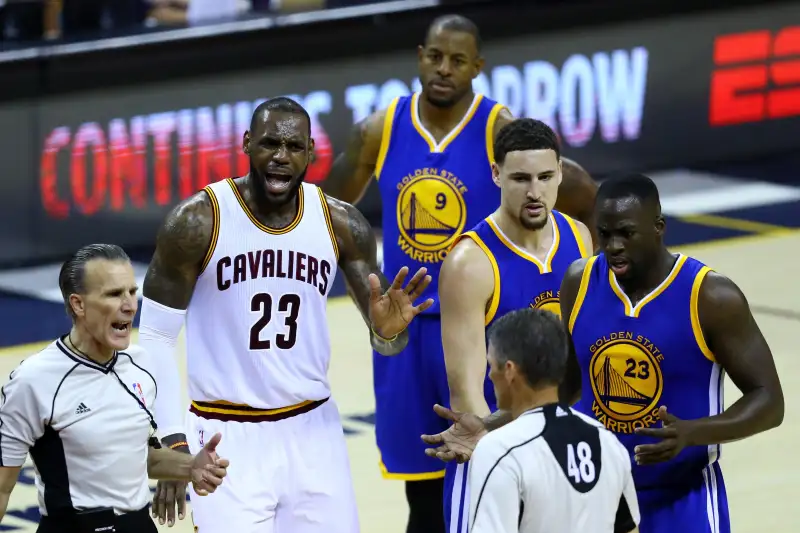 Are the NBA Finals rigged? That's what Ayesha Curry, wife of Golden State Warriors' guard and reigning league MVP Stephen Curry, tweeted last night. The message was posted after Curry received his sixth foul and was ejected from the NBA Finals' Game 6—which was won by the Cleveland Cavaliers, extending the series for a final, decisive Game 7 on Sunday.
"I've lost all respect sorry this is absolutely rigged for money… Or ratings in not sure which," Ayesha Curry post in a tweet, which she later deleted. "I won't be silent . Just saw it live sry."
Granted, the wife of a player is hardly an unbiased observer. But Ayesha Curry is not the only one who's been claiming that the NBA Finals are "absolutely rigged."
Tim Donaghy, the disgraced former NBA referee who was pushed out of the league after a scandal involving his gambling on games, told Sports Illustrated this week that he thought the NBA decided to suspend the Warriors' Draymond Green for the Finals' Game 5 in order to ensure more games would be played. "It gives Cleveland a better chance of prolonging the series," Donaghy said of the questionable suspension of Green, the Warriors' best defender.
Donaghy also said that in his experience, referees always seemed to favor teams that were losing in a playoff series, in order give them the best chance of prolonging it. "It was always a situation where the team down in the series was going to benefit from those calls," he said.
There is no proof whatsoever that anyone has rigged anything. But plenty of Warriors' fans, as well as the conspiracy-minded in general, are quick to note that the Warriors had dominated before Green's suspension. They were up 3-1 in the series and neither Curry nor his sharp-shooting "Splash Brothers" teammate Klay Thompson had even been playing up to their potential. All the Warriors needed was to win one more game to take the championship. Then Green was suspended, and the Warriors lost Game 5 at home. Warriors' starting center Andrew Bogut was hurt in that same game and is now out for the series, making it easier for the Cavaliers to trounce to victory in Game 6 and force a Game 7.
And, the conspiracy-minded are quick to point out, the NBA and ABC—the network with broadcast rights to the Finals—stand to make big money because the series didn't end in only five games. Just how much money?
Well, last year, AdAge cited data from ispot.tv indicating that ABC pulled in $223.9 million in advertising revenues over the course of last year's NBA Finals matchup, which again featured the Cavaliers versus the Warriors. That series only lasted six games, however. A Game 7 is typically a ratings and money-making bonanza. AdAge estimated that had there been a Game 7 last year, it would have likely drawn an audience of 32 million viewers and a 21.2 household rating, up from an average of 20 million viewers and an 11.6 rating for the previous games in the 2015 NBA Finals.
As for the advertising revenues, "A seventh game likely would have tossed another $45 million on the pile," AdAge reported.
So, if the 2016 NBA Finals had ended with a Game 5 victory by the Warriors, ABC would have missed out on the ad revenues of Game 6 and Game 7—which will probably total in excess of $80 million, based on estimates from last year.
Read Next: Steph Curry's Mouthguard Will Be Sold at Auction
This figure doesn't include any other money made based on the NBA Finals going beyond five games. The arenas hosting the games obviously benefit financially when there are more games, and ticket sellers are cashing in thanks to added drama and simply more games being played. Players, sponsors, and the league in general also stand to benefit, in largely unquantifiable ways, when the NBA Finals is competitive and extends to a full seven games.
So while there's no real evidence that the NBA Finals are rigged, it's quite clear that lots of people would be getting rich if they were.