These NBA Teams Have Cheaper Tickets Than the Top College Basketball Squads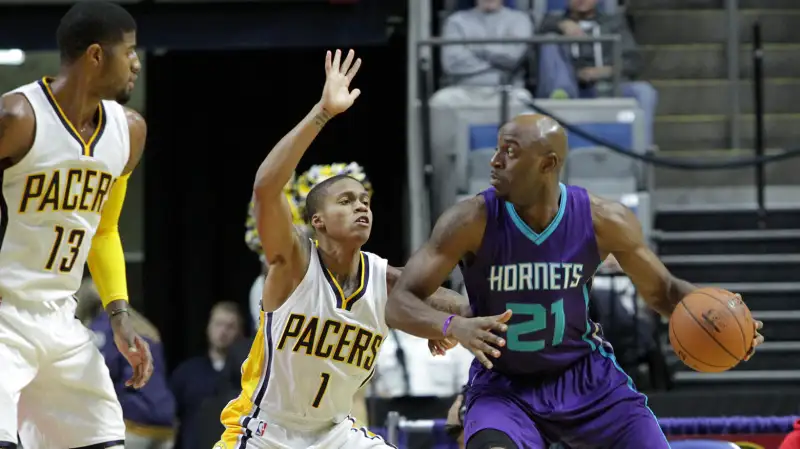 Ron Hoskins—NBAE/Getty Images
Without knowing any better, you'd be forgiven for assuming it's all but impossible to attend a live pro sporting event in one of the top leagues without spending a small fortune. The average NFL ticket costs around $85, for a non-premium seat mind you. After crunching the numbers at the start of the recent Major League Baseball season, it was estimated to cost an average of $212 to bring a family of four to a game—also in non-premium seats. Everywhere in pro sports, it seems, the trend is for more luxury skyboxes to be installed and the "cheap seat" sections to shrink, or just disappear.
What many sports fans might find surprising at the start of the 2015-2016 NBA season, then, is that there are plenty of pro basketball teams offering tickets at prices that wouldn't buy a couple of beers in an NFL stadium (or in an NBA arena, for that matter). In many cases, ticket promotions mean that seats at NBA games are cheaper than some of the top-ranked men's college basketball teams.
Starting ticket prices for home games featuring the University of Kentucky Wildcats, who were undefeated and ranked #1 last season and are up near the top again this year, vary based on the opponent—but none comes particularly cheap. When the Wildcats match up against worthy rivals such as Louisville and Arizona State, the "cheap seats" are priced at a face value of $92. Ticket prices start at $47 apiece against apparently lesser opponents like NJIT and Wright State, and go as low as $37 when the Wildcats are playing at home in what are supposed to be laughers against the likes of Boston University and Illinois State.
The University of North Carolina Tar Heels, another premier program ranked at or near the #1 position in preseason polls, have ticket options such as a three-game package that includes one game against a "Group 1" (i.e. quality) opponent like Maryland or Syracuse, plus two games versus unheralded teams like Tulane, Appalachian State, and Fairfield. The package costs $99, for a per-game breakdown of $33. Or individual tickets for home UNC games versus teams like Fairfield start at roughly $27.
Now compare those prices to the best ticket deals offered by NBA teams like these.
Atlanta Hawks: During select "Chick-fil-A Family Nights" games, $25 buys a ticket and a Chick-fil-A meal when you buy four seats at the same time.
Charlotte Hornets: Six-game plans start at $138, averaging $23 apiece.
Dallas Mavericks: Lots of home games feature tickets starting at $10 to $15 this season.
Denver Nuggets: Promotions include $22 Family Night tickets (with a meal and drink included) and a few games in which one adult ticket comes with admission for a child (age 14 and under) for free.
Detroit Pistons: There is a wide range of ticket deals, including $10 seats at the last minute for college students.
Indiana Pacers: During eight "Family Night" games, tickets start at $14 apiece and include a full meal (hot dog, chips, Pepsi beverage) with every seat, while a "Two for Tuesday" promotion offers a pair of tickets for as little as $13.
Memphis Grizzlies: Depending on how many tickets you buy in various mini-plans, the per-game price is as low as $15, or even $13.
Milwaukee Bucks: Several ticket deals exist, such as La Famiglia family nights, including tickets, soda, and pizza for four cost a grand total or $74. Another option includes a seat, a beer in the arena, and a collectible pint glass starting at $19.
New Orleans Pelicans: Packages with tickets to six games start at just $54, or a mere $9 a pop.
Orlando Magic: Leading into opening night of the season, a flash sale for the "Fast Break Pass" marked down prices for Florida residents as low as $49 for eight games, or only $6 and change apiece.
Bear in mind that parking and ticket fees may cause your total outlay to rise, as will food and drink at the arena of course. The fact that these teams are going to such dramatic lengths to boost attendance should also send off red flags about the quality of the on-court action you might see. What's more, NBA ticket prices on the secondary market might be even cheaper than the promotional deals cited above.
All that said, it's hard to argue that pro sporting events are always overpriced in the face of NBA tickets going for $6 or $9 a pop.
Read Next:
Here's What NFL Fans Get for Free When Their Team Wins
These Are the Least (and Most) Expensive Things at NFL Stadiums