Why So Few People Watched the Best NCAA Basketball Championship Game Ever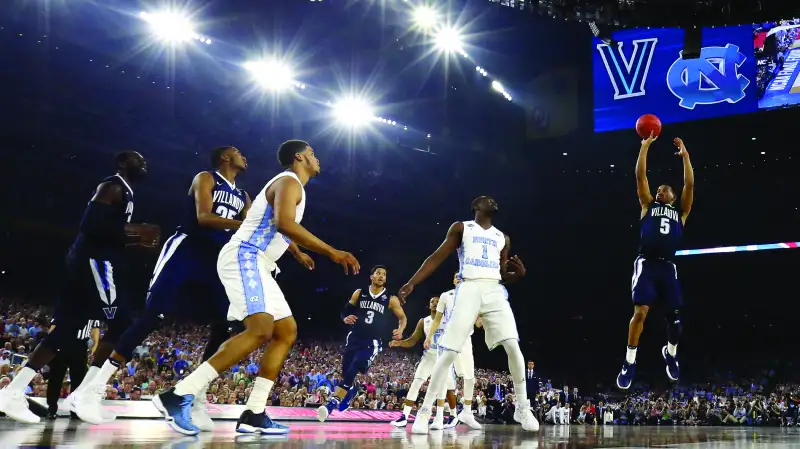 Ronald Martinez—Getty Images
Monday night's men's college basketball championship, in which Villanova defeated the University of North Carolina on a last-second buzzer beater three-pointer, was immediately classified by sports columnists as the "best national championship ever," and even "the greatest game the world's best sporting event has ever seen."
Unfortunately, this all-time classic sporting event was seen by significantly fewer people this year. Now that the ratings are in, we know that the number of viewers for the 2016 title game was down roughly 10.5 million, or 37%, compared with last year. What happened?
As Money has previously reported, the viewership for the NCAA Final Four was all but guaranteed to tank this year, and the ratings dip had nothing to do with Duke and Kentucky losing before the nets were cut down. Sure, matchups could have had an impact on viewership. But more important, the Final Four games on Saturday night and the title game on Monday were not broadcast on a free, over-the-air network like CBS, as they have been in the past. Instead, Turner Sports channels TBS, TNT, and truTV—all pay channels part of typical cable TV packages—owned the rights to air the games.
As AdWeek pointed out, Turner Broadcasting president David Levy argued before this year's tournament began that "the difference between broadcast and cable is almost nonexistent anymore."
Read next: What College Basketball Success Means for Schools Like Villanova
Based on the TV ratings over the past few days, however, this argument is nonsense. A seemingly impressive 17.8 million viewers watched Monday night's epic championship game on the trio of Turner channels. But that figure represents a 37% decline from the 28.3 million viewers who tuned into the 2015 Duke-Wisconsin championship game on CBS.
Common sense says that when free channels broadcast the games, more people watch, and the numbers back up the concept. This is especially the case during an era when legions of people are cutting the cable cord, or were never pay TV customers to begin with.
Quite simply, Monday's Villanova-UNC matchup—a consensus all-time great game, if not the greatest—"was the lowest-rated national championship game ever," AdWeek reported.
While some might blame the absence of Duke, Kansas, or Kentucky in the final for the plummet in ratings, the NCAA itself should bear a lot of the responsibility because it agreed to a contract allowing games to be broadcast only on pay TV channels. This contract may be highly lucrative for all parties involved, yet it doesn't do much in terms of exposing NCAA basketball at its finest to the largest audience possible, thereby growing interest in the sport for decades to come.
Read next: Guess Who Is to Blame for Fewer Fans Watching Sports on TV
Beyond TV ratings, surely all of the players in sports broadcasting are also paying very close attention to another key category: streaming. According to the Wall Street Journal, Turner says that its live-streaming services were used by 3.4 million viewers for the final game. Sling TV, a $20-per-month streaming TV package that includes channels like ESPN, AMC, and TBS, said it experienced a 1,140% increase in viewership of the title game from the time of tip-off to the final buzzer. Sling TV also confirmed that it received a record number of subscription signups last Saturday, the day the Final Four games were played, and that March 2016 was its biggest month ever "by a large margin" for new memberships.
What this shows is that people truly do want to watch these sporting events. As for how the powers that be will figure out what channels make the most sense in the long run for allowing people to watch, well, that's quite a game in and of itself.