How to Watch NFL Playoff Games When You Don't Have Cable—or Even a TV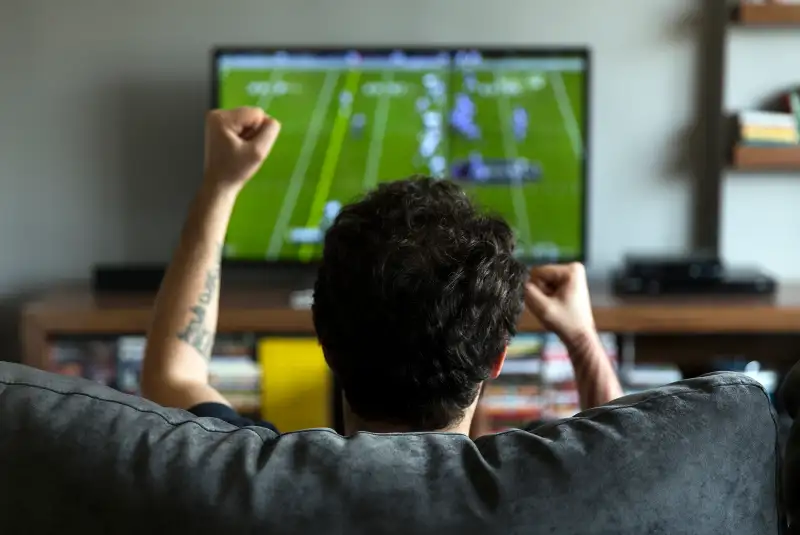 The NFL playoff schedule has been announced, with four opening round games kicking off the action this weekend. Essentially, if you have a TV and access to regular (free) broadcast channels, you're golden. In a rarity in modern-day sports, all NFL playoff games still air on broadcast TV, so fans can watch even if they don't pay for cable.
That said, we know there are fans who don't have TVs. Here are some possibilities to tune in no matter what your situation.
Broadcast TV
All of the NFL playoff games will be shown on one of the major broadcast channels—ABC, CBS, Fox, or NBC. All you need is a basic indoor antenna that tunes in the free channels, and you're good even if you don't have a pay package.
Here's this weekend's schedule:
Saturday, Jan. 9: Kansas City Chiefs vs. Houston Texans, 4:35 p.m. ET on ABC
Saturday, Jan. 9: Pittsburgh Steelers vs. Cincinnati Bengals, 8:15 p.m. ET on CBS
Sunday, Jan. 10: Seattle Seahawks vs. Minnesota Vikings, 1:05 p.m. ET on NBC
Sunday, Jan. 10: Green Bay Packers vs. Washington Redskins, 4:40 p.m. ET on Fox
Live-Streaming Options
If you don't have a TV—or if you have one but somehow don't have access to broadcast channels—there are still possibilities to tune in. Verizon Wireless customers can live-stream all NFL playoff games, Super Bowl included, on mobile devices with a free app.
In some cases, the websites of broadcast channel are also streaming the games they're airing live. This CBS Sports link, for instance, has the AFC Wild Card Steelers-Bengals game cued up to start streaming on Saturday night. The Fox Sports Go app is live-streaming the games airing on its network as well, but you must provide proof of a participating pay TV subscription to watch. The same rules apply for live-streaming with NBC, and proof of a subscription package with ESPN is likewise required to stream Saturday's Chiefs-Texans game via Watch ESPN.
(MORE: How to Watch All the NFL Games You Want Without a Huge Bill)
Stream Games After They're Done
The NFL Game Pass service allows fans to stream every NFL game—including the playoffs, Super Bowl, and Pro Bowl—immediately after they've ended. If you can stay off social media and avoid would-be spoiler buddies, it's a way for cord cutters to catch games in full, and in all their excitement. The service costs $99 for the season, and unfortunately it's only sold as an entire season rather than on a weekly or monthly basis. But new subscribers can sign up for a free seven-day trial, offering at least one weekend's viewing at no charge. Just be sure to cancel within seven days or you'll be charged $99.