Here's the Truth About That Ad for a 'Pre-Hillary Sale' on Guns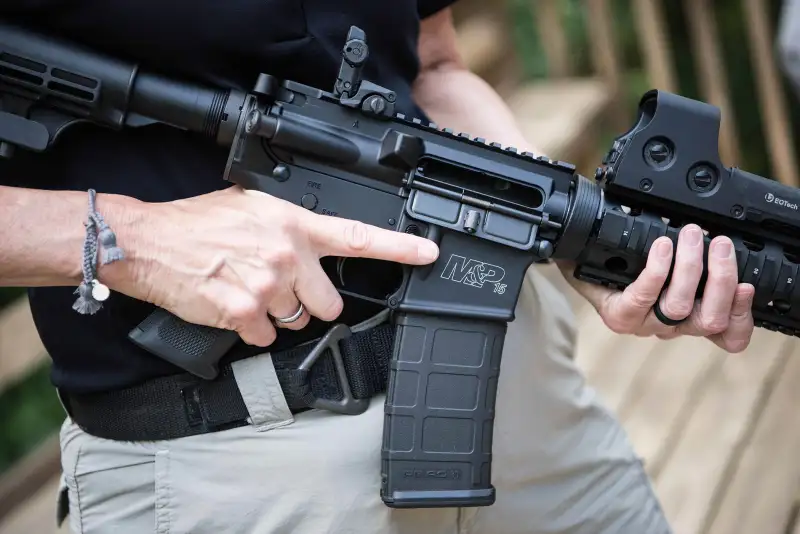 A controversial ad placed in last Sunday's Las Vegas Review-Journal was certainly successful in one respect: The "Pre-Hillary Sale," promoting the idea that gun "prices will skyrocket after Crooked Hillary gets in" office, has generated tons of media attention.
The Washington Post, Fox News, and Bloomberg were among the news outlets taking note of the ad, placed by a Las Vegas gun store called the Westside Armory. Naturally, the store owner, 60-year-old Cameron Hopkins, who is unsurprisingly voting for Donald Trump for president, is overjoyed with all the cheap publicity.
"This has been insane," Hopkins told the Review-Journal on Tuesday. "It was a $600 ad. I've been on national TV."
Hopkins said he posted the ad because gun sales have been terrible lately. "August was our worst month of the year, and September wasn't much better," he said. "I'm sitting here with a lot of guns I bought in anticipation of high sales that haven't happened. I decided to take the bull by the horns. I decided to run an ad on what will happen if Hillary wins."
And what will happen if Hillary Clinton becomes president? Indeed, there is some reason to believe that gun sales will rise. That's what happened during the election years of President Barack Obama, who has been referred to as "salesman of the year" for the gun industry. Over the past decade, two factors have been linked to sharp increases in gun sales, and both are all about fear. There's the fear for one's safety after high-profile mass shootings like those in San Bernardino and Orlando, and the fear that possible gun-reform measures endorsed by progressive politicians like Obama and Clinton will make it more difficult to buy guns.
Read Next: 10 Things Americans Have Suddenly Stopped Buying
After the reelection of President Obama and the grisly school shooting in Newtown, Ct., gun sales spiked in 2012 and 2013, before retreating in 2014, which was not a presidential election year. Multiple mass shootings seem to have contributed to a renewed sales burst in 2015, including a record high number of FBI background checks for firearm sales on Black Friday.
Throughout the 2016 presidential campaign, Donald Trump has repeatedly said that Hillary Clinton supposedly wants to take away Americans' rights to bear arms, and even made a veiled threat that perhaps some Second Amendment supporters—i.e., people with guns—could forcefully stop her or the judges she appoints from enacting gun reform. (Go here to read exactly what Clinton does and doesn't support in terms of gun control.)
It's with this idea that Las Vegas's Westside Armory stocked up on guns. With Clinton leading in the polls, the assumption was that guns would be flying off the shelves. But apparently, the Clinton Effect didn't take place in gun shops this summer. That could be because America's gun enthusiasts are already swimming in guns in the wake of previous fear-induced sales surges. A poll conducted this past summer showed that even though gun sales have been strong for years, the gun ownership rate in the U.S. is only 36%, the lowest it's been since 1978.
In other words, for the most part, gun sales haven't been rising because more Americans are buying guns, but because the people who already have guns have been buying more and more guns.
Read Next: 12 Political Items for Sale to Offend the Trump or Clinton Supporters in Your Life
As for the idea promoted in the gun store newspaper ad that gun prices will rise if Hillary Clinton is elected, there isn't much evidence to back the claim up. Average prices for the AR-15 assault rifle generally declined from 2007 (between $800 and $1,000) to 2014 ($600 to $800), and this past summer shops were selling the weapon for the relatively cheap price of around $500.
Oh, and the Smith & Wesson M&P 15 Sport II Semiautomatic Tactical Rifle advertised at the "Pre-Hillary Sale" price of $699.99 by the Westside Armory? It's not really a sale price at all. Right now, Cabela's lists the exact same weapon on sale for $629.99, down from the regular price of $699.99.