'A Game Changer': New Federal Law Expands Rights for Pregnant Workers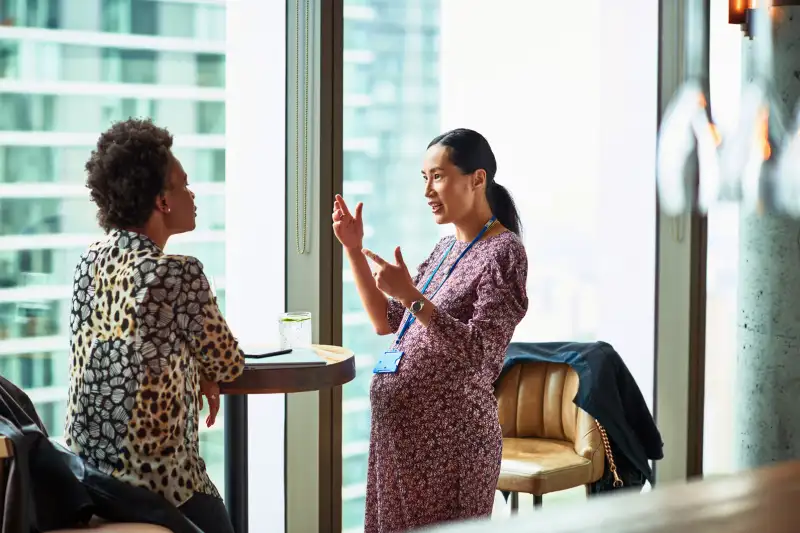 A new federal law arms pregnant employees with expanded workplace rights aimed at preventing discrimination and getting them extra breaks, work-from-home privileges and other temporary accommodations they need to do their jobs.
As of Tuesday, the Pregnant Workers Fairness Act (PWFA) is in effect nationwide. A bipartisan law passed in December 2022, the act aims to fill a longstanding void of protections for pregnant workers who fell through the cracks of the existing Americans with Disabilities Act and the Pregnancy Discrimination Act.
"It will be a game changer for millions of people across the country — but workers must understand their new rights under the law in order to exercise them," A Better Balance, a worker advocacy group that was involved in writing the legislation, recently announced.
According to the U.S. Census Bureau, 88% of first-time mothers worked during their last trimester, and 82% worked into their last month of pregnancy. Advocates say the new law will make it easier for pregnant workers to request accommodations such as additional breaks, easy access to food and water, scheduling flexibility for doctor's appointments or child care, working from home and more.
Here's what to know about the new law.
What the Pregnant Workers Fairness Act changes
Even though the Pregnancy Discrimination Act passed more than four decades ago, it's been challenging for pregnant workers to get employers to take their accommodations requests seriously.
Under existing law, pregnant workers had to prove that their "employer's policies impose a significant burden" on them — or, when asking for specific accommodations, would have to show examples of other co-workers receiving special treatment, so that they could also receive accommodations.
According to a report by the House Committee on Labor and Education, these frameworks were difficult and bureaucratic for a pregnant worker, and the process of asking and getting approved for accommodations would "likely take years, lasting well past the pregnancy and leaving her without a remedy during her pregnancy."
Now, under the newly enacted Pregnant Workers Fairness Act, all pregnant workers need to do is to request reasonable accommodations for their pregnancy or related condition, and employers must negotiate "in good faith."
To be subject to the PWFA, the company must employ at least 15 people. And the employer can't retaliate against you for making a request, including forcing you to take any time off against your wishes.
Reasonable accommodations include time off to recover from childbirth, abortion or miscarriage; light work duty; breaks for rests, eating, lactation and more; requesting stools or chairs to sit on; flexible scheduling for medical appointments; remote work and more.
So long as your requests do not impose "undue hardship" on the company, your employer must work with you to get you the accommodations that you need. If your company doesn't negotiate with you in good faith — or if it retaliates — you may be able to get monetary relief, including back pay, attorney's fees, compensatory and punitive damages ranging up to $300,000.
Additional Pregnant Workers Fairness Act resources
Experts say there are no set ways you need to request the accommodations you need related to your pregnancy, abortion, miscarriage or related condition. However, preparation can go a long way.
The University of California's Center for WorkLife Law partnered with A Better Balance to provide a fact sheet that lays out your rights and best practices when asking for accommodations.
The advocacy groups recommend making a game plan about your requests before you start the conversation. They say you should think ahead to what specifically needs to change at work and offer up solutions with your ideas.
When you're ready to start the process, the organizations have created a sample letter template for your requests. They recommend getting the details in writing. If it is a conversation or meeting, take meticulous notes.
Your company must respond to your request, the organizations say. It is required to negotiate in good faith, and it may be able to offer alternatives to your request, but you are under no obligation to accept those alternatives if they don't work for you. Your employer doesn't have to provide accommodations only if they cause "undue hardship" to the company, meaning that the changes would be very difficult or expensive for them to implement.
For free assistance dealing with your employer — or if you need help understanding the law — you can contact the Center for WorkLife Law at (415) 703-8276 or A Better Balance at 1-833-NEED-ABB.
The U.S. Equal Opportunity Commission also started fielding complaints regarding the new law starting Tuesday. You can reach the federal government agency at 800-669-4000, or file a discrimination complaint online.
More from Money:
Debt Free or More Student Loan Payments? These 20 Million Borrowers Await 'Life-Changing' SCOTUS Decision
Here's How Much Money Americans Think They Need to Retire Comfortably
The Best CD Rate We've Seen in Years Just Arrived: It Pays Over 6% APY