How to Book an Entire Private Jet Charter Flight for Just $4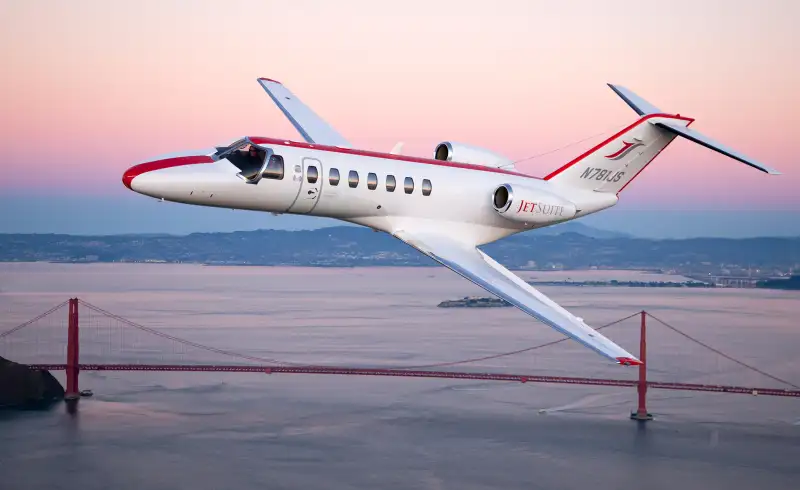 Jessica Ambats—Copyright: Jessica Ambats
For the second year in a row, JetSuite, a private jet charter company that's been called the "Southwest Airlines of charter flying," is running a special promotion offering last-minute flights for just $4. That's for the entire jet that'll accommodate four to six people, mind you, so at most each person in your party will have to pony up $1.
For that princely sum, you'll get the full private jet experience—small planes, no lines getting on and off the plane, big plush leather seats with fold-out desks and free wi-fi.
Of course, there's a catch. The details of the promotion, as spelled out by the Robb Report and the New York Times, specify that the $4 charters will only be available for takeoff on a single day—Saturday, July 4—and that the exact routes will not be posted until the day before, Friday, July 3.
Snagging one of these bargain private flights won't be easy: You'll have to be lucky, in that one of the mystery itineraries must work for your location, and your timing must be perfect in order to beat the masses of other travelers who are surely eager to scoop up the same deal. At most, a few dozen travelers will be able to take advantage of one of these July 4 steals. Bear in mind too that these are one-way flights, and you're on your own figuring out a way to get back home.
JetSuite will list its $4 routes on July 3 at its website. Travelers also have the option of signing up for a destination "WishList" to be notified via text or email if JetSuite deals are ever offered for your preferred airports.
JetSuite, which was created and is run by former JetBlue executives, and has attracted big investments from the likes of Zappos founder Tony Hsieh, has a business model that sells discounted flights on otherwise empty private planes that are en route to more standard charter bookings. Normally, JetSuite's daily "SuiteDeals" start at $536 for short-haul routes such as Fort Lauderdale to Fort Myers in Florida, or Hyannis, Mass., to White Plains, N.Y.
That's for the entire plane, and that's dirt cheap for a private jet booking. But still, it's not anywhere near as cheap as $4.