The 10 Richest Olympians of All Time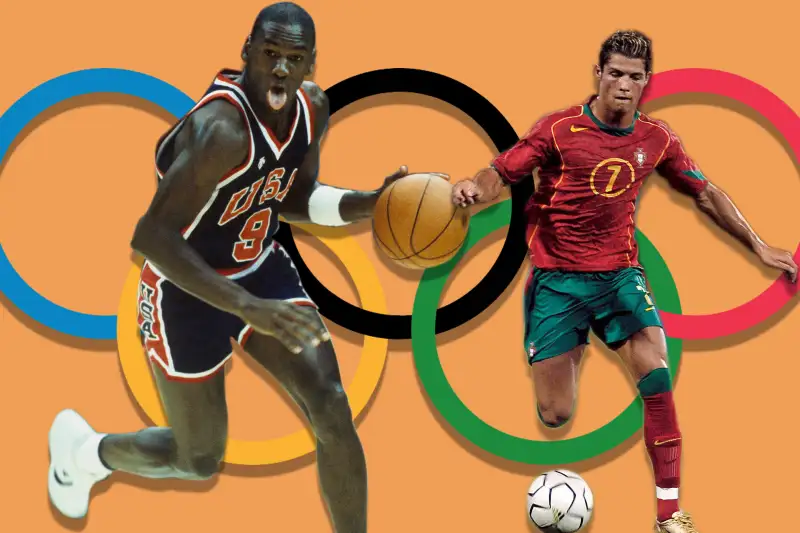 Photographs by Getty Images
Who are the richest Olympic athletes in history? In general, they're not the icons who are best remembered standing atop the Olympic podium with all those medals. In fact, they're probably not the the people that you think of first and foremost as Olympic champions.
Olympic superstars like Michael Phelps (28 medals), Usain Bolt (8 medals—all gold), and Simone Biles (4 golds and 1 bronze) have indeed become famous and wealthy due to their success in the games. Bolt, the Jamaican track star who retired from the sport last summer, earned more than $100 million over the years, almost all of it from sponsorship deals with brands like Puma, Sprint, and Advil. Phelps, the greatest swimmer and biggest Olympic medal winner of all time, boasts a net worth estimated at $55 million, also because of endorsements. And Biles, the celebrated American gymnast, is only 20, but already has a net worth of $2 million after signing sponsorship deals with brands like Mattress Firm.
But none of these Olympic medal winners have amassed enough wealth that would place them in the top 10, or even the top 20, richest athletes who ever competed in the Olympics. Instead, the list of the world's richest Olympians is dominated by athletes who have gotten phenomenally rich outside the realm of the Olympics—generally in professional sports like basketball, tennis, and soccer, but sometimes also by becoming highly successful entrepreneurs.
Here are the top 10 richest Olympians in history, ranked from filthy rich all the way to insanely rich.
Roger Federer: $400 Million
Luis Acosta—AFP/Getty Images.
Federer, the most successful male tennis player in history with a record 20 Grand Slam titles, has competed in four Olympics for his home country Switzerland. He has won two Olympic medals—a gold in doubles in 2008 in Beijing with partner Stan Wawrinka, and a silver in the men's singles in 2012 when he lost to Andy Murray in the finals in London. Federer's career prize earnings in professional tennis are over $100 million, according to Forbes, and he makes roughly $60 million per year in sponsorship deals with brands like Rolex, Mercedes, and Credit Suisse. His net worth is estimated at $400 million.


LeBron James: $400 Million
Mark Ralston—AFP/Getty Images.
James was just 19 years old, with a single NBA season under his belt, when he played in the 2004 Summer Olympics in Greece—a low point for the normally overpowering U.S. men's basketball team, which won the bronze medal that year. "King" James went on to win gold medals in the next two Summer Olympics (before sitting out the 2016 games in Rio), plus four NBA MVP awards, three NBA title, and three NBA Finals MVP awards.
The Cleveland Cavaliers signed James to a three-year, $100 million contract in 2016, making him the NBA's highest-paid player. When adding up his salary and sponsorship deals with the likes of Nike, Coca-Cola, and Beats by Dre, Forbes says that James earned an estimated $86 million in 2017. Even so, James is renowned as a cheapskate—he even refuses to pay for the ad-free version of the music-streaming app Pandora, which costs only $4.99 a month. His net worth has been estimated at $400 million.
Shaquille O'Neal: $400 Million
New York Daily News Archive—NY Daily News via Getty Images.
A four-time NBA champion and 15-time NBA All-Star, Shaq played on a particularly dominant U.S. men's basketball squad at the 1996 Summer Games in Atlanta. The team, which also featured O'Neal's current "Inside the NBA" co-star Charles Barkley, won every game in Atlanta by more than 20 points. In addition to his work as a TV analyst, O'Neal is among the world's highest-paid retired athletes thanks to many sponsorships and business deals, including Shaq-branded suits, sneakers, and jewelry. His net worth is roughly $400 million.
Cristiano Ronaldo: $400 Million
In 2004, 19-year-old Cristiano Ronaldo was playing for one of the world's premier professional soccer clubs, Manchester United, and was chosen to be a member of Portugal's Olympic team. Portugal failed to get to the medal round, and Ronaldo hasn't competed in another Olympics since. Today, Ronaldo plays for the Real Madrid club in Spain, as well as Portugal's national team. He is one of the world's biggest and highest-paid soccer stars, with a $400 million net worth.
Floyd Mayweather, Jr.: $560 Million
Rick Bowmer—AP/REX/Shutterstock.
Boxing great Mayweather reportedly pulled in well over $200 million for his fight last summer with UFC champion Conor McGregor, bringing his gross career earnings in the ring up past a mind-blowing $1 billion. Despite Mayweather's remarkable 50-0 record as a pro boxer, he has one memorable loss—a controversial decision in the semifinals of the 1996 Summer Olympics. Some say that Mayweather was robbed of a gold medal (he wound up getting the bronze), and that the loss has motivated him to push for perfection in the boxing ring for years to come. His net worth has been estimated at $560 million.
Magic Johnson: $600 Million
Andrew D. Bernstein—NBAE/Getty Images.
Basketball icon Earvin "Magic" Johnson briefly retired from the NBA in 1991 after announcing he contracted the HIV virus, but went on to serve memorably as co-captain of the legendary original "Dream Team" in the 1992 Summer Olympics in Barcelona. Alongside co-captain Larry Bird, plus Michael Jordan, Charles Barkley, Patrick Ewing, and other NBA Hall of Famers, the team easily won the gold medal.
After basketball, the five-time NBA champion became a highly successful entrepreneur at the helm of Magic Johnson Enterprises, a $1 billion investing conglomerate with partnerships with Sony Pictures and Starbucks, among others. Johnson is also a co-owner of baseball's Los Angeles Dodgers, the WNBA's Los Angeles Sparks, and the MLS's Los Angeles Football Club. His net worth is estimated at around $600 million.
Cameron and Tyler Winklevoss: $600+ Million Each
John Walton—EMPICS/Getty Images.
The Winklevoss twins are best known as the Harvard brothers who sued Mark Zuckerberg for control of Facebook, and more recently as seemingly brilliant early investors in Bitcoin. It's often forgotten that they also were Olympians, competing as rowers for Team USA at the 2007 Summer Games in Beijing.
The Winklevoss brothers say they had $11 million worth of the cryptocurrency in 2013, and when Bitcoin hit a high over $18,000 last December each of them was a billionaire, at least on paper. Bitcoin plunged below $10,000 in early 2018, however, and in mid-January the net worth for each Winklevoss twin was estimated at $739 million. As Bitcoin dipped lower still, trading between $7,000 to $9,000 per unit in early February, the Winklevoss brothers' net worth dropped as well, roughly in the neighborhood of $600 million each.
Ion Tiriac: $1.32 Billion
Forget that beer commercial. Ion Tiriac could truly be the world's real-life most interesting man. A national hero in Romania, which he represented as a member of the ice hockey team at the 1964 Winter Olympics, Tiriac became a top-10-ranked professional tennis player in the 1970s—and later, a wealthy business manager for sports stars like Boris Becker. Tiriac then pushed beyond sports to gain status as a global entrepreneur, with investments that include stakes in insurance companies, auto dealerships, and petroleum distribution. He even owns a museum in Romania, the Tiriac Collection, which displays his personal cars, including several Bentleys, Lamborghinis, Rolls Royces, and Ferraris. According to Forbes, Tiriac's net worth is $1.32 billion,
Michael Jordan: $1.4 Billion
Wally McNamee—Corbis via Getty Images
Jordan led the U.S. men's basketball team to gold medals in two Olympics, as a college player in 1984 and later as the reigning NBA regular season and Finals MVP in 1992. He is best known as the greatest basketball player in history—a six-time NBA title winner and 10-time NBA scoring champion—as well as the name behind the most powerful brand in basketball sneakers.
According to Forbes, over the years Jordan has earned a pre-tax total of $1.3 billion in sponsorships, with the lion's share coming from Nike and the iconic Air Jordan brand. Jordan also has lucrative endorsement deals with brands like Gatorade and Hanes, and the North Carolina native is a part-owner of the NBA's Charlotte Hornets. His net worth is estimated at $1.4 billion.