The Richest People in the World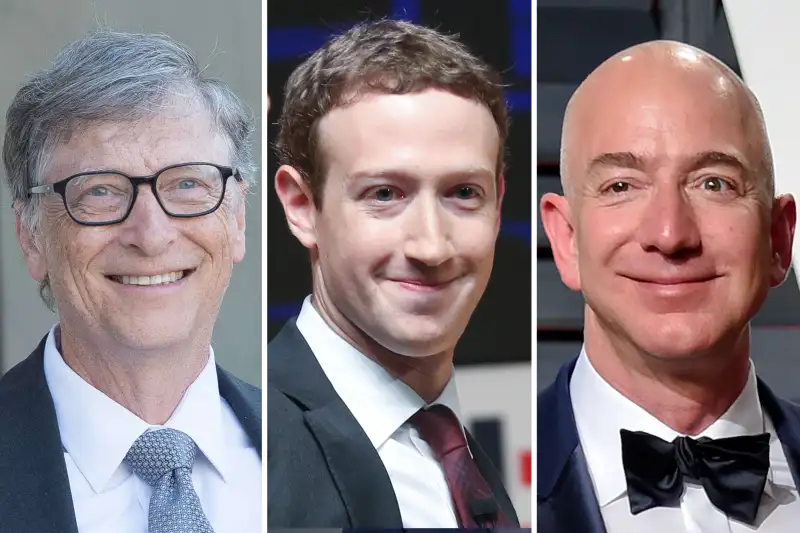 The richest people in the world have a staggering amount of wealth — comparable to the GDP of small countries for some. Many of the world's richest, like Microsoft founder Bill Gates, Amazon CEO Jeff Bezos or Facebook co-founder Mark Zuckerberg, are self-made and turned an idea into a billion-dollar fortune. For others, like the Koch brothers of Koch Industries, their businesses were inherited, but their control of the company led to overwhelming amounts of wealth.
Many billionaires donate a large percentage of their money to charity. In fact, several of the world's richest including Gates and Warren Buffet have made "The Giving Pledge," which means they have vowed to give away at least half of their wealth to charity.
There are more than 2,200 billionaires in the world, Forbes reported, and that number is only expected to grow. Based on the most recent estimates from Forbes, the world's richest people range from tech CEOs to heiresses to expert investors. Read on to find out how and why these people got so rich.
Who is the richest man in the world?
Amazon founder Jeff Bezos surpassed Bill Gates in July 2017 to become not only the world's richest man, but the richest person in the world with an estimated net worth of $112 billion, according to Forbes's 2018 Billionaires List.
Bezos's fortune jumped in 2017 amid a remarkable year for the retail giant, in which the company bought Whole Foods in June 2017 and had a record-breaking Amazon Prime Day.
Bezos, who bought The Washington Post in 2013 for $250 million, owns about 17% of Amazon.com, which is part of what buoyed him to the world's richest man. Morgan Stanley analysts predicted the company would soon be worth $1 trillion, and Bezos himself earned $20 million in the last year.
Who is the richest woman in the world?
Following the death of French heiress Liliane Bettencourt of L'Oréal fortune in 2017, two women are now considered as the richest women in the world. One is Walmart heiress Alice Walton, who has a net worth of about $46 billion in March, according to Forbes. And the other is Bettencourt's daughter Francoise Bettencourt Meyers, the 64-year-old heiress who now has a net worth of $42.2 billion, according to Forbes.
Walton is the only daughter of Walmart founder Sam Walton. The heiress has not been heavily involved in the family business, but is an active art patron who opened the Crystal Bridges Museum of American Art in Bentonville, Ark., in 2011.
Though she rarely gives interviews or appears in front of the media, Bettencourt's daughter is known as an academic and an avid pianist according to Bloomberg.Bettencourt passed away at age 94 in September 2017 at a time when she was worth about $39.5 billion and among the top 20 richest people in the world overall, according to Forbes. Her father, Eugene Schueller, founded the iconic cosmetics company L'Oréal in 1907, and Bettencourt owned a third of the makeup brand with her children.
List of the 10 Richest People in the World
1. Jeff Bezos
Responsible for the growth of online shopping and e-commerce, Jeff Bezos made his fortune by founding Amazon.com. The 53-year-old CEO of Amazon, launched the retail giant in 1994 after leaving his New York hedge fund job. Initially an online book retailer operated out of Bezos's garage in Seattle, Amazon.com grew to become the world's largest online shopping retailer, now worth over $430 billion, according to CNBC.
Bezos also owns a private space company Blue Origin and purchased The Washington Post in 2013 for $250 million. Amazon bought the upscale grocery chain Whole Foods in June for an estimated $13.7 billion.
Bezos's parents, Jackie and Mike Bezos, operate the Bezos Family Foundation, which supports youth education.
Industry: Technology
Net worth: $112 billion
2. Bill Gates
Born in Seattle, Gates used his first computer in 1967 while a kid in school. And about a decade later, he and his childhood friend Paul Allen, who also developed an interest in computers at their school, co-founded Microsoft together in 1975.
He was Microsoft's CEO until 2000, and was the company's chairman and largest shareholder until 2014. Gates is still a member of the board and serves as a technology adviser for the company.
Gates and his wife, Melinda, co-chair the Bill and Melinda Gates Foundation, which is the world's largest private charity. The foundation, launched in 1999, focuses on ending infectious diseases around the world, including HIV and malaria.
Outside of Microsoft, Gates is a public figure who, along with Warren Buffett and Mark Zuckerberg, founded "The Giving Pledge" to encourage other billionaires to donate a hefty amount of their wealth to charity. His charitable foundation focuses on health and development issues across the world.
An influential figure, the 61-year-old also releases a list of his favorite books each year.
Industry: Technology
Net worth: $90 billion
3. Warren Buffett
Berkshire Hathaway CEO Warren Buffett is an iconic figure and investment genius who bought his first stock when he was just 11 years old and filed his first taxes at age 13. Nicknamed the Oracle of Omaha, Buffett owns more than 60 companies.
One of the world's best investors, Warren is also known for his cheap spending habits. In the recently released HBO documentary Becoming Warren Buffett, the 86-year-old billionaire said he typically pays under $4 for breakfast from McDonald's each morning.
Like his peers, Buffett is a philanthropist and has vowed to give away 99% of his wealth.
Industry: Finance and investments
Net worth: $84 billion
4. Bernard Arnault
Bernard Arnault is responsible for many of the world's most fashionable brands, including Bulgari, Louis Vuitton, Dom Perignon and Sephora. The French billionaire is the chairman and CEO of LVMH, which is the largest luxury goods company in the world.
The 68-year-old began his career as a civil engineer and gained control of his family parent company, Groupe Arnault. In the 1980s, he bought fashion brand Christian Dior — a move that avoided bankruptcy for the brand.
Though he hasn't cracked the top 10 in several other rankings, Arnault's wealth grew by more than $5 billion in late April 2017 when he announced he would take full control of Christian Dior, Forbes reported.
Arnault is an art collector and created the Paris-based Foundation Louis Vuitton, which supports artistic creation in France.
Industry: Retail
Net worth: $72 billion
5. Mark Zuckerberg
Mark Zuckerberg was only a sophomore at Harvard University when he created the first version of Facebook in 2004. The social media powerhouse, which first began on college campuses, now has more than 1.2 billion users and dozens of offices located around the world. The company is now worth $400 billion.
Zuckerberg, the youngest of the world's top billionaires at 33, is the chairman and CEO of Facebook in addition to being its co-founder. The 2011 award-winning film The Social Network was based off of Zuckerberg's founding of Facebook while in school, and the subsequent drama that came as a result.
Like other billionaires, Zuckerberg is a philanthropist who has donated millions to charitable causes. He and his wife, Priscilla Chan, have pledged to donate 99% of their wealth through the Chan Zuckerberg Initiative.
Industry: Technology
Net worth: $71 billion
6. Amancio Ortega
Amancio Ortega is a Spanish self-made billionaire best known for founding Inditex fashion group, which includes Zara clothing stores. The richest man in Europe, Ortega co-founded Inditex in 1975 with his ex-wife Rosalia Mera, who passed away in 2013.
Ortega, 81, is also the wealthiest retailer in the world and owns 59% of Inditex, which operates 7,000 stores worldwide. He stepped down as chairman of the company in 2011.
His approach to his company's success can be attributed to two factors: speed and customers. Oretga's "fast fashion" philosophy included refreshing the stock at Zara stores twice a week, CNBC reported. And instead of focusing on what's in at fashion shows, the company follows bloggers and customers for what they're wearing to inform what is sold, Fortune reported.
Unlike other billionaires, Ortega has stayed out of the public eye. In fact, no photograph of him was ever published until 1999.
Industry: Retail
Net worth: $70 billion
7. Carlos Slim Helu
Mexican business tycoon Carlos Slim Helú is the richest person in Mexico, and owns more than 200 companies in industries ranging from banking to retail to telecommunications. The 81-year-old owns America Movil, the largest mobile phone company in Latin America, as well as the Grupo Carso conglomerate company, which includes a host of retailers and restaurants, among other companies.
Slim's father immigrated to Mexico from Lebanon with his family before Slim was born and had several successful retail and real estate businesses, Business Insider reported. Slim inherited the businesses after his father's death in 1953, and founded his his first company, insurance company Inversora Bursatil, after he graduated from college in the early 1960s.
His influence extends outside of Mexico as well. He now owns 17% of the New York Times — the largest individual shareholder of The Grey Lady.
Slim is a philanthropist, but has criticized other billionaires for giving their money to charity. Instead, Slim has said company leaders need to "create companies" rather than "give away companies."
Industry: Telecommunications, banking, retail
Net worth: $67.1 billion
8. Charles and David Koch (tied)
Charles Koch, 81, is the CEO, chairman and co-owner of Koch Industries, the second-largest private company in the United States.
Both he and his brother, 77-year-old David —the company's executive vice president — each own 42% of the conglomerate, which produces brands like Dixie Cup, Quilted Northern paper towels and Stainmaster carpet cleaner. The two brothers inherited the Wichita, Kansas-based company from their father.
The conservative Koch brothers use their deep pockets to influence politics and public policy through an expansive network. Koch-aligned networks like Americans for Prosperity gave rise to the libertarian movement, and the brothers have spent hundreds of millions backing politicians and influencing policy.
In fact, their network planned to spend $889 million just on the 2016 election, the New York Times reported. In 2012, the network spent under $400 million.
Industry: Conglomerate
Net worth: $60 billion each
9. Larry Ellison
Larry Ellison, the founder, chairman and former CEO of software company Oracle, came from humble beginnings.
The 72-year-old billionaire founded his company in 1977, having never taken a computer science class in his life, according to the Smithsonian. He moved from Chicago to California after dropping out of college (twice), and worked several jobs where he learned about computer programming, including one where he helped build a database for the CIA.
He and two co-workers left the company to found Oracle, which became the world's most popular database. He was the highest-paid executive in the United States before he stepped down as CEO in 2014, the Wall Street Journal reported.
Ellison has already given millions to charity and education, and plans to give away billions.
But he's also spent his wealth in more luxurious ways as well. He has millions of dollars worth of real estate around the world, including the entire island of Lanai in Hawaii.
Industry: Software
Net worth: $58.5 billion
10. Michael Bloomberg
Michael Bloomberg wears many hats: CEO, philanthropist and politician.
In 1981, he launched Bloomberg L.P., an information technology and media company that has now grown to be worth $45 billion with more than 100 offices worldwide. He was a partner at Salomon Brothers, a Wall Street investment bank, before he started his own company.
As a philanthropist, Bloomberg has donated $5 billion of his wealth to contribute to certain causes that align with his political interests, including gun control and climate change.
And Bloomberg is an experienced politician. He served three terms as mayor of New York City from 2002 to 2013. During his tenure as mayor, he commuted to work at City Hall from his home on the Upper West Side by taking the New York City subway every day.
He also considered running as an independent in the 2016 presidential election, and has said he does not plan to run for the highest U.S. office in the future.
Industry: Media
Net worth: $50 billion