The Richest Women in America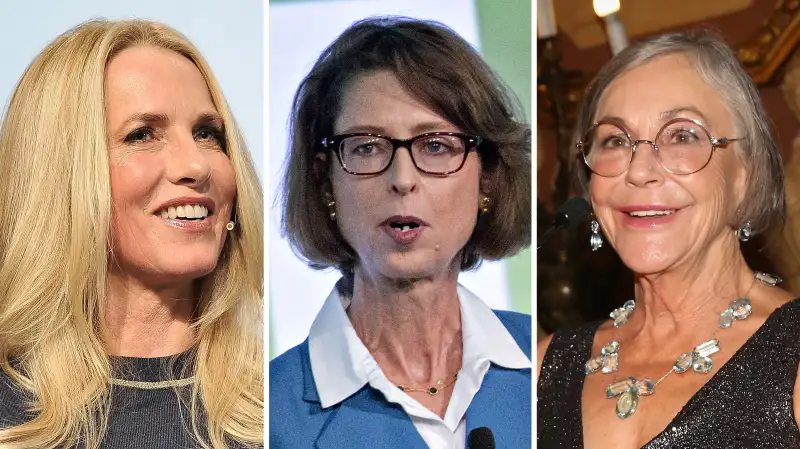 The richest women in America have more in common than just their wealth.
Eight out of the 10 richest women in America are descendants or widows of the founders of some of the biggest companies in the country – from Walmart to Apple to Mars candy.
In fact, the richest woman in America is from the Walton Family (of Wal-Mart), and half of the list consists of members of the Mars family. It's for that reason that women like Oprah Winfrey, who has a net worth of $2.8 billion, and Marian Ilitch, who co-founded Little Caesars Pizza, are not on this list. (They are, though, among the richest self-made women in America.)
Just as some of the richest people in the world like to donate their billions to charity, the richest women in America have used their tremendous inheritances for good, founding and running philanthropies. That includes Laurene Powell Jobs, who runs an organization dedicated to creating solutions to immigration reform and other social justice issues.
Based on
Sylvain Gaboury—Patrick McMullan via Getty Image
Industry: Retail
Net worth: $46.2 billion
Alice Walton is the heiress of the Wal-Mart fortune left behind her her father and Wal-Mart founder Sam Walton. Wal-Mart is the largest private employer in the country, and according to Bloomberg data, Walton is worth at least $46 billion.
Walton's family is also among the richest in the world. She and other members of her family run the Walton Family Foundation, which focuses on investing in programs related to K-12 education, environmental conservation and improving the quality of life in Arkansas.
The 69-year-old Texas resident is also known for her horse breeding and art collections, as well as her multi-million dollar Texas ranches. Exhibiting her passion for art, Walton also opened the Crystal Bridges Museum of American Art in Bentonville, Arkansas, her hometown.
With the recent death of French heiress Liliane Bettencourt, Walton is considered to be one of two richest women in the world. The other is Bettencourt's daughter, Francoise Bettencourt Meyers.
2. Jacqueline Mars
Industry: Food
Net worth: $40.1 billion
Similar to Walton, Jacqueline Mars comes from one of America's richest families and inherited a substantial amount of wealth. As the second richest woman in America, Mars is worth an estimated $40.1 billion — thanks to her Mars Inc. fortune and investments.
Founded in 1911, Mars Inc. is the largest candy maker in the world, with treats like M&Ms, Snickers and Skittles. The company has also expanded to sell pet supplies.
Mars, 79, owns a third of Mars Inc. Outside of the company, Mars is a philanthropist. Thanks to her work for the United States Equestrian Team Foundation, she won the foundation's distinguished trustee award in 2017. Mars lives in Virginia, where the company is based.
3. MacKenzie Bezos
(c) Copyright 2018, dpa (www.dpa.de). Alle Rechte vorbehalten; Getty Images
Industry: Retail
Net worth: $36.6 billion
A new entry to the list of richest women in America, MacKenzie Bezos, 49, had an estimated net worth of $36 billion after her divorce with Jeff Bezos — founder and CEO of Amazon, and the world's richest man — was finalized in 2019.
In May 2019, MacKenzie Bezos signed the Giving Pledge, committing herself to donating at least half of her fortune to charity.
4. Laurene Powell Jobs
Michael Cohen—Getty Images for The New York Times
Industry: Tech
Net worth: $20.9 billion
The widow of Apple cofounder Steve Jobs, businesswoman Laurene Powell Jobs is worth around $21 billion, according to Forbes. Steve Jobs died in 2011 and had a net worth of about $11 billion before his death, according to the Motley Fool.
Considered the fourth-richest woman in America, Powell Jobs is the founder and president of the Emerson Collective, an organization that works with policymakers to create solutions to issues in education and immigration reform, among other social justice issues. Powell Jobs, 55, has also founded other organizations, including College Track, a group that helps prepare low-income students for college.
Recently, Powell Jobs also bought a majority stake in the magazine The Atlantic for an unknown sum.
5. Elaine Marshall
Industry: Manufacturing, Energy
Net worth: $15.3 billion
Elaine Tettemer Marshall, 76, is a director at Koch Industries, with a net worth estimated at around $15 billion. She inherited a 15% stake in the company from her late husband, E. Pierce Marshall. Koch Industries is based in Wichita, Kansas, and the company is involved in a broad range of industries, including ethanol and oil production, investing, and chemical technology.
6. Abigail Johnson
Bloomberg—Bloomberg via Getty Images
Industry: Money management
Net worth: $14.7 billion
Abigail Johnson is the president and CEO of Fidelity Investments, which her grandfather founded in 1946. One of Fortune's Most Powerful Women, Johnson is worth around $15 billion and owns a 24.5 percent stake in Fidelity Investments, according to Forbes.
In 2016, Fidelity had its fourth-straight record year, with $15.9 billion in revenue, according to Fortune. Johnson, 57, was named CEO in in 2014, and took over as chairwoman of the company in 2016.
A Boston resident, this richest woman received her M.B.A. from Harvard University and joined the company as a financial analyst after graduating in 1988.
7. to 10. Marijke Mars, Victoria Mars, Pam Mars-Wright, Valerie Mars
Industry: Food
Net worth: $9.9 billion each
The final four spots in the list of top 10 richest women in America are occupied by members of the Mars family. Marijke Mars, Victoria Mars, Pam Mars-Wright, and Valerie Mars all own stakes in Mars Inc., the huge candy company, and each of the four sisters has a net worth estimated at nearly $10 billion.
11. Blair Parry-Okeden
Courtesy of UH Foundation
Industry: Media
Net worth: $8.69 billion
A Cox Enterprises heiress, Blair Parry-Okeden is worth around $9 billion, according to Bloomberg. Her mother, Barbara Cox Anthony, was the daughter of the company's founder and died in 2007. As a result, Parry-Okeden inherited a 25 percent stake in the company.
Cox Enterprises is an Atlanta-based communications and automotive services conglomerate that Parry-Okeden's grandfather, James M. Cox. founded in 1898. The fifth richest woman in America, Parry-Okeden owns the company with two other members of her family.
Despite being from the United States, Parry-Okeden now lives in Australia with her husband.
12. Christy Walton
Alberto E. Rodriguez—Getty Images
Industry: Retail
Net worth: $7.57 billion
Christy Walton is also the beneficiary of the Walmart fortune as the widow of John T. Walton, one of Sam Walton's sons. Worth around $7 billion, Christy Walton inherited her fortune when her husband died in a plane crash in 2005.
Like her sister-in-law Alice, Christy Walton is involved in other projects outside of Walmart. She is on the Board of Directors of the Children's Scholarship Fund, which her husband co-founded. The organization is dedicated to helping low-income students "escape poverty through educational opportunity."
According to Forbes, Christy Walton's son, Lukas Walton, also inherited a portion of his father's wealth — and is one of the five youngest billionaires in America.
13. Katharine Rayner
Krista Kennell—Patrick McMullan via Getty Image
Industry: Media
Net worth: $5.77 billion
Katharine Rayner, one of the richest women in America, is also one of the heiresses to the Cox Enterprises fortune. With a $5.77 billion net worth, Rayner is also the granddaughter of James M. Cox.
She inherited a portion of her mother's 49-percent stake in Cox Enterprises with her siblings, Margaretta Taylor, who is also on this list, and James Cox Chambers. They each have a 17 percent stake in the company.
The 74-year-old's East Hampton home and garden has been featured in Vogue. The heiress is also a philanthropist and trustee of the New York Public Library. In 2017, she gave $15 million to the library's research collections.
14. Margaretta Taylor
Ron Galella—WireImage/Getty Images
Industry: Media
Net worth: $5.77 billion
Like her sister Rayner, Margaretta Taylor has a net worth of nearly $6 billion thanks to her inherited 17-percent stake in Cox Enterprises from her mother.
Taylor, 77, and her siblings inherited their wealth from their mother back in 2015.
Cox Enterprises owns the third-biggest cable operator in the U.S.
15. Pauline MacMillan Keinath
Industry: Food
Net worth: $4.52 billion
Pauline MacMillan Keinath is an heiress of the founder of Cargill, the biggest food company in the world. Cargill supplies a wide variety of brands, including animal food giants like Nutrena and Purina. With a net worth of around $4.5 billion, she is the 15th-richest woman in America. She is 84 years old.
Cargill Inc., the Minnesota-based food company that operates in 70 different countries with 155,000 employees, was founded by her great-grandfather W.W. Cargill in 1856. The Cargill family owns about 90 percent of the company, and Keinath owns a 12 percent stake herself. According to Forbes, she "is believed to be the largest shareholder" of the company.