How Lousy Airplane Coffee Inspired This Man to Chase His Own Java Dream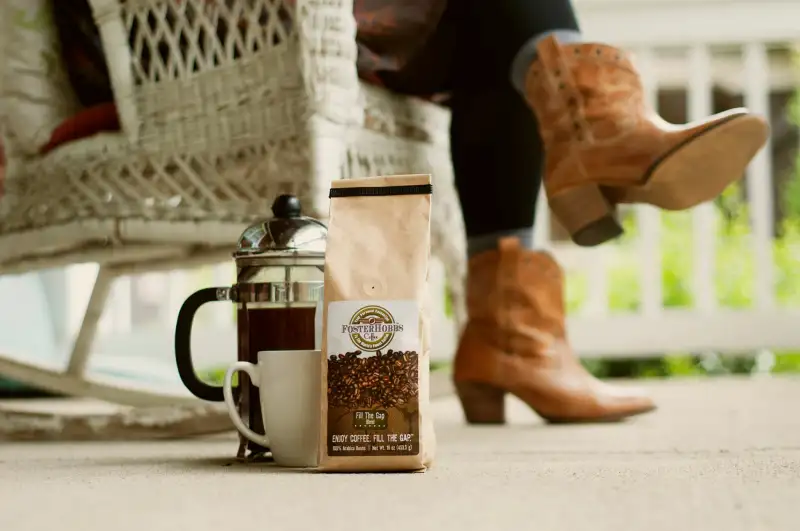 Years of scarfing down cups of lousy airplane coffee, laced with milk to make it palatable, propelled former airline pilot Mike Foster's venture, FosterHobbs Coffee Roasters, an artisan provider of specialty-grade Arabica coffee beans, in High Point, N.C. You can't get many beverages there: iced coffee, yes; espresso, no. The focus is on ground or whole beans that coffee lovers can brew at home.
"I discovered my passion for coffee on my first transatlantic flight in the mid-1990s as a pilot for American Airlines," says Foster, 57. "The coffee I drank trying to keep my eyes open was awful. I made it a hobby to seek out new coffee shops wherever I had layovers."
In 2009, after 23 years with the airline, Foster accepted an early retirement from his six-figure salary and captain's seat at American Airlines, with a dream of opening his own coffee shop.
Like a pilot performing a pre-takeoff flight check, he went about this with deliberation. Foster spent two years diligently doing research and working with a coffee industry consultant. The consultant advised him to forgo serving java drinks a la Starbucks­–and instead build a potentially more profitable business selling freshly roasted high-end coffee beans.
But was that the right advice? He turned to a bunch of different people with expertise in coffee and retailing in general, including a past president of a large grocery store chain, the head of a prepackaged food company, a district manager of a specialty grocery store chain, a Starbucks trainer, one of Microsoft's former marketing gurus, a coffee brewing equipment expert, and a master roaster. They all concurred with the industry consultant­: stick to selling beans.
So in 2011, Foster began the lengthy process of opening the business. He named it FosterHobbs, combining his surname and his wife Pam's maiden name. A designer created a logo centered on a winged coffee bean, which hearkens back to his flying past. With a physical store in a small town—High Point, near Winston-Salem and Greensboro, has 110,000 residents—he knew he'd need to have a robust online sales effort, so he also launched a website.
In 2012, Foster signed a lease on a storefront. Then he spent six months getting the property equipped to roast green coffee beans and sell them in pound-size bags directly to customers. Startup capital went into the equipment and initial inventory ($10,000), plus about $6,000 to create the website. Financing came from personal savings and small loans from three silent investors, who each got a 5% share of the business. Over the past three years, the business also tapped an additional $50,000 from a credit union line of credit.
In December 2012, the roastery and retail store opened at last. Like most startups, it was not an overnight smash. "We made $800 the first week. At that point, I was just excited someone bought our beans," says Foster.
Customers can buy bags of 100% Arabica whole bean or ground specialty grade coffee from Brazil, Colombia, Costa Rica, Ethiopia, Peru, and Sumatra. The company roasts small batches to order, thus providing the freshest coffee to customers. The store's best sellers are Costa Rica, LaMinita, Sumatran, and their own offering called RedHead Blend.
By last September, the tiny roaster broke into the black on its 1,000th day of operation. For 2015, it brought in revenues of $45,600. Granted, that's not a lot of money, but there are good reasons for optimism.
Sales are picking up at an average rate of 65% a month over the same month last year, as a steady stream of new customers have purchased Foster's freshly roasted coffee beans at around $13 or $14 for a 12-ounce bag. And he now has a growing number of wholesale accounts, including local coffee shops and restaurants, and one major retailer, The Fresh Market, an upscale grocer in Winston-Salem.
The biggest obstacle has been the shop's lackluster web presence. The original plan was to sell 80% of its goods online, because a small town like High Point couldn't support FosterHobbs with walk-in purchases. Through yearend 2015, web sales only managed to hit 2%. The site began with a shopping-cart function that wasn't user-friendly, Foster admits, saying, "My own lack of tech savvy held us back."
So he and his spouse recently revamped the FosterHobbs website and devised a new social media marketing strategy. Pam is now concentrating her efforts on FosterHobbs' Facebook, Instagram, Pinterest, and Twitter accounts. Now, online provides 9% of sales.
Foster forecasts overall sales to double in 2016, and plans to start drawing a modest salary. His vision for FosterHobbs is to ultimately become a major player in the Southeast, and perhaps nationwide.
Adds Foster: "I never got use to the airline coffee. Ha!"