Star Wars Original Trilogy Returns to Movie Theaters This Summer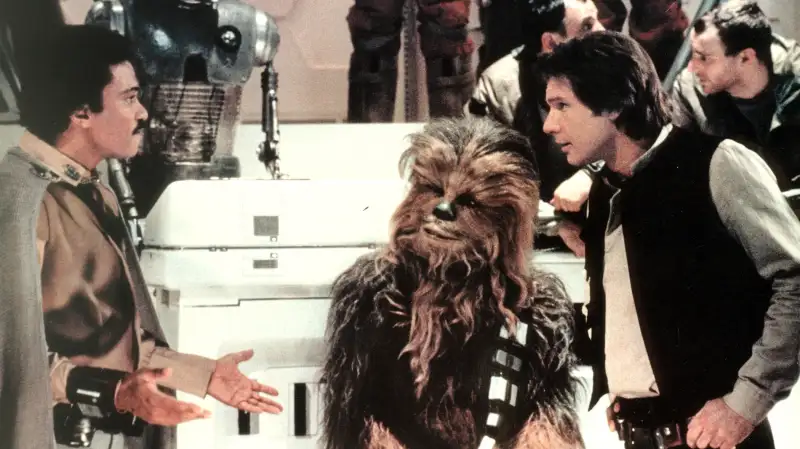 LucasFilms—moviestillsdb.com
In some people's minds, there are still only three Star Wars films. Such is the power of nostalgia, mixed with widespread scorn for bad screenplays and Jar-Jar Binks.
Since Star Wars mania is back in effect due to the success of The Force Awakens, and an entire generation hasn't seen the original trilogy -- the "OT" as it's called by fans -- on the big screen, numerous theaters have arranged to show the three classics during the summer of 2016.
Facilitated by Alamo Drafthouse Cinema, this "Return of the Trilogy" event will be touring the country throughout August. (The movies shown will be the 1997 revisionist history-versions, so Han will not be shooting first.) In many cases, the locations hosting the films are not your typical movie theaters. The special venues include the Boston Opera House, Theatre at the Ace Hotel in Los Angeles, and the Brown Theatre at the Kentucky Center for the Performing Arts in Louisville.
Seeing that this time around the trilogy is being shown in the post-Avatar era, the novelty of the old special effects may not be enough to disguise the films' flaws, including (some say) weak scripts, hollow acting, and occasional cringe-worthy moments. But while you will notice the flaws, you will be noticing them projected on the big screen, in all its glory, so you will forgive. Well, most of its glory: The movies will be shown in DCP (digital cinema package) instead of 35-millimeter film.
Read next: 8 Lessons 'Star Wars' Taught Us About Money
Tickets officially go on sale starting, appropriately, May 4, a.k.a. May the Fourth, a.k.a. Star Wars Day.
Here are the dates and cities for the roadshow:
August 6 – San Francisco, CA / The Warfield
August 6 – Kansas City, MO / The Midland Theatre
August 6 – Washington, D.C. / Warner Theatre
August 6 – Los Angeles, CA / The Theatre at the Ace Hotel
August 6 – New York, NY / The Town Hall
August 6 – Miami, FL / Olympia Theatre
August 6 – San Antonio, TX / Majestic Theatre
August 7 – New York, NY / Kings Theatre
August 7 – Dallas, TX / Majestic Theatre
August 11 – Austin, TX / The Long Center for the Performing Arts
August 12 – Austin, TX / The Long Center for the Performing Arts
August 13 – Austin, TX / The Long Center for the Performing Arts
August 13 – Philadelphia, PA / The Keswick Theatre
August 13 – Louisville, KY / Brown Theatre
August 20 – Oakland, CA / Paramount Theatre
August 27 – Boston, MA / The Boston Opera House
Date TBD – Houston, TX / Venue TBD
Date TBD – Denver, CO / Venue TBD