Minimum Wage Workers Just Got a Raise in These 23 States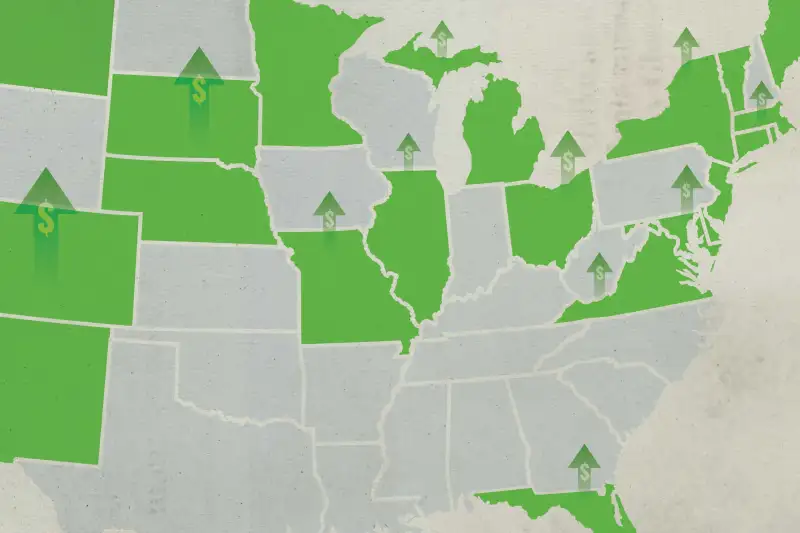 Nearly two dozen states rang in the new year with hourly minimum wage increases, boosting paychecks for millions of U.S. workers.
The pay raises are now in effect for 8.4 million workers across 23 states, set in motion by previously passed legislation, ballot measure or as annual cost of living adjustments, according to a data analysis by the nonprofit think tank Economic Policy Institute. Twenty-seven cities and counties also bumped up their minimum wages on Jan. 1, and four more states are hiking minimum wages later this year, adding to the number of Americans expected to see higher earnings.
Full-time workers affected by the increases will earn anywhere from $150 to $937 more a year, the EPI says. Michigan made the smallest bump with a $0.23 hourly raise, while Nebraska led the pack with a hike of $1.50 an hour.
The EPI says the increases mark a meaningful change for minimum-wage workers, 23.2% of whom have incomes below the federal poverty line. More than half (58.7%) of minimum wage workers in the U.S. are women, 21.8% are Hispanic, 12.2% are Black and 14.4% are multiracial and/or Native.
While the jobs market is strong and pay bumps are a welcome step forward amid record inflation, advocates for economic justice say the minimum wage should be much higher if it kept pace with productivity growth since the late 1960s.
The federal minimum wage remains stuck at $7.25 since its last increase in 2009. The EPI estimates that it would be about $19 an hour today if the U.S. government continued raising it at the same rate as productivity after 1968.
Other estimates say the minimum wage should be even higher: The Center for Economic and Policy Research, another progressive think tank, calculated that a minimum wage on par with productivity growth would be more than $20 an hour today.
States where minimum wage workers are getting a raise
These are the states where the minimum wage has already increased or will increase in 2023:
Alaska: $10.34 to $10.85
Arizona: $12.80 to $13.85
California: $14.50 for companies with up to 25 employees, $15 to $15.50 for more than 25 employees
Colorado: $12.56 to $13.65
Connecticut: $14 to $15 on July 1
Delaware: $10.50 to $11.75
Florida: $11 to $12 in September
Illinois: $12 to $13
Maryland: $12.50 to $13.25
Massachusetts: $14.25 to $15
Michigan: $9.87 to $10.10
Missouri: $11.15 to $12
Nebraska: $9 to $10.50
Nevada: $9.50 to $10.25 (with benefits); $10.50 to $11.25 (no benefits) on July 1
New Jersey: $13 to $14.13
New Mexico: $11.50 to $12
New York: $13.20 to $14.20, $15 in New York City
Maine: $12.75 to $13.80
Minnesota: $8.42 to $8.63 for employers with annual revenue under $500,00; $10.33 to $10.59 for more than $500,000 annual company revenue
Montana: $9.20 to $9.95
Ohio: $9.30 to $10.10
Oregon: 12.75 to $13.50 (effective July 1, indexed annual increase to be based on the CPI)
Rhode Island: $12.25 to $13
South Dakota: $9.95 to $10.80
Virginia: $11 to $12
Vermont: $12.55 to $13.18
Washington: $14.49 to $15.74
More from Money:
4 Best Money Moves for January 2023
Job Hunters Are Increasingly Searching for Gigs That Pay $20 (or More) an Hour