Biden Reveals New Student Loan Forgiveness Plan — Here's What Borrowers Can Expect Next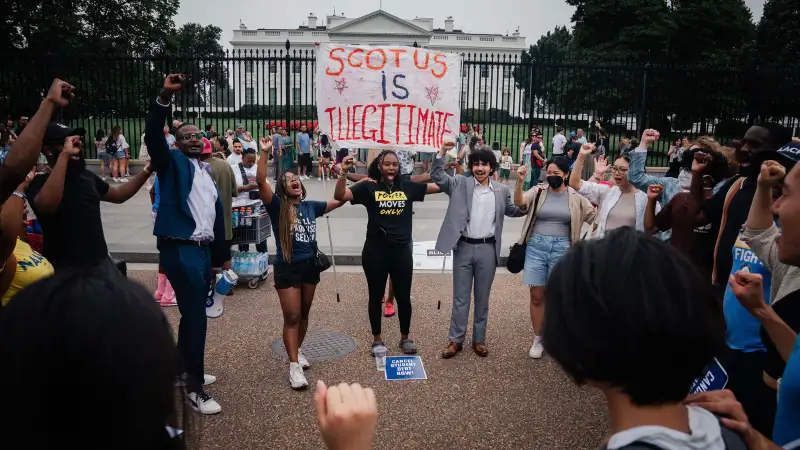 President Joe Biden will try to accomplish his long-promised student loan forgiveness through a new avenue after the U.S. Supreme Court blocked his original plan to forgive the debts of millions of borrowers.
The administration is starting a regulatory process to attempt to cancel student debt through a 1965 law called the Higher Eduction Act, Biden told reporters Friday, saying the process would take longer than his now-blocked 2022 proposal but is more legally sound.
The president's comments came as borrowers were still trying to digest the court's decision that the Biden administration did not have the authority to cancel over $400 billion worth of debt in the manner proposed. Admittedly, there's a lot that's not clear at this point about the timeline or next steps for borrowers.
But here's what we do know:
Biden has a new plan for student loan forgiveness
The court ruled that the Education Department did not have the authority to broadly forgive student loan debt under the HEROES Act, which is tied to national emergencies. Even before the decision dropped on Friday, some lawmakers and advocates were pushing the Biden administration to try for large-scale debt forgiveness using the Higher Education Act, or HEA, which legally grants the secretary of education the power to "compromise, waive or release" federal loans.
That's what Biden said he would do — but through a regulatory process called negotiated rulemaking, which requires a period for public comments and then several meetings for negotiators to weigh in on the new rule. It's unclear whether the administration is proposing the same amount of cancellation this time around.
We also don't know how long this process might last. Bharat Ramamurti, deputy director of the National Economic Council, said Friday the administration's new path will take months, though negotiated rulemaking processes regularly last at least a year.
"This new path is legally sound. It's going to take longer [under the HEA]," Biden said. "In my view, it's the best path that remains to providing as many borrowers as possible with debt relief."
Even so, the result could still face legal challenges.
Several experts commenting on the court's ruling on social media Friday said the court's written decision suggests many of the justices wouldn't be receptive to the administration unilaterally canceling debt through the Higher Education Act, either. Chief Justice John Roberts, in the majority opinion, said that while the secretary can waive or modify existing regulations regarding student loans under the HEROES Act, it's not OK to "rewrite the statute from the ground up."
Whether that'd also apply to the results of the negotiated rulemaking approach is up for interpretation.
Lanae Erickson, senior vice president of social policy and politics at think tank Third Way, says she thinks the court's opinion is clear.
"Borrowers have been jerked around for almost a year now," she adds. "How long will it take to go through this whole process again only to end up at the same place?"
Student loan payments will restart soon
Federal student loan payments and interest accrual have been paused since the start of the pandemic in March 2020. Started by then-President Donald Trump, this moratorium has been extended eight times — but it's not going any further.
In the recent debt ceiling deal, the Biden administration officially agreed to end the student loan payment pause 60 days after June 30 (at the latest). Earlier this month, the Education Department told Politico that interest will start accruing again on Sept. 1, with the first payments due in October.
This amounts to a logistical nightmare for loan servicers, which are all but certain to be overwhelmed by the prospect of nearly 40 million borrowers beginning to make payments for the first time in years all at once. And that's not to mention the fact that an estimated 40% of borrowers will have a new servicer to deal with.
Complicating the picture is a funding shortfall at the Office of Federal Student Aid, which translates into fewer resources to help borrowers navigate this process, particularly all those who will be paying for the first time.
A lot of borrowers are going to have questions about how much they need to pay, when they need to pay it and what they can do if they can't afford their bills, says Regan Fitzgerald, who runs the Pew Charitable Trust's Project on Student Borrower Success. For many, their first instinct will be to pick up the phone and call their loan servicers... "and because of funding issues at FSA, there aren't going to be as many folks on the other end of that phone," she says.
The result will be longer wait times, a higher likelihood of dropped calls and ultimately borrowers becoming frustrated — "it's going to be a difficult lead-up into the restart," she adds.
Borrowers will see an 'on-ramp' to restarted payments
Alongside plans to try again to push through large-scale loan forgiveness, the president also said he is providing borrowers a temporary 12-month "on-ramp" to restart payments — a period during which the Education Department will not report any missed payments to credit bureaus to give borrowers "a chance to get back up and running."
This is intended to remove the threat of default and keep missed student loan payments from wrecking borrowers' credit scores. But Biden emphasized that it is not another payment pause and that borrowers who can afford payments should make them.
"We'll use every tool at our disposal to get you the student debt relief you need and reach your dreams," he said.
But many will struggle to afford those loan payments
The looming end of the student loan moratorium is a logistical nightmare for borrowers themselves, too, many of whom have redirected the funds they'd normally have spent on loan payments to expenses like home down payments and health care.
It's safe to say the economy is a lot different now than it was in March 2020. In a poll released in early June, 62% of borrowers told Morning Consult that they expect to miss at least one payment, with 56% saying they're likely to default.
Fitzgerald says that borrowers in focus groups have reported feeling very concerned about their finances in general, so it's "more important than ever" than there's strong communication from the department about their options for help.
Regardless, we're looking at a ripple effect on individual Americans' financial situations as well as the economy at large.
"My suspicion is that most of the folks who are going to have to start paying again have limited capacity to handle the increased expense," Thomas Simons, U.S. economist with investment bank Jefferies, told Reuters. Assuming that impacts consumer spending, "I expect that this is going to be the tipping point that puts the economy into a recession," he added.
Other ways to get student debt forgiven (or paid) could grow
Biden's initial plan, though it would have been historic, is not the only way to get student loans canceled.
With widespread forgiveness off the table, borrowers may flock to programs like Public Service Loan Forgiveness, which has nixed loans for more than 600,000 borrowers since October 2021.
There's also forgiveness via income-driven repayment, and the Education Department finalized a new, far more generous repayment plan on Friday. The new plan, called Saving on A Valuable Education (SAVE), will cut monthly payments to zero for millions of low-income borrowers and save many other borrowers at least $1,000 per year, the department says.
Finally, workers could also see an expansion in job perks tied to student loans. Kristen Carlisle, vice president and general manager of Betterment at Work, says the Supreme Court decision gives employers a real opportunity to step in and help their employees with debt.
"It's time for student loan support to go from a 'nice to have' to a fundamental go-to for any company that's looking to offer a modern financial wellness benefits package," Carlisle said. "Support can be provided in a variety of ways: whether it's by offering a student loan management solution to help employees better understand and easily pay down their debt, offering direct contributions through student loan/401(k) matching programs, or offering sessions with a financial advisor."
More from Money:
Supreme Court Blocks Biden's Student Loan Forgiveness Plan
When Will Student Loan Payments Start Again?