3 Million Student Loan Borrowers Have Monthly Payments Cut to $0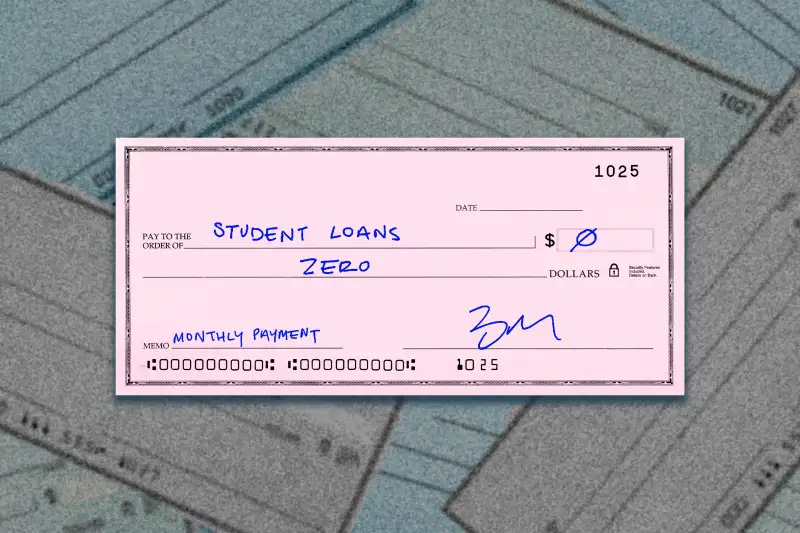 Olive Burd / Money; Getty Images
It's not student loan forgiveness, but it may be the next best thing for many borrowers.
Under President Joe Biden's new income-driven repayment plan, about 3 million federal student loan borrowers have been approved for $0-a-month loan payments, according to new data from the Department of Education.
In total, 5.5 million borrowers were enrolled in the Saving on a Valuable Education (SAVE) plan as of Oct. 15, meaning more than half of those who have signed up so far have income levels that qualified them for $0 monthly payments. On average, all borrowers in the plan have had their monthly bills reduced by $102, amounting to a savings of $1,224 a year from pre-SAVE levels.
"SAVE is doing what it said it was going to do, which is to provide significant relief," says Betsy Mayotte, the president of The Institute of Student Loan Advisors, a nonprofit organization that provides free student loan advice to borrowers. "Especially to borrowers whose loan balances are high compared to their income."
Biden unveiled the SAVE plan in June after the U.S. Supreme Court blocked his marquee forgiveness plan to cancel up to $20,000 of federal student debt per borrower. That day, he also vowed to find a new legal avenue for broad forgiveness, the specifics of which are currently being negotiated.
In the meantime, there's SAVE. Because it's an income-driven repayment (IDR) plan, those who sign up have their bills calculated based on how much money they earn — not how much debt they owe.
The SAVE plan is more generous than other IDRs the federal government has offered in the past because the Biden administration changed the methodology it uses to calculate monthly payments.
Under the old Revised Pay As You Earn, or REPAYE, plan, monthly payments were equal to 10% of a borrower's discretionary income, defined as any income above 150% of the federal poverty guideline. With SAVE, that threshold is 225%. That means single borrowers who earn less than $32,800 per year or those in a family of four making less than $67,000 have a $0 payment.
What is a $0 student loan payment?
A $0 payment may sound like an oxymoron, but successfully making required payments each month puts borrowers on a path toward total loan forgiveness — and borrowers get credit even if their quote-unquote "payment" is $0.
In addition, so long as borrowers continue making on-time payments, any interest that would increase the balance of their loan would be waived. This waiver is huge, Mayotte says. Under older IDRs, someone could be approved for, say, a $100-a-month payment, but if that $100 didn't cover their loan balance's interest, they would still see their balance increase month after month.
"I hear from borrowers all the time how incredibly demoralizing it is to make a payment every month only to see their balance go up," Mayotte says.
In an FAQ, the Education Department says that if you have a $0 payment, you do not need to pay or do anything that month — you'll still get credit toward IDR forgiveness and the SAVE interest waiver.
However, while the plan promises major relief, SAVE has had a rocky rollout. Student loan payments restarted in October for the first time since 2020, and many borrowers who signed up for SAVE and got approved for low monthly payments received incorrect bills from their loan servicer for hundreds — or even thousands — of dollars higher than the approved amount.
The Education Department recently acknowledged the widespread errors by loan servicers — estimating that more than 200,000 borrowers had issues specifically related to SAVE, and about 2.5 million borrowers weren't properly notified of their first bill. Some folks affected by the errors may even be due reimbursement from their servicers, the department says.
More SAVE benefits coming in 2024
In July 2024, the Education Department intends to roll out more benefits for those enrolled in SAVE. Notably, monthly payment amounts will be calculated based on 5% of discretionary income, down from the current 10%.
Additionally, student loan forgiveness for certain people who have made on-time payments for 10 years or more will take effect.
"Borrowers with original principal balances of $12,000 or less will receive forgiveness of any remaining balance after making 10 years of payments, with the maximum repayment period before forgiveness rising by one year for every additional $1,000 borrowed," the Education Department says.
For example, if your original student loan balance was $12,000 and you made 10 years' worth of qualifying payments, any remaining balance would be forgiven. If you originally owed $15,000, any remaining balance after 13 years of on-time payments would be forgiven, starting in July 2024.
Other consolidation, forbearance and automatic-enrollment benefits are set to roll out that month, as well.
More from Money:
Best Student Loans and Private Student Loans of 2023
When Is the FAFSA Available This Year? Nobody Knows
How to Get Student Loan Forgiveness