Super Bowl Tickets Are Averaging Over $3,000 and We Don't Know Who Is Playing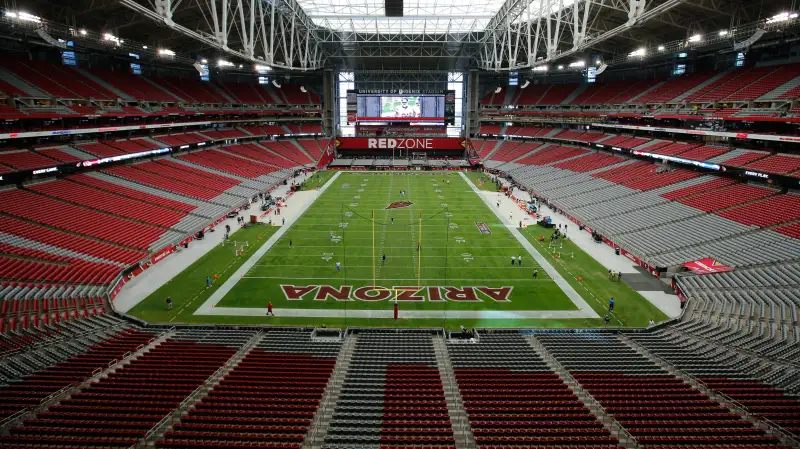 The NFL teams competing in Super Bowl XLIX on February 1 at the University of Phoenix Stadium won't be determined until this weekend's NFC and AFC championship games are over, but that hasn't stopped football fans from paying top dollar for tickets. According to the ticket resale site StubHub, the lowest get-in price to the 2015 Super Bowl was around $2,250 as of Thursday. What's more, the site says that ticket sales are up 260% compared to last year, when the cold-weather venue, MetLife Stadium in New Jersey, was a much less attractive destination than Phoenix in the wintertime.
StubHub reports that over the past week, average Super Bowl ticket resale prices have risen from $3,017 to $3,106. Other ticket resale and research specialists, including TiqIQ.com and SBTickets.com, have been listing tickets starting at $2,100 and going as high as $5,900 lately.
As recently as late December, get-in prices to the game were starting at around $1,600. Generally speaking, ticket demand and prices spike immediately after the AFC and NFC championship games end, and understandably so: Fans finally know which teams are playing in the Super Bowl, and if one is their team, they'll blow the budget for the chance to witness what they hope will be world championship glory in person.
In a glance, it's apparent that ticket prices are rising and are likely to keep rising in the days ahead. So the smart move for fans who HAVE to be at the game would be to snatch up seats sooner rather than later, right? Well, perhaps not.
Often, Super Bowl ticket prices drop in the last few days before the game. This is the period after the big spenders have grabbed their seats and the sellers who have yet to unload their tickets don't want to be left holding the bag. Hence, the decreasing prices at the last minute for Super Bowl 2013 and Super Bowl 2014, when the cheapest tickets dropped to $1,200 and $1,500, respectively, within days of the kickoff.
Mind you, a last-minute price plunge is not guaranteed. If the Super Bowl winds up featuring the New England Patriots and the Green Bay Packers—which both have incredibly loyal fans known to travel to games, and which both have future Hall of Fame quarterbacks in Tom Brady and Aaron Rodgers—ticket prices could rise much higher and faster than usual. They could also stay high right up until game day.