Supreme Court Blocks Biden's Student Loan Forgiveness Plan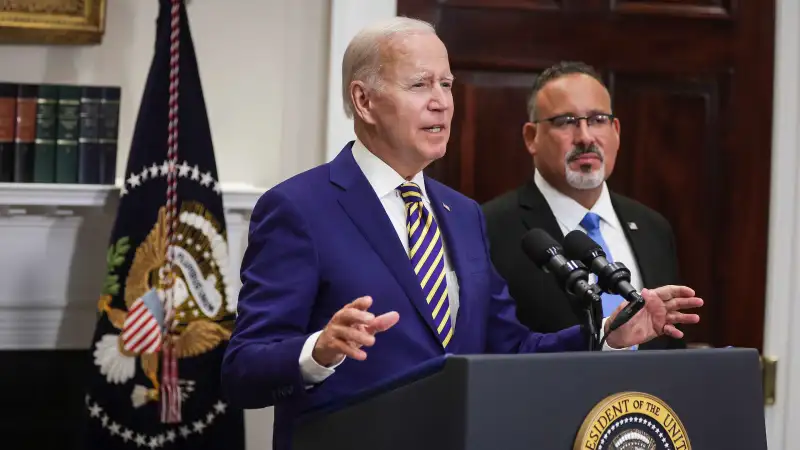 The Biden administration's plan to cancel the student debt of millions of borrowers is officially dead.
In a 6-3 decision, the U.S. Supreme Court ruled today against President Joe Biden's plan to forgive up to $20,000 of student debt per borrower, dashing the hopes of millions of Americans who were anticipating relief from the weight of student debt. Following this decision, the student loan moratorium will lift at the end of August.
In striking down the plan, the court focused on the Biden administration's lack of authority to broadly cancel student loan debt using the HEROES Act — a post 9/11 law that allows the Education Department to provide relief to some federal student loan borrowers in national emergencies. Former President Donald Trump's Education Department used this law to initially implement the pause on student loan payments.
"The question," Chief Justice John Roberts said in delivering the opinion of the court, "is not whether something should be done. It's who has the authority to do it."
Many legal observers expected the court to block the debt relief plan after hearing justices' line of questioning during oral arguments in February. Still, borrowers and student debt advocates flooded social media to lambast the top court's decision.
"The high court is asking people with student debt to pay the price for decades of government mismanagement and industry abuses across the student loan system," said Mike Pierce, the nonprofit Student Borrower Protection Center's executive director, in a statement.
Last August, Biden announced a $400 billion plan to forgive up to $10,000 of federal student debt for borrowers who earned less than $125,000. Those who received a financial-need-based Pell Grant during college could have received up to $20,000 of forgiveness. In total, up to 40 million borrowers could have qualified for relief under the plan, with roughly 20 million of them eligible for total forgiveness of their remaining balances.
Following the president's announcement, conservatives quickly questioned whether he could bypass Congress and forgive the debt on his own, and the Biden administration soon found the plan in a quagmire of legal challenges. Still, the administration pressed on — more than 26 million borrowers applied before the administration was forced to close the application pending litigation. Since then, borrowers have been in limbo, with skepticism and confusion setting in as the months passed.
In writing the decision, Justice Roberts said the administration's plan "cannot fairly be called a waiver — it not only nullifies existing provisions, but augments and expands them dramatically."
Justices Kagan, Sotomayor and Jackson dissented.
"In every respect, the court today exceeds its proper, limited role in our nation's governance," Justice Kagan stated in her 30-page dissent, arguing that the court shouldn't have ruled on the legal merits at all due to the plaintiff's lack of standing to sue the Biden administration. That aside, she argued, the program still had legal footing to proceed.
While the court's decision was expected by some, the consequential Supreme Court decision still stings for many borrowers. And with it comes the end of the student loan payment pause. Interest will begin accruing on student loans again on Sept. 1, and payments are expected to resume in October. A provision in the recent debt ceiling deal blocks the administration from further extending the pause, which has been in place for more than three years.
It's unclear where the administration will go from here with regards to widespread student loan forgiveness. Separate from the one-time cancellation plan, the administration says it has already wiped out some $66 billion in debt for more than 2.2 million borrowers. That includes canceling the debts of more than 600,000 borrowers via improvements to the longstanding Public Service Loan Forgiveness (PSLF) program, as well as assistance to borrowers who were defrauded by their colleges.
The administration is also conducting a one-time payment adjustment for borrowers in income-driven repayment plans that will move millions closer to forgiveness, and it has announced plans for a more generous repayment program that could significantly shrink monthly loan bills and offer forgiveness on a short timeline.
While the president nor his administration can no longer extend the payment pause unilaterally, Politico reported Thursday — citing unnamed officials — that the Education Department has finalized a 90-day grace period for missed payments, once they become due — and advised loan servicers to be prepared to extend the grace period for even longer as necessary.
This is a developing story. We'll update our coverage as we get more information about the next steps for borrowers. In the meantime, borrowers should start making preparations for student loan payments to resume.

More from Money:
When Will Student Loan Payments Resume?