Here's Why Taylor Swift Is Selling $60 Snake Rings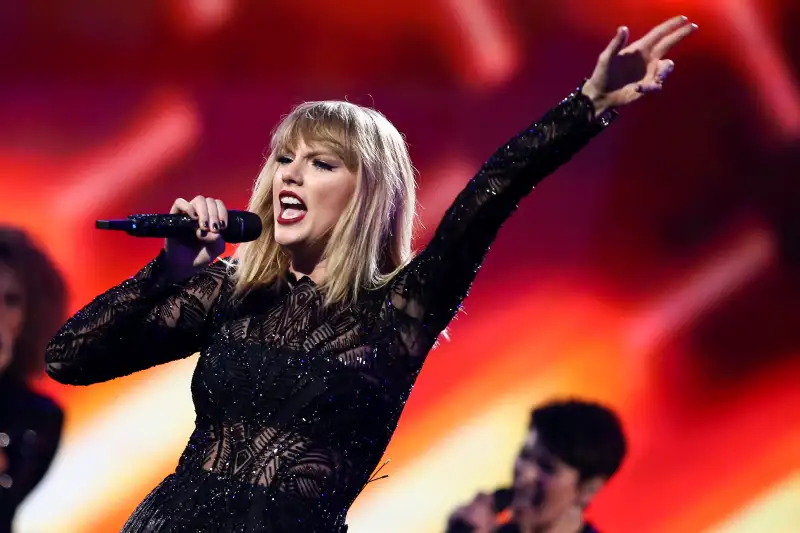 John Salangsang—Invision/AP
Never one to not profit off of gossip and media feuds, Taylor Swift is back after a near three-year music hiatus with a new single and forthcoming album, and she's letting us all know: she is, indeed, a snake, and she's embracing it.
Swift, a master marketer, led up to the announcement of her new music with three videos of a snake on her social media feeds (all of her old posts were deleted from her accounts). Stills from her yet-to-be-released video for "Look What You Made Me Do" feature her wearing sparkling snake rings, and her online shop now offers them in gold and silver for $60.
So why has Swift embraced the serpent?
The VMAs Interruption Heard 'Round the World
It all goes back to Kanye West. As you may recall, West interrupted Swift at the VMAs in 2009 when she won Video of the Year for "You Belong With Me," uttering the now infamous, "Yo Taylor, I'm really happy for you. Imma let you finish, but Beyoncé had one of the best videos of all time." Then, the world stopped spinning, the media painted Kanye as a villain (to be fair: it was rude), and drama ensued for years.
Fast-forward to 2015, it appeared all was good between Swift and West. She presented him with the Michael Jackson Video Vanguard Award—at the VMAs, they hugged. All was well.
That is, until West dropped "Famous," which includes the line, "I feel like me and Taylor might still have sex / Why? I made that b—h famous." Swifties were less-than-thrilled, and Swift and her family quickly condemned the lyric. West, however, claimed he and Swift talked about the lyric for an hour and that she "gave her blessings." Who was telling the truth?
The Tape Heard 'Round the World
In June 2016, Swift and boyfriend Calvin Harris broke up, and Swift's rep confirmed that she had co-written Harris's latest collab with fellow pop star Rihanna, "This Is What You Came For," under a pseudonym. Fans of his sent Swift snake emojis on Twitter (to call someone a snake is to call them cunning, or a back stabber, or a liar). But all things considered, it was a small drama blip on Swift's radar.
Then enter: Kim Kardashian West. In July 2016, Kim released a heavily-edited recorded conversation between Swift and West on her Snapchat account that appears to confirm West's versions of the events. At one point, Swift even jokes that people will still think they are feuding.
The internet exploded. #KimExposedTaylorParty and #TaylorIsaSnake erupted on Twitter, and people, again, began sending snake emojis to Swift en masse.
It's important to note here that by this time it had become popular on the internet to disparage pretty much anything Swift did or didn't do. As with so many singers and actors, Swift had fallen out of favor with a certain set of internet culture writers and outlets, and there's nothing the internet loves more than a successful celebrity to vilify. People took unrestrained glee in bashing Swift online.
Swift took to Instagram to defend herself, writing that she wished to be "excluded from this narrative" (which is now a meme onto itself). But the damage was done.
Various outlets declared her career ruined or at least severely tainted (a friend of mine called her "irrelevant" just a couple of days ago), and she went radio silent for about a year. But now with the VMAs just a few days away, Swift is back, profiting off of what could have been a career-ending turn of events, were she anyone else. (Kim Kardashian West, who reveled in directing the snake emoji at Swift, has apparently banned it from her Instagram.)
It's a classic Swift move: With "Shake It Off," she poked fun at her "haters" (of which there are many), in "Blank Space" she ridiculed the media's obsession with her relationships and supposed boy-craziness, and "Mean" was her first shot at West (in "Look What You Made Me Do," she sings that someone, presumably West, has two check marks next to his name on her revenge list).
Despite how you feel about the "Look What You Made Me Do" or Swift in general, it'll be hard to call the pop star a "snake" with the same level of satisfaction. And apparently we all made her do it.