See the Fiery Letter Elizabeth Warren and Other Senators Just Sent to Walmart and Target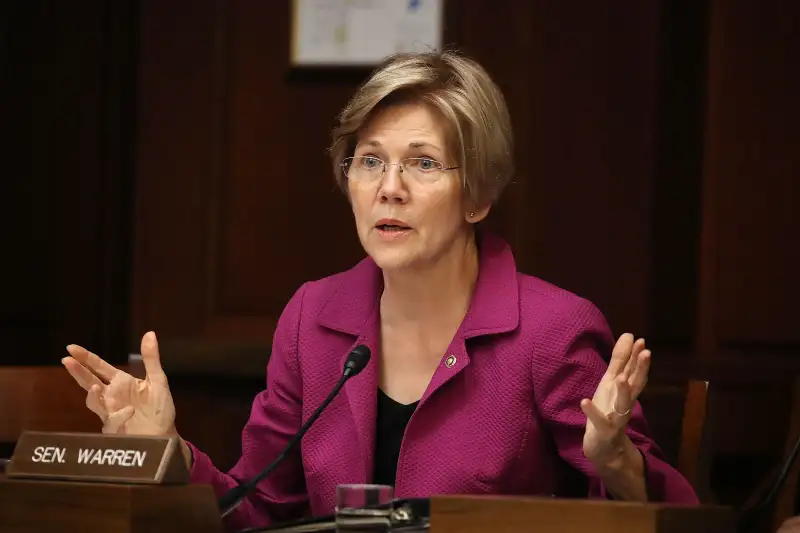 A group of influential Democratic Senators is calling on national retailers to crack down on alleged abuses that have forced truckers into schemes that essentially turn them into modern-day indentured servants.
This week, U.S. Senators including Elizabeth Warren, Sherrod Brown, and Kamala Harris sent letters to the heads of 16 major retail brands, expressing grave concerns about the practices reported in a June investigative report published in USA Today.
The report detailed how port trucking companies in southern California "have spent the past decade forcing drivers to finance their own trucks by taking on debt they could not afford." The "companies then used that debt as leverage to extract forced labor and trap drivers in jobs that left them destitute," the paper explained.
In many cases, drivers say they were basically paid pennies per hour, or even worked for free because their pay was automatically taken away to cover fees mandated by the arrangement. Drivers also felt forced to be on the road up to 20 hours a day, a situation that's obviously dangerous for the drivers themselves as well as anyone else on the road. What's more, if a driver quit before the debt was paid off, the company could take his truck and not even reimburse the driver for the equity paid into it.
"Port trucking companies' brazen disregard for federal transportation safety standards and workers' safety and rights is shameful," the letters, sent to retailers such as Walmart, Target, and Costco, state. "As a major U.S. corporation, you also have a role to play in ensuring that you are not complicit in the mistreatment of port truck drivers and that American consumers, your customers, are not unwittingly supporting labor abuses in the United States."
Target, which at one point called the mistreatment of workers in its supply chain "unacceptable," declined to comment about the letters, USA Today said. Others, contacted by USA TODAY, did not have an immediate response.
Each of the letters sent to the corporations seems to be essentially the same. Here is the full letter sent to Walmart CEO Doug McMillion:
WalmartPortTruckersLetterJuly312017[2] by Rob Wile on Scribd