'Heartless, Cruel, Immoral.' Every Major CEO Who Condemned Trump's 'Zero Tolerance' Border Policy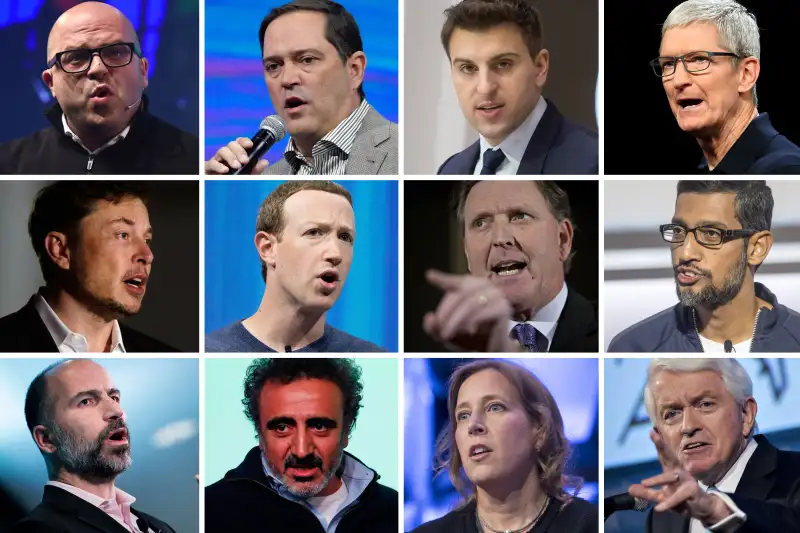 CEOs of major companies like Google, Uber, Airbnb, Facebook, Chobani, and Cisco are speaking out against the Trump administration's "zero tolerance" border policy, which has been separating immigrant children from parents who are apprehended for allegedly crossing the U.S. border illegally.
CEOs generally shy away from wading into political disputes, but the family separation policy is a notable exception. The business leaders' calls to action only increased after ProPublica published a heartbreaking recording of young Central American children who were detained and separated from their parents.
On Wednesday, President Trump indicated that he would address the crisis. "I'll be signing something in a little while," Trump told reporters. But it's unclear exactly when a policy change would occur, or what kind of legislation or executive order would be available for the president to sign.
Some CEOs are being prodded into action beyond their statements condemning Trump immigration policy. On Tuesday, more than 100 Microsoft employees signed a letter published on an internal forum pleading with the company to end its contract with ICE (Immigration and Customs Enforcement), the government agency overseeing the family separation policy, among others.
"We believe that Microsoft must take an ethical stand, and put children and families above profits," stated the letter. "We request that Microsoft cancel its contracts with ICE, and with other clients who directly enable ICE. As the people who build the technologies that Microsoft profits from, we refuse to be complicit."
The letter was addressed to Microsoft CEO Satya Nadella, who has made no public statement on the issue. But many other CEOs—including several in the tech world—have issued public condemnations of the Trump administration's immigrant family separation policy.
Airbnb CEO Brian Chesky
Chesky, the CEO and one of the founders of Airbnb, released a statement with two other co-founders declaring the family separation policy "heartless" and "cruel":
Apple CEO Tim Cook
Cook, speaking with the Irish Times while visiting Dublin this week, said that the Trump administration's policy of separating immigrant children from their parents was "inhumane" and "heartbreaking."
"It's heartbreaking to see the images and hear the sounds of the kids. Kids are the most vulnerable people in any society. I think that what's happening is inhumane, it needs to stop," Cook said. "We've always felt everyone should be treated with dignity and respect. In this case, that's not happening."
Chobani CEO Hamdi Ulukaya
Ulukaya, an immigrant from Turkey, was named to the TIME 100 for his longstanding pledge to help with the global refugee crisis, including Chobani's practice of hiring refugees in the U.S. On Tuesday, the Chobani CEO released a statement declaring, "Separating a child from a mother or father is not political. It is inhumane." He also said that we was joining with people "across the country in calling for children and parents to be brought and kept together, regardless of which side of the border they are on."
Cisco CEO Chuck Robbins
The immigration committee of the Business Roundtable, an association of CEOs from many top firms, is chaired by Chuck Robbins, CEO of the tech firm Cisco. This week, the group released a statement urging "the Administration to end immediately the policy of separating accompanied minors from their parents. This practice is cruel and contrary to American values."
Robbins spoke further about the issue with Fortune, saying that the family separation policy "is a moral issue for our country," and that "our immigration system is broken, and we need leaders to address the major issues." He also sent out a Tweet calling the separating of immigrant children from their parents "un-American."
Facebook CEO Mark Zuckerberg
Facebook CEO Mark Zuckerberg and Facebook COO Sheryl Sandberg both made donations this week to RAICES, the Refugee and Immigrant Center for Education and Legal Services, the Texas-based charity that has raised more than $9 million to cover legal fees and other expenses for families separated by Trump's "zero tolerance" policy.
The Family Leader CEO Bob Vander Plaats
It's not just executives at tech firms and major brands that are condemning the policy. Some conservative religious leaders are urging for an end to the separation of immigrant families as well. Pope Francis, for instance, said he supported the statement issued by American bishops who said the policy of separating immigrant children from their parents was "contrary to our Catholic values" and "immoral."
In a New York Times op-ed published this week, Bob Vander Plaats, the president and CEO of the Iowa-based nonprofit Christian organization The Family Leader, wrote that what's happening along the U.S. border "is a collective gut-check moment for America."
Vander Plaats argued that America "should execute justice," but "not with the kind of cruelty we're reading about from the border with Mexico."
"Cruelty is not justice," Vander Plaats wrote. "We don't need to be cruel to enforce zero tolerance."
Google CEO Sundar Pichai
In a Tweet sent on Tuesday, Google CEO Sundar Pichai described the stories of migrant families being separated at the border as "gut-wrenching," and said we as a country must find a "better, more humane way" to handle the issues.
Tesla CEO Elon Musk
Musk, an immigrant from South Africa who has been critical of Trump's immigration policies in the past, issued what many consider to be a weak statement on the immigrant family separation issue. In a Tweet, the Tesla CEO linked to the song "Shelter" and wrote "I hope the kids are ok" in the same thread.
"If there is some way for me to help these kids I will do so," Musk wrote in a followup message on Twitter.
Twilio CEO Jeff Lawson
"Separating immigrant families isn't just wrong, it's a war crime," Jeff Lawson, the founder and CEO of Twilio, a cloud computing firm, wrote in strong critique of Trump immigration policy in a post on Medium.
"We are punishing children for the possibility that their parents have committed a minor crime (a misdemeanor actually), or no crime at all — in the case of asylum seekers," Lawson wrote. "Let's call this what it is — bigotry, xenophobia, and now — war crimes perpetrated by Americans on American soil against Latin Americans."
Uber CEO Dara Khosrowshahi
Citing his own status as an immigrant, Uber's Khosrowshahi wrote on Twitter that "families are the backbone of society," and "a policy that pulls them apart rather than building them up is immoral and just plain wrong."
U.S. Chamber of Commerce CEO Tom Donahue
The leader of the U.S. Chamber of Commerce issued a statement on Tuesday calling for an immediate end to the policy separating children from their families. "It is not just that America is a nation of immigrants – it is that since our founding we have embraced certain core values. One of those values is that children should not be punished for the crimes of their parents. Yet, today, government policy is running in direct contradiction to that value," Donahue said.
YouTube CEO Susan Wojcicki
YouTube's Wojcicki didn't explicitly urge an end to the family separation policy, but called the situation "heartbreaking" on Twitter and linked to a Mashable story listing ways that people can help.