Why You Need to Start Meditating on Vacations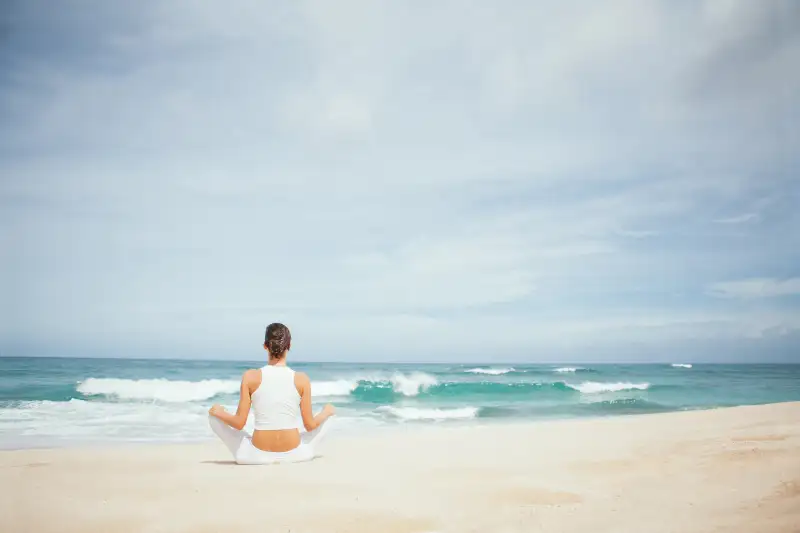 Monica And Michael Sweet—Getty Images
It's good for the mind, body, and soul to escape with some relaxation on the beach. But you might want to consider meditating while you'll away to give yourself even more of a healthy boost.
Vacationers who meditate while on vacation may be less inclined toward depression and stress, according to new research from scientists from the Icahn School of Medicine at Mount Sinai; the University of California, San Francisco; and Harvard Medical School. They found that a resort vacation provides a strong and immediate benefit to stress and well-being -- especially when you meditate while you're there.
The research studied 94 healthy women, aged 30 to 60. Participants stayed at the same resort in California for six days; while half were simply on vacation, the other half joined a meditation training program with mantra meditation, yoga and self-reflection exercises. Researchers also studied a group of 30 experienced meditators already at the resort.
Read More: Why Your Company Wants To Give You Unlimited Vacation
The researchers examined gene network expressions changes to determine the effects of vacation and meditation. The novice meditators, experienced meditators, and regular vacationers alike all showed signs of improvement in stress response and immune function during their time at the resort. Both novice and experienced meditators, however, showed these improvements much longer after their vacations ended -- as long as ten months after the vacation.
While the meditators showed improvements far than non-meditation vacationers -- according to metrics like blood samples and self-reported well-being surveys -- it's unclear whether these enduring effects are due to continued practice or psychological changes in how people view their lives.
The researchers also pointed out how "impressive" they found the significant changes in such a short time spent in a relaxing environment.
"The benefit we experience from meditation isn't strictly psychological; there is a clear and quantifiable change in how our bodies function," said Harvard researcher Rudolph Tanzi in the news release.
Read Next: It's the Millennials' Fault You Can't Take a Vacation
Another takeaway from the study is that workers should not feel guilty about taking vacation time. In fact, this and other research indicates that vacations have positive, quantifiable effects on productivity at the office. For instance, a study from Intuit found that 82% of small business owned reported increased job performance after taking a vacation.