7 Ways for Soldiers to Dramatically Reduce the Cost of College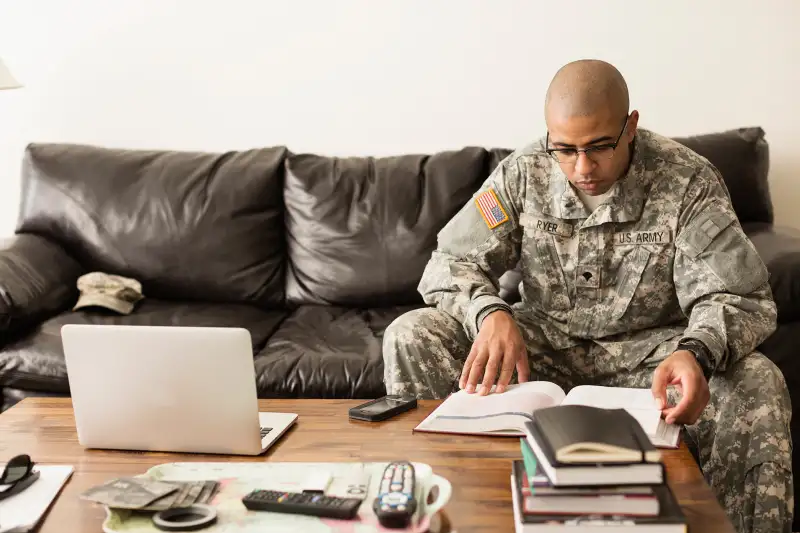 Roberto Westbrook—Getty Images
While getting help with college costs has long been an incentive for young people to join the military, the Post-9/11 GI Bill, signed into law in 2009, sweetened the deal with more generous benefits. You can now receive either $1,789 a month toward up to eight semesters of schooling or 36 months of free tuition and fees at any public college or $21,085 a year toward private college tuition. "It's an amazing benefit," says Howell of Military.com.
While you're still in uniform
1) Transfer your benefits If you've served 10 years on active duty, you can transfer your GI Bill benefits to any family member. You can also transfer your benefits after only six years, as long as you commit to serving four more years. (Your spouse can begin using the transferred benefit right away, though children must wait until you've served the full 10 years.) Even if you aren't sure if a relative will use the benefit, apply for the transfer. You can alter the allocation between family members later and reclaim the benefit for yourself anytime, but you can't add beneficiaries after you leave the military.
2) Start piling up credits now You can take classes remotely via the Defense Activity for Non-Traditional Education Support (DANTES) program. DANTES also offers the College-Level Examination Program (CLEP) tests, which can help you get a GED or place out of some introductory-level college courses. GI Bill funds can be applied to course costs.
3) Explore your financial aid options You may need help determining what financial aid you are eligible for. The GI Bill Comparison Tool on the VA's site will help. You can also use GI Bill money toward a graduate program, trade degree, and more.
4) Look into the Yellow Ribbon Program If you want to attend a private or out-of-state college, you might qualify for additional financing, beyond the GI Bill, via the Yellow Ribbon Program. Yellow Ribbon schools, in partnership with the VA, agree to pay some of the tuition not funded by the bill. To apply, you must already be eligible for full GI Bill benefits, and acceptance is on a first-come, first-served basis. Go to benefits.va.gov and search for Yellow Ribbon for details.

After separating
5) Lower your costs Some schools will allow you to apply your military experience toward college credits. For example, if you've been working on a computer system, you might receive credit toward an entry-level programming course. You'll need to ask your service branch to send your military transcript to your college's admissions office. The school will determine what credits you will receive. Search for "military students and veterans" information on the American Council on Education's website or a list of schools that accept this type of credit.
6) Make sure your GI Bill benefits don't expire You or your spouse must use your GI Bill money within 10 to 15 years of leaving the service, depending on what benefits you're eligible for.
7) Find extra funding The GI Bill may be the most generous source of veterans' financial aid, but there are scores of smaller scholarship outlets as well. Many colleges and universities offer their own funding for veterans. Several companies do too; some are reserved for relatives of employees, but others are open to anyone. For instance, Google offers scholarships to veterans studying computer science or a similar technical degree. The scholarship finder at Military.com can point you to more than 1,000 awards nationwide.

NEWSLETTER: COLLEGE_PLANNERSign up for COLLEGE_PLANNER and more View Sample
Read more of The Veteran's Guide to Financial Success: