How to Watch Today's NFL Games Online for Free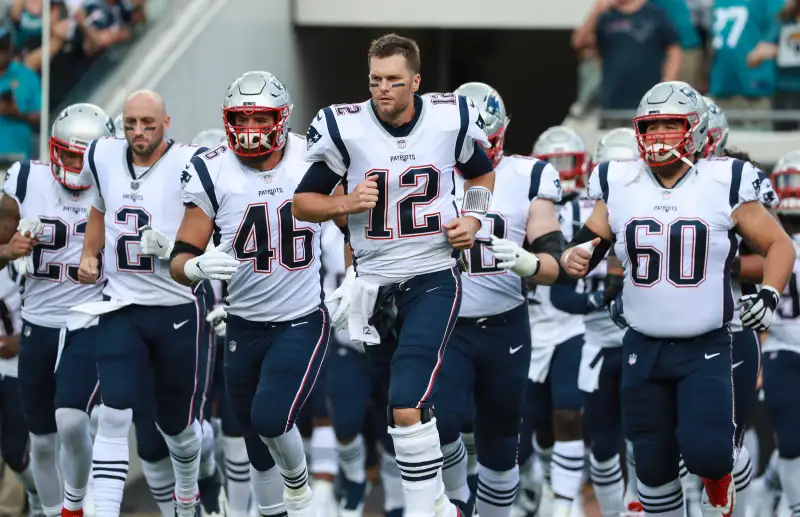 Scott Halleran—Getty Images
The NFL games today, in week three of the 2018 season, include the Indianapolis Colts vs. Philadelphia Eagles, the New Orleans Saints vs. Atlanta Falcons, and the Dallas Cowboys vs. Seattle Seahawks on Sunday afternoon, plus a primetime "Sunday Night Football" New England Patriots vs. Detroit Lions matchup.
"Sunday Night Football" is always broadcast on NBC. What channel are NFL games on otherwise on Sunday, September 23? Fox and CBS stations around the country will be airing all the other Sunday NFL games during the 2018 regular season. What you get to watch on your local broadcast depends on where you live — but you should at least be able to watch your local NFL team play on TV.
If you want to watch NFL games online — on a laptop, connected TV, or other device — or live stream Sunday games on your phone, it's a little more complicated. But as we have reported previously, it is easier than ever to live stream NFL games for free this season.
Here are all the details for watching the NFL on Sunday — on TV or online — for free.
How to Watch NFL Games Free on TV
It's simple enough to watch locally broadcast NFL games on TV. If you have even a basic satellite or cable TV package, it most likely includes free over-the-air networks like NBC, CBS, Fox, and ABC. Simply find your local CBS, Fox, or NBC station, and you can watch whatever NFL game is airing on Sunday, including your region's home team(s).
If you don't have cable, you can still watch NFL games for free on TV with the assistance of a digital antenna. You can buy one for around $25, and then watch unlimited local broadcast channels in hi-def for free once it's connected to your TV.
How to Live Stream NFL Games for Free on Sunday
The Yahoo Sports app and NFL App will both allow you to live stream many NFL games on your phone during the 2018 season. Specifically, either app can be used to live stream the games being broadcast by your local CBS and Fox stations, as well as all nationally televised primetime games, including the intriguing Patriots vs. Lions "Sunday Night Football" game being broadcast by NBC.
You can even use the Yahoo Sports app or NFL App for free live streaming of "Thursday Night Football" (broadcast on TV by the NFL Network and Fox) and "Monday Night Football" (ESPN). The one main restriction that has confused and frustrated some fans this season is that you can only use the apps to live stream NFL games on a phone, not a tablet, laptop, or connected TV.
There are some other caveats that come with watching NFL games online via one of these apps, which we noted earlier this season:
How to Watch NFL Games Today Online for Free
If you want to watch football online on your TV or any screen larger than a phone, and you want to live stream today's NFL games for free, there is a short-term solution: Sign up for a free trial of a streaming TV service like Fubo TV, Hulu Live, DirecTV Now, PlayStation Vue, Sling TV, or YouTube TV.
In most of the country, basic packages from each of these streaming services include access to broadcast channels like Fox, NBC, and CBS. They also include dozens of other channels you can stream to a TV, laptop, tablet, or phone.
Look closely at what channels are included before signing up for any streaming TV package to watch football. The Fubo TV service, for example, focuses on sports, but it does not include the channel most closely associated with sports (ESPN), so you can't use Fubo TV for watching "Monday Night Football." Hulu Live and YouTube TV, on the other hand, do not offer the NFL Network in any of their packages.
Each streaming TV service has a free trial period of five to seven days for new subscribers. So you can register and watch NFL games online this Sunday for free, and then have a few more days to try the service out before deciding if you want to become a paid subscriber. If you don't want to pay the monthly fee — starting at around $25 to $45, depending on the service — remember to cancel before the free trial period ends.
How to Watch Any NFL Game You Want
While there are ways to watch tons of NFL games for free, it's impossible to live stream or watch every NFL game on TV without paying up. The costs of getting access to any NFL game you want are hefty too: The regular price of the NFL Sunday Ticket package from DirecTV, which lets you live stream or watch out-of-market games on TV, starts at nearly $300 for the season.
The NFL Sunday Ticket price doesn't include the normal cost of subscribing to a service such as DirecTV either. So you'll pay much more than that each month for the privilege of watching any NFL team you want every Sunday.
We've included affiliate links into this article. Click here to learn what those are.