How to Watch the Titans vs. Cowboys 'Monday Night Football' Game Online for Free Tonight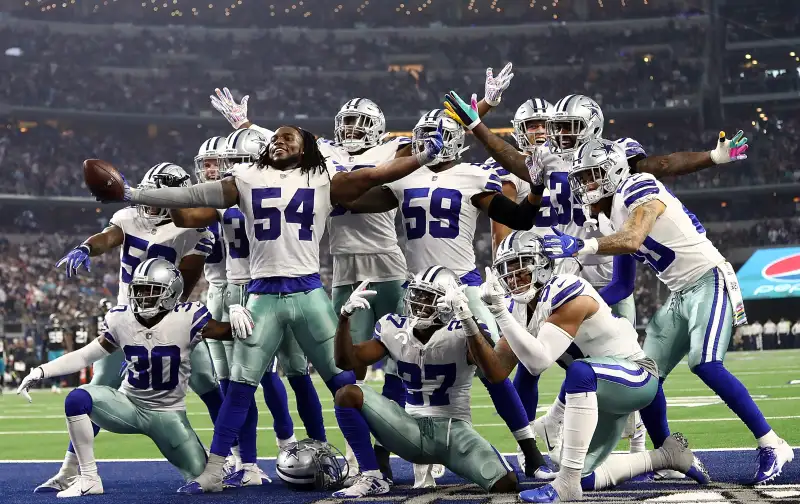 Ronald Martinez—Getty Images
Each product we feature has been independently selected and reviewed by our editorial team. If you make a purchase using the links included, we may earn commission.
The Tennessee Titans and Dallas Cowboys play in the "Monday Night Football" game on November 5, with a kickoff scheduled for 8:15 p.m. ET.
Who is the favorite to win in tonight's Titans vs. Cowboys game? Both teams are currently 3-4, and the outcome of tonight's matchup will give the winner a .500 record and increase their chances of making the playoffs, while the loser will stand at a sad 3-5. The Titans vs. Cowboys betting odds indicate that the Cowboys — playing at home at AT&T Stadium in Arlington, Texas, where they are undefeated thus far in the 2018 NFL season — are 6-point favorites to win.
All "Monday Night Football" games are broadcast on ESPN. It's a pay channel, of course, included with most satellite and cable TV packages. If you have cable or another pay TV package, all you have to do to watch the Titans vs. Cowboys game is find ESPN.
If you don't have cable, you can still watch "Monday Night Football" for free — online or on TV — and we've laid out the options below.
How to Live Stream the Titans vs. Cowboys for Free
If you are content to watch "Monday Night Football" on the screen on your phone, that's simple enough to accomplish. Just download the newest version of the Yahoo Sports app or the NFL app and you'll be able to live stream many NFL games for free this season. Specifically, fans can use the apps to live stream all of the Sunday NFL games broadcast locally on CBS and Fox where they live, plus the nationally televised matchups on NBC's "Sunday Night Football," ESPN's "Monday Night Football," and Fox's "Thursday Night Football.
If you don't have cable and still want to watch the Titans vs. Cowboys tonight for free, these apps provide the easiest way to tune in outside of heading over to your neighbor's house or a local bar to catch the game. The one hiccup is that the apps only provide live streams to phones — and cannot be used for watching online on a tablet, laptop, or connected TV.
How to Watch "Monday Night Football" for Free Online
If you want to live stream the Cowboys vs. Titans game for free on a screen that's larger than your smartphone, consider registering for a free trial of a streaming TV service that includes ESPN in its bundle of channels.
Hulu Live, DirecTV Now, Sling TV, PlayStation Vue, and YouTube TV all include ESPN with their basic packages, and they all offer new subscribers free trials that last about a week. So, if you just wanted to live stream "Monday Night Football" tonight without paying for cable, you could register as a new subscriber and check out one of these services.
Basic streaming packages start at $25 to $45 per month, after the free trial period is over. If you don't want to become a paying subscriber, be sure to remember to cancel before the free trial ends.
Which streaming TV service is best for cord-cutters? And which streaming TV service is best for NFL fans, and sports fans in general? Each service has a different roster of channels, so the answer depends on what you like to watch in your household. Fubo TV is a streaming TV service that's marketed most heavily to sports fans, but it does not include ESPN in packages — so you can't use it for live streaming "Monday Night Football."
Our advice is to check out what channels and perks are included with each service, and then look closely at the price points. As mentioned, each service comes with a free trial, so you could certainly try out more than one and see which option works best for you and your budget.
We've included affiliate links into this article. Click here to learn what those are.