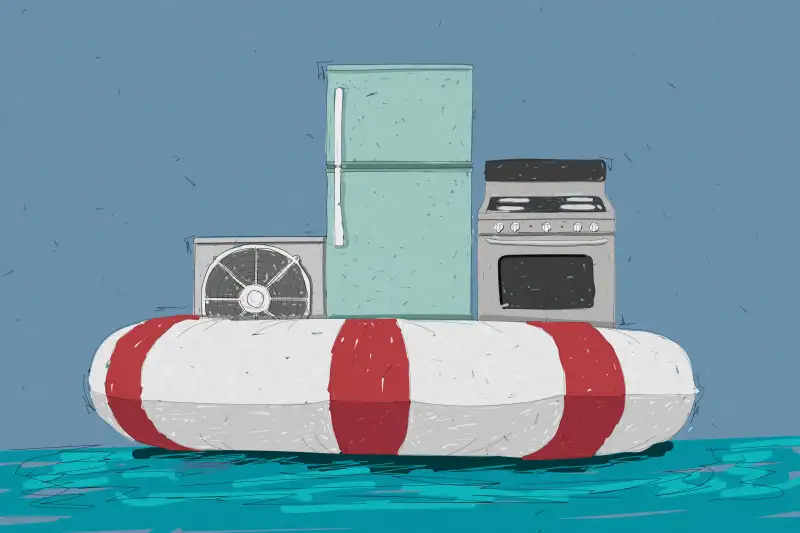 Home warranties are a type of service contract that cover repairs to your home's major appliances and systems (electrical, plumbing, HVAC, etc.) as they break down due to regular wear and tear. A standard contract operates for a fixed period, generally one year, and then needs to be renewed.
A home warranty can work in tandem with home insurance, helping repair your home and appliances if they suffer damage due to circumstances out of your control, such as earthquakes, flooding and fires.
Read on to learn more about what is home warranty and how does it work.
Table of Contents
How does a home warranty work?
A home warranty covers the cost of repairing or replacing your home's major appliances and systems (electrical, plumbing, HVAC, etc.). Unlike a homeowners insurance policy, the service covers repairs or replacements needed due to regular wear and tear.
Home warranty companies charge premiums on a monthly or yearly basis. Contracts last for one year, so paying a full year upfront is a good way of saving yourself money in the long run.
Keep in mind that home warranty contracts come with terms and limitations that can void your service. For example, attempting to perform repairs by yourself (or with the help of an unapproved technician) is a common limitation across home warranty companies.
In other cases, certain appliances, systems or structures may be excluded from coverage. Consider the case of roof leak coverage, which is a popular add-on to many home warranty contracts. This coverage option often includes only the home's main structure and does not extend to garages, patios or decks.
What does a home warranty cover?
The specific coverage you'll receive depends on your chosen home warranty plan. Generally, home warranty coverage plans are split between home appliances, home systems and add-ons. Many companies also offer full coverage plans, which include both systems and appliances for a small discount.
Below is a comprehensive list of the different systems and appliances that home warranties may cover, as well as some common add-ons.
Covered systems
Heating system
Air conditioning systems (HVAC systems)
Electrical system
Plumbing system
Water heaters
Ductwork
Permanently installed sump pumps
Well pumps
Covered home appliances
Garbage disposals
Dishwashers
Built-in microwaves
Ceiling fans
Bathroom exhaust fans
Clothes washers and dryers
Garage door openers
Ovens / stoves / cooktops
Refrigerators / freezers
Ice makers
Doorbells
Trash compactors
Instant hot water dispensers
Additional coverage
Electronics
Guesthouses
Swimming pools
Spas
Septic pumps
Septic tanks
What does a home warranty not cover?
Home warranties generally do not cover structural elements such as walls, windows and foundations, to name a few. Other items may also be excluded, such as additional appliances not mentioned in the original contract (refrigerators, ceiling fans, water heaters).
Although roof coverage is often offered as an add-on, this does not extend to patios, decks and some garages. It's important to check your contract details to know what items are or aren't covered by your contract.
Below is a list of some items typically not covered by home warranty contracts. Keep in mind that each company is different, and the list of exclusions may vary.
Cosmetic damage
Light fixtures
Outdoor water systems
Booster pump
Remote controls
Disposing of debris
Appliance accessories
Pros and Cons of a Home Warranty
A home warranty can provide you some much-needed peace of mind, especially if it complements your homeowner's insurance policy. First-time homebuyers who are purchasing a used home can find home warranties to be beneficial.
First-time homebuyer programs often provide significant financial assistance, and a home warranty for a used home can help soften the financial blow that unexpected home repairs can represent. However, there are situations where a home warranty may not be the best choice — or even a necessary one.
Here is a short list of some of the benefits and drawbacks of home warranties to help you determine whether you need one or not.
Pros
The possibility of saving money when multiple appliances or home systems break down
Good safeguard for old appliances that may need replacing
Helpful if you have no local repair technicians or if you lack good DIY skills
Generally offers broader coverage than a manufacturer's warranty
Cons
You may end up paying more in premiums and service fees
Not ideal for new construction homes or recently purchased appliances
The company can void your contract if repairs are not performed by an approved service provider
Coverage limits may not be enough for full repairs or replacement
What to Look for When Choosing a Home Warranty
Knowing what to expect when shopping for a home warranty is the best way to avoid misunderstandings and claim denials. Once you've decided that a home warranty is the right choice for you, consider the following points:
Evaluate your coverage needs
Before you start shopping around for a home warranty, the first thing you need to do is consider how much coverage you need. Home warranties don't cover any appliances or systems that are still under their original warranties.
Also, keep in mind that home warranty plans often split coverage options between systems and appliances. If your home is not a new construction, but you've recently upgraded your major appliances, you can get coverage just for your home systems instead of paying for a full coverage plan.
Look for sample contracts
Once you've decided to get a home warranty, your first priority should be to check whether the company you're considering offers sample contracts for you to look over. Although a sample contract won't fully reflect the contents of your finalized contract, it can give you a good idea of what to expect.
Understand what is covered and what isn't
Many customer complaints regarding denied claims are often caused due to misunderstandings about what their home warranty covers. It's essential to read the fine print to avoid denied claims.
For example, your contract may state that you have refrigerator coverage, but if you have more than one such appliance in your home, they may not all be covered unless otherwise specified.
Watch out for "maintenance gray areas"
Home warranty contracts have clauses requiring your systems and appliances to be "properly maintained" for a claim to be accepted. However, these contracts also have clauses that can void your home warranty if unauthorized repairs are performed.
It's important to understand what counts as "routine maintenance" and what are considered "repairs" by your home insurance company. This will help you avoid claim denials and give you a better idea of when you should file a claim with your home warranty company.
Unfortunately, the distinction between "routine maintenance" and "repairs" varies per home insurance company, and the line can often be blurry.
Routine maintenance: Keeping systems and appliances clean — which don't typically involve removal or replacement of parts
Repairs: Anything that involves taking your appliances or systems apart may fall under the "repairs" category. Consult with your home warranty company before taking any such action.
Likewise, your systems and appliances must be in working order before you apply for coverage. If a service provider determines that your appliance or system had a "pre-existing condition," your claim will be denied, and you'll still be responsible for paying the service call fee.
Ask about waiting periods
Home warranties have a standard waiting period of 30 days before you can use them. However, you should always confirm the specifics with your company of choice.
The only exception to these waiting periods is if you purchased your home warranty when you bought your new home. New homeowners can buy a home warranty as part of the mortgage process or during the first 30 days after closing and avoid the waiting period entirely.
Know your coverage limits
Home warranty plans have a coverage limit on how much is paid out for repairs or replacements. Many companies will also require you to pay a deductible before your coverage becomes effective. When signing up for a home warranty, ensure these limits will cover all or most of the repair or replacement costs.
Check if your coverage limits apply to all claims you make (aggregate) or if each covered item has its own limit (per item). The best home warranties will offer a combination of both models.
Each model has its benefits.
An aggregate model gives you greater flexibility for repairs, especially if you have a particular system or appliance that requires repairs or replacing more often than the rest.
A per item coverage limit can be useful if you know what each covered item is worth. For example, it makes no sense to have a $1,000 coverage limit on a washing machine that costs $1,500 to replace.
How much does a home warranty cost?
The cost of a home warranty will vary depending on the company and level of coverage. Many companies charge between $30 - $60 per month for a basic warranty covering all major appliances, such as your refrigerator, dishwasher and exhaust fans, but not home systems such as your plumbing or electrical.
Depending on the company, additional coverage options may increase your monthly or yearly premiums, or they could be separate plans you must purchase in addition to your basic coverage.
All home warranty companies charge an additional service call fee whenever you file a service claim, ranging between $75 - $120. Some companies — such as Select Home Warranty — include periods of free service if you sign up for a year upfront (two months, in Select Home Warranty's case).
Home Warranty vs Home Insurance
| | |
| --- | --- |
| Home Warranties | Homeowners Insurance |
| Covers the repair or replacement of appliances and home systems due to malfunction or breakdown | Covers the home's structure and contents from damage due to accidents and natural disasters (It also covers theft of personal property and offers liability protection) |
| Not required with a mortgage, but sometimes included by home sellers as part of a real estate transaction | Required of home buyers by mortgage lenders. |
| Can be transferred to a new owner | Cannot be transferred to a new owner |
Best Home Warranty Companies FAQ
How much is a home warranty?
The cost for a home warranty varies from company to company, but it can cost between $30 - $60 per month on average or $360 - $700 per year. Remember the additional service fee of $70 - $110 whenever you need to call a technician for repairs.
What is the best home warranty company?
The best home warranty companies are transparent about their terms and pricing so you know what to expect. Warranties on repairs and high coverage limits are also important factors that make companies stand out. For example, Select Home Warranty offers a 90-day guarantee on its repairs, while American Home Shield provides free HVAC tune-ups and fewer restrictions than its competitors.
Does home warranty cover plumbing?
As a general rule, yes. However, most home warranties only cover your plumbing system "as-is" when your contract goes into effect. Some companies may offer add-ons to your contract that cover future upgrades. Ask your current provider for more details.
Do home warranties cover roofs?
Home warranty companies typically offer roof coverage as an add-on to your contract. However, this only covers damages resulting from normal wear and tear. When your roof starts leaking due to old age, your home warranty will cover the cost of repairs, but only to the roof of your main living area — which excludes patios, decks and some garages.
How soon can you use a home warranty after purchase?
How soon you can use your home warranty will depend on how recently you purchased your home. If you did not buy your home warranty as part of a mortgage closing, there is usually a 30-day waiting period. Some companies allow you to file a claim if you purchased a warranty within 30 days of your mortgage closing.
Who pays for the home warranty, the buyer or the seller?
Unlike home insurance, which the buyer must purchase, a home warranty can be purchased by either the buyer or the seller.