What Is Identity Theft and How Does It Work?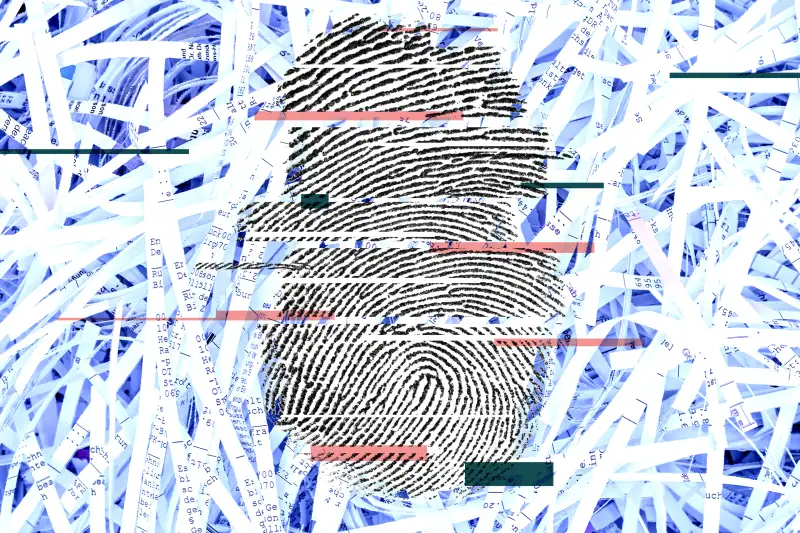 Identity theft is a crime where someone steals your personal information and uses it to commit fraud, usually for financial gain. This type of scheme is also becoming more prevalent — according to data released by the Federal Trade Commission (FTC), incidences of identity theft increased by 70% between 2020 and 2021.
There are several kinds of ID theft. Credit card fraud is one of the most common, but there has been an increase in other types, for example, medical ID theft and tax identity theft.
There's no way to protect yourself 100% from becoming a victim of identity theft, but knowing more about it will help reduce the chances of your identity being stolen.
Table of Contents
What is identity theft?
Identity theft is when someone illegally obtains your personal information (like your name, social security number, etc.) and uses it to make unauthorized withdrawals, open new credit lines or obtain medical services. Identity thieves may even use your personal information to rent apartments.
For many, the consequences of identity theft can be dire. It can affect the victim's ability to get a job, access medical care or receive government benefits. In addition, repairing the damage caused can be hugely time-consuming and costly.
According to the Javelin Strategy & Research's annual identity fraud study, 42 million Americans were victims of identity theft in 2021. Traditional identity theft (using victims' information to steal money) affected 15 million people in the U.S, and financial losses from these criminal acts totaled $24 billion. Meanwhile, identity fraud scams (tricking the victim into providing their information) amounted to $28 billion and impacted 27 million adults.
The FTC's Consumer Sentinel Network data book showed that 41% of 20-29-year-olds reported losing money to fraud compared to 18% of people over 70. However, when those over 70 did report a loss, the median amount was $1,000 higher than their younger counterparts.
How does identity theft work?
To get a better sense of how vulnerable we are to ID theft, let's look at the ways identity thieves get a hold of our sensitive personal data.
The first is physical theft. If you lose or someone steals your wallet with your ID, debit and credit cards inside, criminals can use these cards to drain your accounts and make large purchases.
Mail theft is another way for criminals to obtain your information. By going through your mail, thieves can get a hold of bank statements or bills, or intercept evidence of their theft leaving you none the wiser.
Nowadays, some of the most common ways for scammers to gain access to your personal information is through digital theft.
Data breaches are one often-cited example of digital theft. In these cases, cybercriminals hack a company's network and steal the information stored within. When this occurs it's common for the hackers to then sell thousands, or even millions, of people's data on the dark web.
Other types of digital theft include scams such as phishing, vishing or smishing. These happen when scammers email, call or text you in the hopes you'll let slip personal information.
Here's a breakdown of all three:
Phishing is a form of cyberattack where thieves use fake emails that appear to be from legitimate companies to trick victims into clicking on malicious links. These can cause users to inadvertently download spyware into their computer or lead them to sites that ask for their usernames, passwords, account number or other private data.
Vishing is when scammers call potential victims (or leave voicemails) pretending to be real entities asking for personal information.
Smishing, like phishing, is a type of fraud where victims are sent a link, this time via text message, that directs them to a form or automatically downloads malware.
One thing that can make our personal information vulnerable to digital theft is using public Wi-Fi networks. These types of networks are unsecured, giving hackers easy access to our online activity.
Types of identity theft
After thieves get your information, there are a number of ways that they can use it for their benefit. Here's a list of the six most common scams:
Financial identity theft
Financial identity theft is when someone uses your financial information (for example, bank account number or credit card number) for their financial gain.
With your information, criminals can open new accounts, apply for loans, make unauthorized withdrawals or purchase items under your name. As a result, you're left with debt or a severely damaged credit.
Medical identity theft
Medical identity theft involves someone using your name and health insurance information to obtain medical services, file fraudulent claims with insurance companies or purchase prescriptions.
This is particularly egregious because it can result in wrong information being added to your medical records, which may lead to doctors making incorrect and potentially life-threatening decisions.
Criminal identity theft
Criminal identity theft might seem redundant at first, after all, all identity theft is a crime. However, the term criminal identity theft refers to instances when a person cited or arrested for a crime provides law enforcement with someone else's personal information.
When this happens, the identity theft victim will have a criminal record in their name, which can lead to problems with law enforcement or being unable to get a job.
Child identity theft
Child identity theft occurs when someone uses a child's name, social security number or birthdate, usually to apply for credit or employment.
One telltale sign of this type of theft can be receiving pre-approved credit offers and other marketing under your child's name. If this happens, you should double check their credit report from Equifax, Experian and Transunion for signs of fraud.
Tax identity theft
Tax identity theft is when a swindler files a tax return using someone else's personal information to get a tax refund or other government benefits.
According to the FTC, Tax ID theft was the most prevalent form of identity theft in 2021 as many tried to take advantage of unemployment benefits and other pandemic programs.
Account takeover fraud
Account takeover fraud describes instances when cybercriminals hack into your accounts or get in using stolen usernames and passwords. Once they're signed in, criminals may order a new card, make a fraudulent payment or sell the account information on the dark web.
If it's a social media account, criminals will not only have access to your personal information, but they may contact your friends and ask for money.
How to prevent identity theft
There is no way to prevent identity theft altogether, mainly because we don't control every space, be it physical or digital, where our data is stored. There are, however, things we can do to protect ourselves from identity theft and keep our sensitive information as secure as possible.
Here are 11 steps you can take to keep your identity safe:
1- Don't carry your SSN card in your wallet. Make sure to keep this, along with your credit card information and other sensitive documents, in a safe place.
2- Monitor your credit card statements, bills, bank statements and credit reports so you catch any error or signs of fraud early. (You can visit annualcreditreport.com and request one free credit report a week from each of the major credit bureaus for the remainder of 2022.)
3- Contact credit bureaus and freeze your credit. This can prevent others from applying for credit card accounts or loans in your name.
4- Avoid using public Wi-Fi as these are usually not secure.
5- Don't share personal information over the phone, email or text.
6- Safeguard your mail and go paperless when possible to avoid mail theft.
7- Use two-step authentication for those online accounts that provide this option.
8- Don't use a debit card for online purchases.
9- Use complex and unique passwords for your online accounts.
10- Be vigilant of phishing schemes. When you receive an email asking for information or that asks you to click on a link, verify the sender's email address to ascertain they're that particular business' official address.
11- Don't participate in online trends where you provide personal information such as your pets' names, or day, month or year of birth.
You should also consider signing up for an identity theft protection service. These services not only monitor your credit reports and alert you of any changes to the accounts, but also monitor the dark web and keep tabs on data breaches.
For more information, check out our in-depth guide on how to protect yourself from identity theft.
How to report identity theft
There were 42 million identity theft victims in 2021 and the numbers continue to increase. If you're a victim of identity theft you must act quickly and report the theft to prevent further damage to your credit or bank accounts.
Here are the steps to take:
Contact the financial institutions where the fraud occurred. Your first step should be to call the fraud department of the companies where the fraud took place, tell them what happened and ask them to freeze your account. You should then change the passwords and pin numbers for those accounts.
File a fraud alert and get your credit reports. Contact and file a fraud alert with the three major credit reporting agencies: Experian, Transunion and Equifax. These fraud alerts last one year and compel financial institutions to verify your ID before issuing new credit.
Request a credit freeze. Placing a security freeze on your credit report prevents new accounts from being created under your name. All three major credit bureaus allow you to open an account on their websites where you can freeze and unfreeze your credit, among other things. You can also temporarily lift a freeze if you want to apply for credit.
Report the identity theft to the FTC. Make sure to visit identitytheft.gov and fill out their online report form. This report serves as evidence of the theft. This is important as you'll need proof that a theft occurred in order to get the fraudulent information off your credit report and prevent financial institutions from coming after you for debts that aren't yours.
File a police report. This report can be filed in-person at your local police department or online. We suggest you call ahead to see if your local department allows you to file online and to find out which documents you'll need to prove your identity and file the report.
Contact credit bureaus. Once you have your credit report, you can contact the credit bureaus to dispute any fraudulent items. Please note that you must file a dispute with each credit bureau.
Place an extended fraud alert. With a copy of your FTC or police report, you can place an extended fraud alert for free. This fraud alert lasts seven years and makes it harder for someone to open a new credit account in your name. With this alert in place, businesses must contact you before issuing any new credit.
If you think you've been the victim of tax-related identity theft, the IRS' guide is a great resource with information on the warning signs, how to protect your identity and what to do if you're a victim. To learn more, check out our detailed guide on how to report identity theft.
Identity Theft FAQ
What is identity theft?
When someone steals your personal information and uses it to impersonate you, usually for financial gain.
What is an example of identity theft?
A typical form of identity theft is when someone uses your credit card account to make large purchases.
Another example is when someone uses your personal information to get medical care or prescription medication.
What is the difference between identity theft and identity fraud?
Identity theft is the criminal act of stealing or acquiring someone else's personally identifiable information.
Identity fraud is when someone uses someone else's information to, for example, open a new line of credit or create a driver's license with their name but using someone else's photo.
How do you tell if your identity has been stolen?
Monitoring your accounts and credit reports are great ways of noticing signs of identity theft such as errors on your credit reports, a change in your credit score or a new account that you didn't request.
Other signs are unauthorized transactions, getting statements or bills for accounts you didn't open and getting denied credit unexpectedly.
Summary of Money's Guide on Identity Theft
Identity theft happens when someone steals your personal information and uses it to commit fraud, usually for financial gain.
Identity thieves can get your information through physical theft (stealing your wallet, mail, etc.) or digital theft (online scams, hacking into your system, data breaches, etc.).
There are many ways criminals can use your personal information. Here we focus on financial, medical, criminal, child and tax identity theft, as well as account takeover fraud.
The best way to protect your personal information is to keep your personal documents in a secure location and monitor your accounts (bank, credit card, etc.) and credit reports.
If you're the victim of identity theft, you should notify financial institutions and the FTC immediately. The next step would be to contact the credit bureaus to file a fraud alert, get your credit reports and initiate a credit freeze. Finally, contact your local police department to file a police report.
If you're interested in learning other ways of protecting yourself from ID theft, check out our list of the best identity theft protection services available.