How Airbnb 'Bans' Could Affect Your Local Housing Market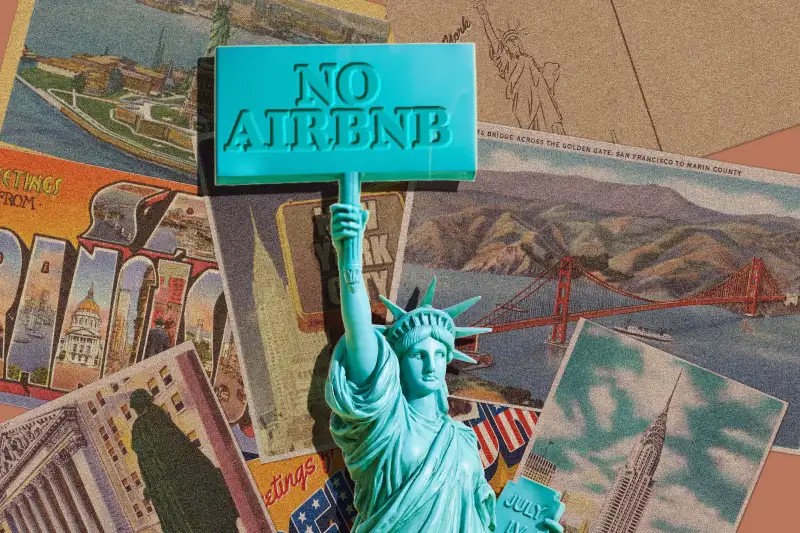 Olive Burd / Money; Getty Images; Nextrecord Archives / Getty Images; Smith Collection / Getty Images; Found Image Holdings / Getty Images
If you've gone on vacation at any point in the last decade or so, you've probably rented — or at least considered renting — an Airbnb.
The short-term rental company has become synonymous with the "sharing economy," and the increasing omnipresence of peer-to-peer services that, in recent years, has grown to include everything from electric scooters to backyard pools.
Over the last several months, though, there's been lots of talk that Airbnb is done for. Despite a recent surge in travel spending, Airbnb's bookings have clocked in lower than the company anticipated. Hosts in popular destinations like Phoenix, Arizona, Myrtle Beach, South Carolina, and Austin, Texas, have seen revenue drop off by nearly 50% between May 2022 and May 2023, according to data from analytics company AllTheRooms. On short-term rental owner forums, hosts around the country complain of receiving fewer travelers this year compared to previous ones. Meanwhile, many airlines, cruise ships and hotel chains are on track for a record-breaking year.
Recent viral posts on TikTok and Twitter point to this as evidence of Airbnb's coming demise. Some take it a step further, predicting an onslaught of former short-term rentals, ripe for the picking, will soon hit the market.
The reality is more complicated.
For one, Airbnb as a business entity has a lot less skin in the game than its individual hosts. It functions as an intermediary between travelers and hosts, so unoccupied units don't equate to lost revenue for the company in the same way it does for its hosts. Case in point: In the second quarter of 2023, Airbnb's revenue beat expectations, even as total nights booked came in lower than anticipated.
Likewise, while many social media commentators speculate that consumer demand is to blame for the downturn in profit, a more likely scenario is that hosts are feeling the effects of a very different kind of squeeze.
Cities changing Airbnb rules
As long as Airbnb has been around, critics and affordable housing advocates have called for legislation that curtails the company's impact on the real estate market. Over the last year, those advocates have finally started getting their wish.
For many Americans, finding affordable housing is a perpetual frustration that the pandemic era has only made worse. Airbnb (and other short-term rental apps like Vrbo) contribute to the issue by incentivizing real estate buyers, typically the wealthiest ones, to scoop up properties and list them on its app, which removes inventory from the local housing market and drives up the price of homes nearby.
Studies show that an influx of short-term listings makes local rents rise, too. Especially when you live in a place like New York City, where, "at one point, there were more Airbnb listings than apartments for rent," Jorge González-Hermoso, a research associate at the Urban Institute, says.
"It's not a minor thing," he adds.
In New York, as of 2022, it's illegal to rent out a unit for less than 30 days at a time without the host being physically present. Property owners can list on Airbnb for short stays, in other words, but only if they're living in the unit themselves. Beginning this month, those restrictions are getting even tighter: Only two guests are allowed in a unit per stay, and hosts must be present for stays of any length, among other changes.
Coastal California, another major offender in terms of housing affordability, has also recently brought the hammer down on short-term rentals. In Marin County, California, government officials have stopped issuing new permits to Airbnb hosts. And in San Francisco, where Airbnb is headquartered, only full-time residents can host short-term rentals, and for a maximum of 90 days a year. Hosts get a $484 fine for every day they rent out a unit beyond that 90-day limit.
Hundreds of smaller cities have also issued their own Airbnb restrictions, many over the last year. There's no federal law on short-term rental operations, so these rules take different forms — some cities only require registration or licensure; others put limits on how long a renter can stay or cap the number of short-term units within their metro area. Resort towns in Colorado like Aspen and Steamboat Springs require a combination of the two.
The big question now, of course, is whether these restrictions actually work to improve housing affordability.
Given their relative newness, the short answer is … we don't know yet.
"We have evidence that short-term rentals do increase rents, but not if these regulations provide a solution for fixing this," González-Hermoso says.
The future of Airbnb
For Airbnb hosts, short-term rental restrictions aren't all bad.
In a comment provided to Money, Airbnb says that "roughly 80% of Airbnb's top 200 markets have short-term rental rules in place." The company cites San Francisco's legislature, saying that after the city implemented its especially restrictive rules, the number of short-term rentals increased nonetheless by 22%.
In some pockets of the country, the recent loss of short-term rental revenue might be a byproduct of regulations that are too lax. In 2016, the state of Arizona passed a law that's basically the opposite of an Airbnb restriction — instead it bans all of its cities and towns from capping their number of short-term rentals. At the start of 2023, Phoenix had over 20,000 short-term rental units, and all that competition has led to many of them sitting empty for weeks at a time. According to AllTheRooms data, Airbnb host revenue in Phoenix dropped by nearly 50% year-over-year in May.
In this way, restrictions are a blessing for some Airbnb hosts. Less competition means more travelers come across your listing, book your home and, hopefully, leave you a positive review. That's especially good for hosts who can withstand market conditions, like those who bought their property when mortgage rates were at a record low.
As for all the social media prognosticators predicting an onslaught of cheap Airbnbs hitting Zillow soon, González-Hermoso warns prospective homebuyers not to get their hopes up.
After all, hosts that are negatively impacted by short-term rental restrictions can — and probably will — opt to convert their properties to long-term rentals rather than take a loss through selling.
"It's not that they have to sit on their assets, not being able to do anything," he says.
More from Money:
Want to Buy a Home in This Market? You Might Have to Build It Yourself
The Top 10 Cities Attracting Out-of-Town Homebuyers Right Now
9 Best Home Equity Loans of September 2023