The Best Airfare Deals Are Now in First Class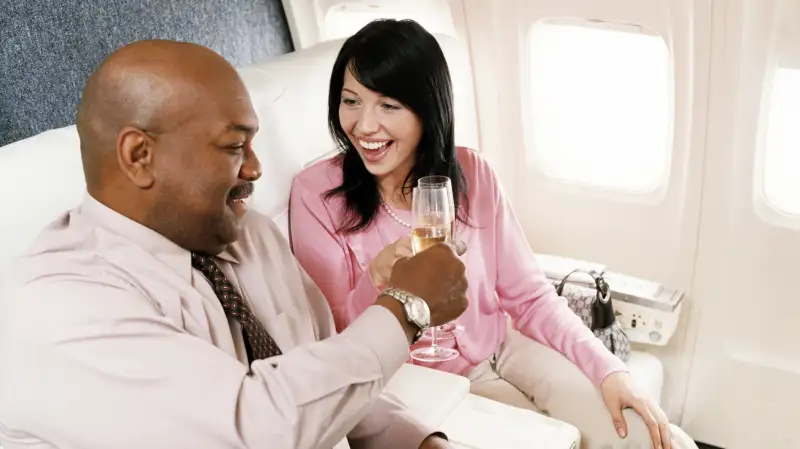 The price of first-class airfare within the U.S. keeps getting cheaper—at least when compared with flying in coach. Data cited by the Wall Street Journal shows that in April 2015, the average first-class seat on a domestic flight cost $577 more than its coach counterpart. Back in April 2012, meanwhile, the cost difference between flying in first class versus coach was $805.
Before you begin marveling at what seems like the generosity of airlines with respect to first-class pricing, let's look at what's really happening here. First off, one reason the price premium flyers can expect to pay for first class has dropped is simply that coach airfare has gotten more expensive—rising more than 10% annually, and crossing the $500 mark for the average round trip last summer.
Secondly, by lowering first-class airfare prices and strategically dangling tempting upgrade fees in front of frequent fliers who already purchased coach seats, the airlines are able to derive more revenues out of the seats at the front of the plane that otherwise would have been empty or perhaps been given to elite frequent fliers as free upgrades. Using such strategies, the airlines have collectively increased the number of first-class tickets sold by 48% over the last three years.
Even if passengers are paying less for first class than they used to, the airlines are happy with this arrangement because it's better than giving away upgrades. At the same time, this tactic runs the risk of irking the loyal frequent fliers who have grown accustomed to such upgrades.
In any event, the WSJ pointed to several examples of domestic flights in which the costs of first-class seats were only marginally more expensive (10% to 40%) than sitting in coach. "On many trips, the first-class price isn't much more than coach, especially if you planned to pay for extra-legroom seats in coach anyway," the article explains.
Delta in particular seems to have an abundance of special first-class airfare deals on the table this summer, including a "Pride Sale" with first-class fares from $113 each way to New York City, Seattle, and Minneapolis coinciding with major LGBT pride events in early summer. Another Delta promotion lists first-class seats from Alaska to Seattle starting at $184 each way on Tuesday and Saturday departures this summer. Flying in first class on such a route has been known to run $500 or more easily, one way.