5 Ways Airlines Are Finally Becoming Less Greedy & Mean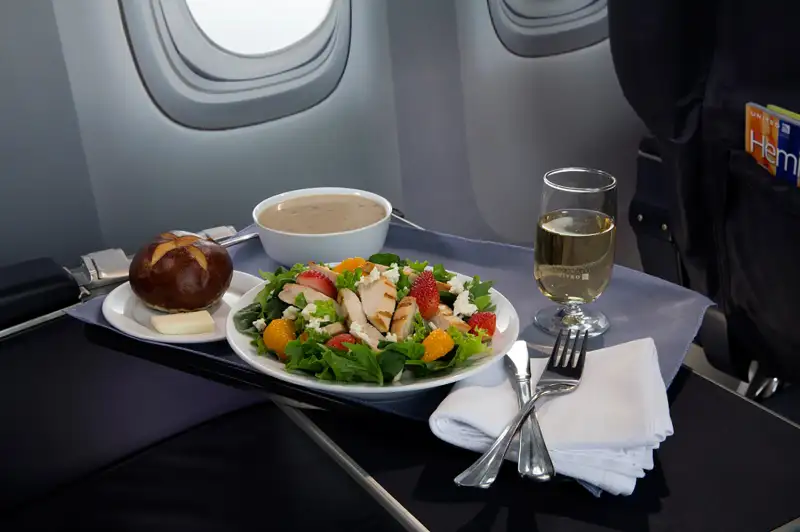 The numbers are staggering: United, Delta, and Southwest Airlines all reported profits in excess of $500 million during the fourth quarter of 2015. Delta pulled in a record-breaking net profit of $4.5 billion for the year. American Airlines, meanwhile, reported an insane $7.6 billion profit for 2015, including an insane $3.3 billion in the fourth quarter alone—the highest profit ever in the history of airlines.
To some extent, the numbers were also predictable. They're the natural consequence of the perfect storm brewing over the years. A series of mergers and service cutbacks depleted competition in the industry, and higher fares, shrinking legroom, rising fees, and cheap fuel prices have combined to make it all but inevitable that airlines would turn huge profits.
And yet, to travelers, the numbers must be beyond aggravating. For years, airline passengers have been asked to pay more and get less because this is the only way airlines could stay in business. Legacy carriers like United added fees, cut amenities, and made loyalty points less valuable. Even budget traveler favorite Southwest hiked fares, while JetBlue left loyalists feeling betrayed when it decided to follow the pack by cramming in extra seats on planes and adding a fee for checked luggage.
Essentially, from the average traveler's perspective, monster airline profits have come as a direct result of air travel becoming less comfortable and less reasonable for passengers. Planes are fuller and more cramped than ever. If you want any creature comforts while flying, you must bring them yourself or expect to pay up. And if something goes awry with your travel plans and you need to change a flight, well, you'll likely have to fork over hundreds of dollars to tweak an itinerary.
The silver lining is that maybe, just maybe, the record-setting profits of 2015 could mark a turning point in the airline business. Now that carriers are swimming in profits and are still benefiting from the combination of diminished competition and cheap fuel, there is less urgency to milk profits out of annoying fees and shabby service—not if doing so turns customers off in the long run.
If the "Knee Defender" episode summed up the tense, ugly state of airline travel circa 2014, the trend that defines the industry lately is the return of free in-flight snacks on United and American Airlines flights for economy passengers. Overall, airlines seem to be waking up to the idea that, at least while they're riding high on the hog, it is unwise to be ruthless and unnecessarily cruel to customers.
In light of the billions in profits airlines are making nowadays, the reintroduction of a few traditional perks and the launch of some upgraded amenities is the very least they can do. Here are a few of the new ways airlines are being nicer, or at least less mean, to passengers:
Better Coffee
After a scandal caused a change in leadership at United, the new CEO, Oscar Munoz, admitted the airline's approach had put profits ahead of traveler happiness, and basically pledged to stop being awful to customers. Among the customer-pleasing initiatives was a switch to Illy coffee in lounges and flights, a small but critical upgrade from the bland, cheap stuff the airline used to serve.
Upgraded Entertainment
JetBlue made a name for itself with superior in-flight entertainment, notably with free seatback TV screens and dozens of channels for all passengers. Recently, JetBlue announced it is dramatically improving its seatback TVs, nearly doubling the size of the screens and increasing the number of free channels from 36 to 100. Wi-fi is being upgraded as well, with gate-to-gate connectivity—and service that is free. American Airlines also just said that it's upgrading complimentary in-flight entertainment, including the addition of more movies and music for passengers to enjoy.
Free Snacks
Delta never removed free snacks from flights, and now that United and American are bringing them back, airline passengers will be able to snag some free food from all three of the major carriers. (JetBlue and Southwest have always had free snacks and beverages as well.) Sure, it was stingy and shortsighted for the airlines to remove free snacks in the first place, so it's understandable that many travelers won't feel overwhelmed with gratitude for their return. But hey, free pretzels are free pretzels!
Early Boarding for Families
In another customer-friendly policy reversal United just decided to once again allow families with children under age 2 to get on planes and settle in before general boarding. The airline got rid of early family boarding in 2012, which agitated families just as you'd expect.
Slightly Cheaper Airfare
For the most part, the changes mentioned above allow the airlines to look nice with minimal impact to the bottom line: They don't cost the carriers much, and they won't dramatically decrease how much passengers pay out of pocket while flying. If the airlines truly wanted to make travelers happier, there would be a steep decrease in airfare to reflect the big drop in fuel costs. For obvious reasons, the airlines would rather not go there.
Yet flight prices have generally inched downward, providing some relief for passengers. A series of impressive airfare sales marked the start of 2016, with loads of domestic flight deals starting under $50. Data from the flight search site Hopper.com estimated that the average round trip in the U.S. cost $210 in January, down 14% compared to the same month a year ago. Fuel costs incurred by the airlines, meanwhile, are down roughly 33%.