Airlines Are Swimming in Profits Thanks to Cheap Fuel, High Fees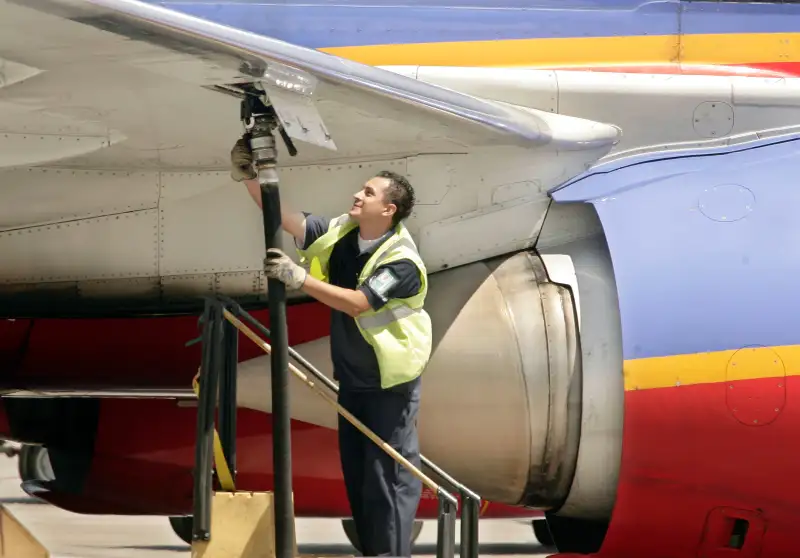 To some extent, travelers should be happy. Early 2016 has ushered in a series of impressive airfare sales—think: one-way domestic flights under $50—to go along with a downward trend for flight prices in general. According to data from Hopper.com, the average round trip in the U.S. runs $210 for January 2016, a three-year low, and down 14% compared to the same month a year ago.
Yet when travelers catch wind of how much the airlines have been saving on fuel lately, they have good reason to be upset—because their savings on airfare is a pittance compared to the profits airlines are reaping thanks to phenomenally cheap fuel costs.
This week, Delta reported a $980 million profit for the fourth quarter of 2015, as well as $4.5 billion in profits for the year as a whole. The year represented "a record for Delta on all fronts," Delta CEO Richard Anderson said in a statement.
The profits came largely on the back of low fuel prices. During the fourth quarter, Delta's operating revenues actually decreased 2%. Yet fuel costs were so low that the carrier took in record profits anyway. The profits-via-cheap-fuel equation is likely to work in Delta's favor even more in 2016, as the airline anticipates fuel-related savings of up to $3 billion this year.
The story is similar for Southwest Airlines, which recorded a record-high fourth-quarter profit of $536 million "as fuel costs fell by nearly one-third and offset lower fares and rising labor costs," the Dallas Morning News reported. Southwest cut its fuel bill by 32% last year, and it too anticipates bigger savings in 2016—paying only $1.70 per gallon during the first quarter, compared to $2 for the same period in 2015.
While revenues were down slightly in the fourth quarter for United Airlines, it too saw handsome profits of $823 million largely due to cheap fuel. The airline's fuel bill fell 36% compared to a year earlier, a savings of $912 million. American Airlines will announce its fourth quarter and 2015 results at the end of January, but in all likelihood the story will be similar to its peers. The airline reported record-high profits for earlier periods of 2015, after all, with fuel costs dropping 43.5% during the third quarter, for instance.
Oh, and it's worth mentioning that just six U.S. airlines took in $18 billion in fees from passengers in 2015, an increase of 19% from 2014 and an astonishing 163% compared to 2010.
Summing up the feelings of many frustrated, beaten-down travelers, Charlie Leocha, chairman of the consumer-advocacy group Travelers United, told USA Today recently, "While consumers are getting less, the airlines continue to see their profits soar."