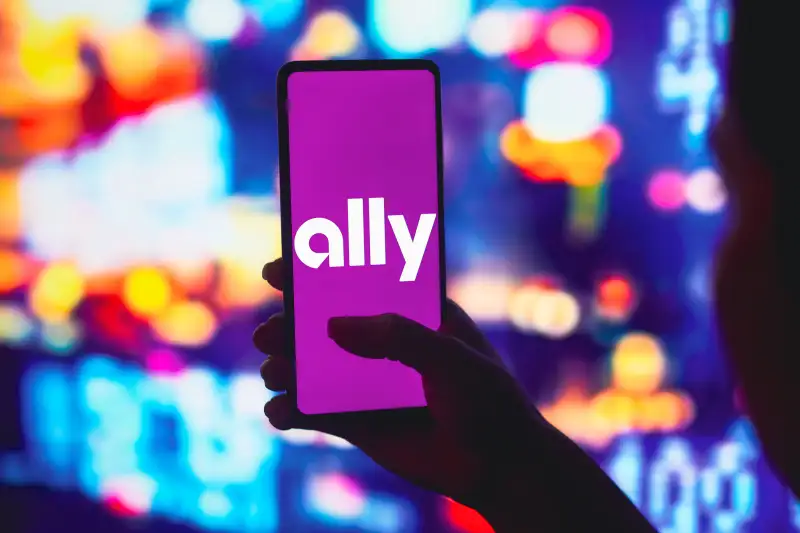 Getty Images; SOPA Images/LightRocket
Best for savings accounts
If you want a bank that provides a variety of benefits and a high-yield savings account to grow your money faster, Ally Bank may be an option for you.
Listed among Money's best savings accounts, Ally's savings account offers high interest, no monthly maintenance fees or minimum balance. It also has a user-friendly mobile banking interface and extensive fee-free ATM access.
This in-depth review covers Ally's pros and cons, service offerings, pricing and other key features to help you determine if it is the best savings account for you.
Ally Bank pros and cons
Pros
Offers high interest rates on savings accounts
No monthly maintenance fees or minimum balance
User-friendly mobile banking interface
Extensive fee-free ATM access
Cons
Doesn't have physical branches
Doesn't accept cash deposits
Pros explained
There are many benefits to opening a bank account with Ally.
Offers high interest rates on savings accounts
Ally Bank offers competitive interest rates, making it a contender as one of the best high-yield savings accounts.
No monthly maintenance fees or minimum balance
Traditional brick-and-mortar banks often require customers to maintain a minimum balance in their savings accounts or charge monthly maintenance fees. With Ally Bank, however, you can start saving any amount and not worry about extra fees.
User-friendly mobile banking interface
Ally's user-friendly mobile banking interface allows you to manage your accounts and monitor savings progress on the go. You can easily make deposits, pay bills, find nearby ATMs, invest in stocks and designate your savings into unique buckets that help you visualize how you'll save or spend your money.
The app is available for iOS and Android, and it's easy to navigate, with a clean and intuitive design. Plus, it's secured with advanced encryption and multi-factor authentication to ensure your account and personal information are safe.
Extensive fee-free ATM access
Ally Bank's savings accounts offer extensive fee-free ATM access. You can withdraw cash from thousands of ATMs nationwide without incurring additional fees.
Many traditional banks charge fees for withdrawing cash, which can add up quickly and eat into your savings. With Ally Bank, however, you can withdraw cash from any Allpoint® ATM in the U.S. for free.
Ally Bank also offers reimbursement for fees charged by other ATM operators, up to $10 per statement cycle.
Cons explained
While there are many benefits to having a savings account with Ally, there are also some downsides to be aware of.
Doesn't have physical branches
One potential drawback of choosing Ally Bank for your savings account is the lack of physical branches. This can be a significant disadvantage for those who prefer to do their banking in person. Additionally, not having physical branches means receiving assistance with complex transactions may be more difficult.
Doesn't accept cash deposits
Another main downside of Ally Bank's savings account is the inability to deposit cash. This can be a disadvantage if you rely on cash as a primary transaction method.
Without the ability to deposit cash, you are limited to online or electronic funding methods for your account.
It can also mean that people who rely on cash for their everyday, small businesses or freelance workers might find it difficult to manage their funds with Ally bank.
Ally Bank offerings
Here are some of the top account types available with Ally.
Interest Checking Account
As of Mayt 2023, Ally Bank offers a higher interest for their best online checking account compared to other banks.
This can be especially beneficial if you keep a larger balance. The higher interest rate can also help you to grow your savings more quickly over time, even if you're not making regular contributions to the account.
Online savings account
Ally's online savings accounts also offer higher yields than most providers and doesn't charge fees for monthly maintenance, overdraft items, standard or expedited Automated Clearing House (ACH) transfers, incoming wires or cashier's checks.
The online portal and mobile apps are easy to use and offer a variety of features that will allow you to save effectively and make operations. For example, you can create up to 10 "buckets" where you can separate your money depending on your goals. You can create a bucket for vacations, emergencies, college funds and more, helping you visualize your savings for each goal.
Other useful features of the online savings account include the boosters. Boosters are a collection of savings optimizers, such as recurring transfers and roundups. The latter rounds your spending to the nearest dollar and transfers that money from your checking to your savings account.
Finally, the online savings account also has the benefit of free cash withdrawals from thousands of ATMs and up to $10 of reimbursement.
High-yield certificate of deposit
As of May 2023, certificates of deposit (CDs) at Ally also have a higher yield than other banks. Ally's two other CD options(Raise Your Rate CDs and No Penalty CDs) are part of why it ended up on our list of the best CD rates
Raise Your Rate CDs allow you to raise your rate if Ally's interests go up , whereas No Penalty CDs allow you to withdraw any amount of money before the maturity date without penalties.However, the High-Yield CDs offer out of the three options.
Plus, Ally Bank customers get 0.05% Loyalty Reward when they renew their CDs
Money market account
Ally's money market accounts offer a competitive APY. This makes it a great option for customers wanting to earn more interest on their savings without tying them up for a certain term.
Ally Bank's money market account also allows you to easily deposit checks remotely. All you have to do is take a picture of the checks with your smartphone. Then, the funds will get automatically transferred to your account.
Money market accounts also have free cash withdrawals from authorized ATMs.
Ally Bank pricing
Most Ally Bank accounts offer low-cost pricing, making it a choice among the best online banks.
Ally Bank's checking, money market and online savings accounts don't charge fees for wire transfers, overdraft items, cashier's checks, withdraws from Allpoint ATMs or maintenance. Plus, there are no minimum balance requirements. This makes all of Ally's accounts a great option to save while earning a high APY.
Some of the fees that the bank charges are for expedited delivery ($15), outgoing domestic wires ($20) and account research ($25/hour).
Ally Bank financial stability
Ally Financial has a BBB- rating with Fitch Ratings including its Long-Term Issuer Default Rating (IDR). Essentially, an IDR is meant to assess vulnerability to default on financial obligations. Ally's rating of BBB- (the highest rating being AAA) indicates good credit quality, meaning that the risk of defaulting is relatively low.
Ally Bank accessibility
As a fully online bank, Ally does not have physical branches. However, there are various ways in which you can reach the Ally Bank support team to help with your needs.
Availability
Ally Bank's robust online and mobile banking platform makes it easy to manage your accounts and transactions from anywhere. The bank also provides 24/7 customer support to help with any questions or issues that may arise.
Contact information
Ally Bank provides multiple forms of customer support. Ally Bank's customer service line is available 24/7 and can be reached by calling 1-877-247-2559. They also offer online chat support on their website, allowing you to quickly and easily connect with a representative.
You can also reach out through email or by mailing a letter to their corporate office. Ally also has a robust and helpful FAQ section on its website that addresses common customer queries.
User experience
Ally offers a user-friendly and seamless customer experience. Its website and mobile application make it easy to access your accounts and manage your finances while its banking platform offers a variety of features, such as account management, mobile check deposit, bill pay and account transfer.
The mobile application is available for both iOS and Android devices.
Ally Bank customer satisfaction
Third-party reviewers generally give Ally Bank a positive review, with some publications even giving Ally Bank 5 out of 5 stars.
Meanwhile, the bank has mixed reviews on various user review sites ranging from 3 to 3.8 out of 5 stars.
Ally Bank FAQ
How can I fund an Ally Bank account?
You can fund your Ally Bank account through online transfers, direct deposits, wire transfers, remote checks and mail. However, you can't fund your account with cash.
Is Ally Bank an FDIC-insured bank?
Ally Bank is a member of the FDIC, meaning all deposits with the bank are insured up to the maximum allowed by law, which is currently $250,000 per depositor, per FDIC-insured bank, per account type.
How do I open an account with Ally Bank?
To open an Ally Bank account, you must provide a social security or tax identification number, street address, legal name, birth date and more information. Then, you can make a deposit into your account. There is no minimum deposit requirement for all accounts.
How we evaluated Ally Bank
We analyzed multiple factors to evaluate Ally Bank's savings accounts and compared them to other banks. Including APYs, account requirements, product offerings, customer support, user reviews and third-party reviews.
Summary of Money's Ally Bank review
Ally Bank offers high-interest savings accounts with no monthly maintenance fees or minimum balance requirements, a user-friendly mobile banking interface and extensive fee-free ATM access.
With the mobile banking app, Ally Bank gives you the flexibility and control you need to save smarter and reach your goals faster and more securely.