Controversial Noah's Ark Amusement Park Opens This Week in Kentucky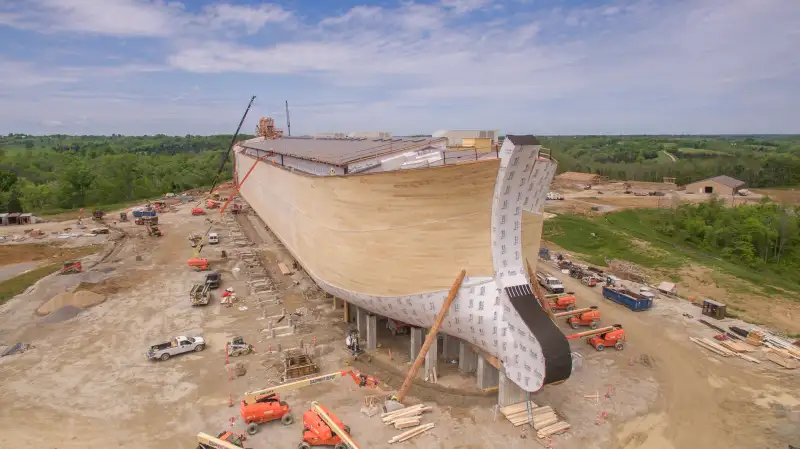 Courtesy of Ark Encounter
A new amusement park featuring a gigantic wooden boat designed to be a "life-sized" replica of the ship the Biblical patriarch Noah built to save his family and other land-dwelling animals from a worldwide flood that killed everything else on earth is set to open this week in Kentucky.
Opening July 7, Ark Encounter will include a zoo, a restaurant and a zip line tour, but the park's main attraction is its 510-foot-long, 85-foot-wide, 51-foot tall "Noah's Ark," built, according to the park's website, "out of a desire to share the gospel of Jesus Christ to millions of people across America and the world." Adult tickets to the park will cost $40.
The Ark Encounter project took six years to complete and has not been without controversy. The state of Kentucky originally offered Answers in Genesis—the company behind the park, as well as the nearby Creation Museum—an $18 million tax credit for the $92 million project, which was later rescinded due to the park's overt religious theme and requirement that employees sign a "statement of biblical faith," NPR reports. Answers in Genesis sued, winning a court judgement that allowed the company to retain the tax credit.
According to the Lexington Herald-Leader, the park will have parking spaces for 4,000 cars and the ark will be able to host 16,000 visitors daily. The ark is designed according to Biblical proportions such that it could hold the 16,000 animals creationists believe took shelter on the ark during the flood, says Answers in Genesis President Ken Ham (no provable relation to Ham, the cursed son of Noah).
CORRECTION: An earlier version of this story misstated the name of a Kentucky newspaper. It is the Lexington Herald-Leader.