Why Your Bank Account Balance Is (Probably) the Lowest It's Been in 3 Years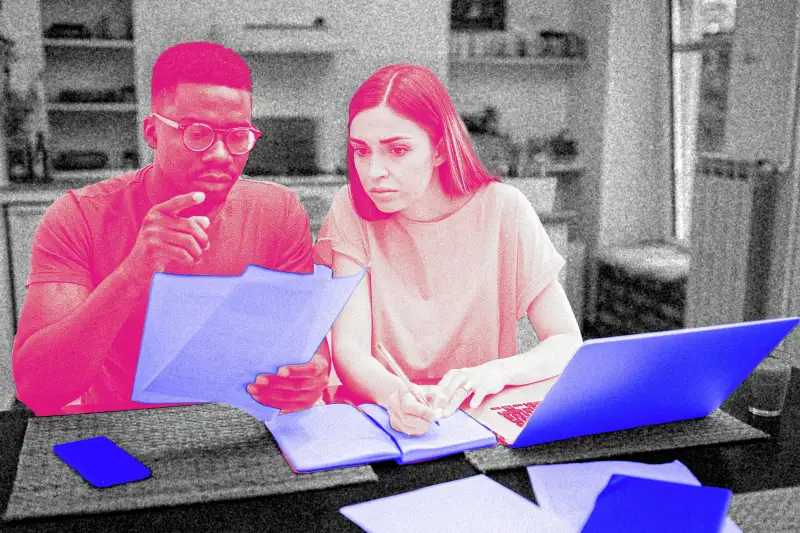 If you've noticed your bank account becoming a bit lighter lately, you're not alone: Many Americans' bank accounts are at their lowest in three years. And while post-pandemic "revenge spending" is certainly a real phenomenon, experts say the blame falls on another culprit.
Analysis from JPMorgan Chase released this week says that the end of pandemic stimulus checks and tax credits are starting to become evident in consumers' checking and savings accounts. This is exacerbated by the rise in inflation since spring 2020.
What the data says
Analysts at financial services company JPMorgan Chase have found that the three Economic Impact Payments, or stimulus checks, provided to help Americans stay afloat during the pandemic have run their course. Data shows that the average bank account balance as of March 2023 was just 10-15% elevated relative to the average bank account balance in 2019.
This might not sound like such bad news, since balances are still higher than they used to be. However, when you consider that account balances in the first half of 2022 were 20-30% elevated over those 2019 levels, the data shows that this cushion is deflating.
For reference, Americans in the top 25% of earners had an average balance of $10,700 in April 2022. Today, that balance has dropped to roughly $9,000. For the bottom 25% of earners, balances have dropped from $1,400 to about $1,300.
This dip in balance elevation is the lowest recorded by the company since April 2020.
Power of pandemic stimulus wanes
What's going on? Well, JPMorgan Chase argues with its data that the decline comes as a result of pandemic stimulus efforts fading away.
The three COVID-19 stimulus checks correlate with three distinct spikes in American bank balances across all income quartiles. So too does the expanded child tax credit period from 2021, when many American households received larger-than-normal payments to help them care for dependents. Since the end of these financial stimuli, JPMorgan Chase notes a flattening of bank account elevation.
The report also chronicles the way this has affected Americans across ethnicity and race.
It finds that Black and Hispanic households were among the biggest beneficiaries of these COVID-era stimulus programs; while their median account balances averaged lower than those for white and Asian households pre-pandemic, the percent changes in median balance for Black and Hispanic Americans were higher. And while the stimulus checks and child tax credit helped narrow the wealth gap between white Americans and people of color, the end of these programs saw Black and Hispanic consumers' balance elevations taper off faster.
We can't forget inflation, either. The analysis was adjusted using Consumer Price Index (CPI) data to account for inflation and show real cash price trends. So while it might not be reflected in the report's figures, the company attributed some of the flattening-balance phenomenon to inflation, too.
More from Money:
Rejection Rates for Credit Cards, Auto Loans and More Hit Historically High Levels
7 Ways to Improve Your Credit Score Right Now
The IRS Is Finally Cracking Down on Wealthy Taxpayers Skirting the Law
Rates are subject to change. All information provided here is accurate as of the publish date.