You Can Stay in a Real-Life Barbie Dreamhouse for $60 a Night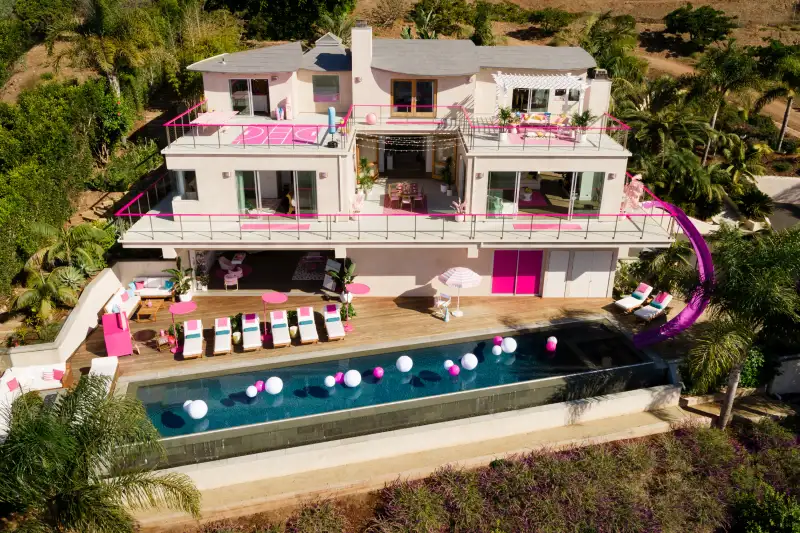 Every kid's dream of staying over in Barbie's iconic Malibu Dreamhouse just became a reality. But only for a few lucky people, and only for a couple of nights.
The real-life Barbie Dreamhouse — a massive pink-accented mansion overlooking the Pacific Ocean in Malibu, California — was just added to Airbnb for a one-time, two-night stay, at an extremely reasonable rate of only $60 a night. Barbie is the owner, and she's supposedly taking a trip to Austin, Texas, according to Mattel, so she's handing over the keys to one very lucky group of guests.
In honor of Barbie's 60th anniversary, Mattel and Airbnb have partnered to create the ultimate Barbie fan experience. Here's how the Barbie Dreamhouse competition will work: The first person to book the property when the listing officially opens at 11 a.m. PDT on Wednesday, October 23, will get to vacation in the Dream House for two nights with up to three friends. The reservation must take place from Sunday October 27 to Tuesday October 29.
The pretty, pink, oceanfront property boasts an infinity pool sans waterslide, an in-house movie theater, a meditation space, Barbie's office, a fully stocked kitchen, two bedrooms, and two bathrooms. Not to mention her fully stocked iconic closet with 60-years of fashion and styles from each of her careers.
While guests are welcome to explore Barbie's closet and all of the rooms, they are asked to treat the property like any other Airbnb spot and leave her belongings alone. Photos and memorabilia from the doll's history will be plastered throughout the space, too.
The Barbie Dreamhouse Airbnb experience also includes a makeover with celebrity stylist Jen Atkin, a fencing lesson with fencing medalist Ibtihaj Muhammad, a cooking lesson in the Dream House with famous Malibu chef Gina Clarke-Helm, and a private tour of the Columbia Memorial Space Center with pilot and aerospace engineer Jill Meyers.
On behalf of the guest, Airbnb is donating to the Barbie Dream Gap Project, which aims to inspire and empower young girls to believe in themselves through various resources working to close that gap.
In order to have a chance to stay in the real-life Barbie Dreamhouse, set your alarms and be totally ready come 11 a.m. PDT (2 p.m. EST) on October 23rd, because it's first-come, first-serve for this offering.
And if staying in the real-life Dreamhouse doesn't work out, fans can always imagine they're in the stunning property by playing in one of Barbie's toy homes. There are plenty of Barbie Dreamhouse options available for accommodating your favorite dolls, including the classic three-story, 70-piece Barbie dollhouse (on sale for $179 at Walmart), the Barbie Malibu House Doll Playset ($99.99 at Target), and the Amazon-exclusive $198 Barbie Dreamhouse.
We've included affiliate links into this article. Click here to learn what those are.