What the Girl Scouts Are Doing at the 2015 Consumer Electronics Show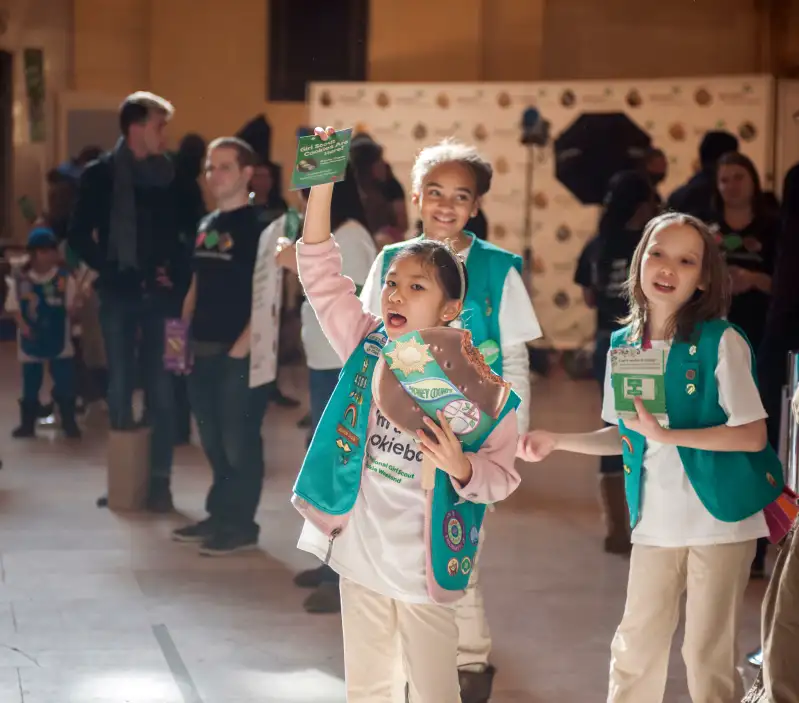 The Consumer Electronics Show, which kicks off in Las Vegas on January 6, is undeniably a big deal. The latest tech trends and exciting new gadgets aren't the only things featured at the show; a broad spectrum of celebrities ranging from 50 Cent to Dr. Phil will also make appearances. In 2014, more than 160,000 people attended the conference (including more than 50,000 exhibitors), and 20,000+ new products were introduced to the public. The 2015 version of the World's Largest Trade Show, as Bloomberg News put it, will feature two miles of floor space, and attendance should again surpass the total number of hotel rooms available in Las Vegas.
This year's list of exhibitors at the CES is 125 pages long, and includes 32 separate entries alone that start with name Guangzhou, the third-largest city in China. The event draws the attention of such a vast global audience—via the media, not just in terms of actual attendance—that many organizations with seemingly nothing to do with tech and electronics feel compelled to run booths alongside, you know, actual electronics companies. Here are three surprising examples.
The Girl Scouts of the USA
This one makes more sense than you might at first think. It was recently announced that Girl Scout cookies will soon be available for sale online for the first time, and the organization is attending the 2015 Consumer Electronics Show to showcase Digital Cookie, the new program that will enable girls to sell cookies online while learning about business and tech. "Digital Cookie will introduce vital 21st-century lessons about online marketing, app usage, and ecommerce to more than one million excited Girl Scouts who will be in the driver's seat of their own Digital Cookie businesses," a Girl Scouts press release explains.
What's more, venturing into online sales and attending the CES are in line with the Girl Scouts' overarching push to keep up with the times. The organization has recently demonstrated an interest in trying to keep up with foodie trends. A gluten-free cookie was introduced in early 2014, and three new cookies go on sale in 2015: Toffee-tastic (a toffee butter cookie that's gluten-free), Trios (peanut butter and chocolate chip, also gluten-free), and Rah Rah Raisin (oatmeal raisin with chunks of Greek yogurt—which has been a hot food trend too).
Skechers
The "innovation" that Skechers is probably best known for is the "toning shoe," a product that supposedly helped wearers get in shape and lose weight simply by walking around in them. Those claims have since been shown to be unfounded, and in a settlement with the Federal Trade Commission Skechers agreed to issue refunds worth $40 million to customers who bought the Kardashian-endorsed sneakers.
So what's Skechers doing at the CES in 2015? The answer has nothing to do with more dubious ideas about how wearing a sneaker will tone your legs and butt. Instead, according to Gizmodo, Skechers will be showcasing kids' sneakers that are a "wearable version of Simon," the classic musical memory game. Called Game Kicks, the sneakers have colored buttons that light up and make sounds, and are meant to keep kids entertained while testing their memory. Mercifully for parents, there is a mute button so kids can play silently. They're expected to retail for $65 when they go on sale in early 2015.
AARP
For the second year in a row, the AARP (formerly the American Association of Retired Persons—now just AARP to include everyone 50 and older) has announced it will "unleash 50 tech-savvy seniors" to roam the CES in Las Vegas to test the latest tech and see just how practical and user-friendly (or not) the innovations are for older consumers. The seniors, who will wear AARP T-shirts featuring the hashtag #DisruptAging, will be sharing their thoughts and observations in a CES panel discussion.
The point, AARP senior vice president of thought leadership Jody Holtzman said in a press release, is that tech and electronics companies should be paying more attention to the needs of older Americans: "AARP is committed to showing the tech industry that people over 50+ make up a powerful longevity economy, representing 106 million people responsible for at least $7.1 trillion in annual economic activity, a group that successful businesses won't want to ignore."