CFPB Just Issued a New Rule That Would Protect Consumers From Predatory Fine Print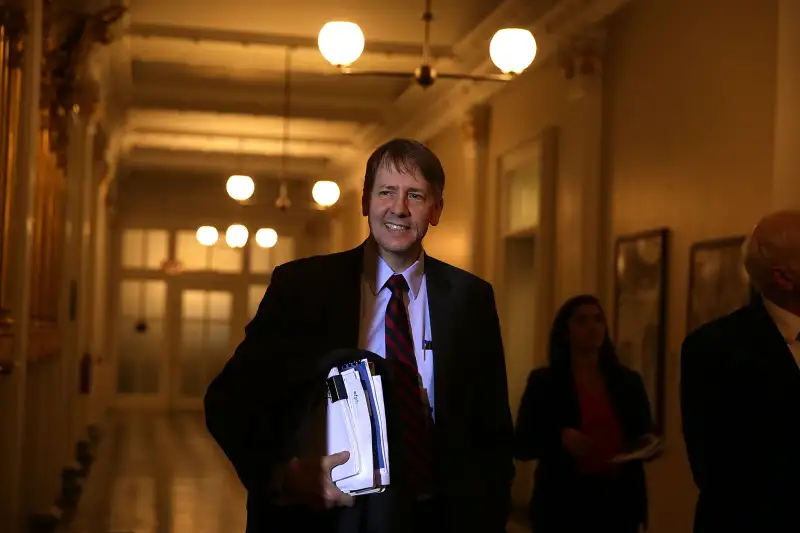 When the news came last September that Wells Fargo had opened millions of accounts without customers' authorization, it was one of the worst banking scandals in almost a decade. But for some, the shocking practices revealed in regulators' filings were no surprise. Going back years, both employees and customers had complained about Wells Fargo's bad behavior—including the practice of opening fraudulent accounts to meet severe sales quotas.
Yet Wells Fargo's use of mandatory arbitration agreements had largely barred both customers and employees from filing big lawsuits against the bank—which in turn could have illuminated the practices earlier on. Instead, any cases had to be brought as individual disputes and heard in private, in front of an arbitration panel. That kept many of the details shrouded in secrecy, according to consumer advocates.
On Monday, the Consumer Financial Protection Bureau released a long-awaited rule that advocates say will cut down on such misbehavior.
The new rule will ban a number of major financial institutions—a group that includes banks, credit card companies, student lenders, payday lenders, debt collectors, and credit reporting companies—from imposing any contractual fine print that would stop consumers from banning together to bring a class action lawsuit. Such clauses are commonplace in the financial industry: About three-fourths of banks analyzed by Pew Charitable Trusts, for instance, had mandatory arbitration agreements in place.
"Including these clauses in contracts allows companies to sidestep the judicial system, avoid big refunds, and continue to pursue profitable practices that may violate the law and harm large numbers of consumers," Richard Cordray, CFPB director, said Monday.
The new rule represents a big step forward, say consumer advocates. While you could previously file individual arbitration actions and possibly recoup your losses, such settlements wouldn't stop the same problems from affecting other people. Class actions, by contrast, tend to bring systemic issues to light and provide for compensation of large swaths of consumers at once—while ensuring a company does not repeat the bad behavior.
"Since most consumers cannot afford to take on a big corporation on their own, banks like Wells Fargo get away with ripping off large numbers of customers," says Amanda Werner, arbitration campaign manager with Americans for Financial Reform and Public Citizen. "This new rule will help prevent this kind of widespread fraud and ensure consumers can fight back."
The rule doesn't take effect immediately, and will only apply to contracts signed after March 2018. At that point, experts recommend checking any service contracts you have in place with financial companies like your bank and credit card.
"Think about re-opening a bank account or a credit card so that you have a new agreement in place," Werner says. "It's a pain, but when you get defrauded, you might be grateful that you did it."
In the meantime, be on the lookout for any changes to your current contract, as some companies may try to slip in new provisions. "We expect probably some companies will add arbitration clauses before this goes into effect to get grandfathered in," Werner says.
The new rule also comes with a couple of caveats.
For one thing, while it will allow class actions to proceed, financial companies can still require mandatory arbitration for individual claims.
The rule also doesn't apply to all financial firms. Companies regulated by the SEC or the Commodity Futures Trading Commission—for instance, brokerages and investment advisors—are not included in the scope of the rule, the CFPB says. (Mortgage lenders were already prohibited from using mandatory arbitration and the Military Lending Act bans such agreements in many forms of credit extended to service members and their families.)
"People still need to wary and need to be careful of what they're signing," says Lauren Saunders, associate director of National Consumer Law Center.
She recommends taking your business to companies who "don't abuse consumers" and have a clean history. You can actually search through consumer arbitration cases through LevelPlayingField.io, which was started by a consumer who filed an arbitration case against Citibank.
Indeed, the new rule's greatest long-term impact may be more transparency around the industry's bad actors.
In addition to restoring consumers' ability to bring class actions, the rule also establishes a plan for a new, CFPB-controlled database that will hold public information on arbitrations. Financial companies that use arbitration will have to submit their records, including initial complains and award information. The CFPB says it plans to publish information on its site starting in July 2019.