The 10 Cities With the Biggest Drops in Rent Prices Since Last Year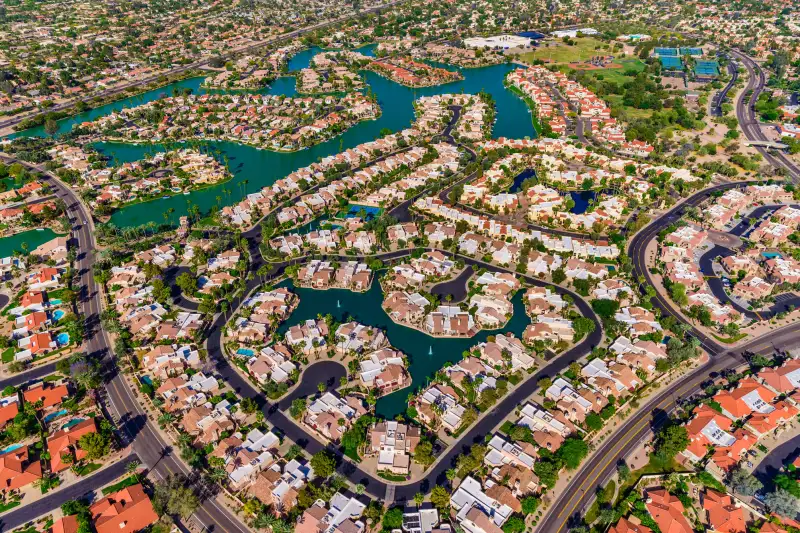 Rents dropped on an annual basis in May for the first time in three years, according to new analysis, particularly in Southern and Western cities.
A report from Realtor.com found that the median U.S. rent fell slightly in May compared to the same time last year, indicating that prices are indeed starting to come down from record-breaking highs. And while the market is still a long way from pre-pandemic norms, rent declines are expected to continue in a welcome development for inflation-weary renters.
Realtor.com analyzed its inventory for studio to two-bedroom apartments in the 50 largest U.S. cities and their surrounding areas. It found the median rent in those cities declined 0.5% year over year to $1,739 in May — a staggering $344 higher than 2019 levels, according to Realtor.com's May rental report, but down a bit from July 2022's peak of $1,879.
What the data says
Some regions are cooling off more than others. Southern and Western cities where prices skyrocketed due to pandemic-driven migration, like Phoenix, posted the biggest declines in rent. Newly constructed inventory is partially responsible for falling prices.
Renters shouldn't get too excited — even though rents are dropping, they're still high, and they're probably going to stay that way. With mortgage rates hovering around 6.8%, many would-be homebuyers are waiting on the sidelines, increasing rental demand. Realtor.com predicts that rents will only come down about 0.9% in 2023.
As Americans seek more affordable markets, rent prices in certain places, like the Midwest, are expected to see accelerated growth, according to Realtor.com.
Top 10 cities where rent is falling the most
These are the cities where median rents for studio to two-bedroom apartments declined the most between May 2022 and May 2023.
Las Vegas, Nevada ($1,531 median rent price)
Riverside, California ($2,302)
Phoenix, Arizona ($1,663)
Austin, Texas ($1,641)
Tampa, Florida ($1,793)
Charlotte, North Carolina ($1,576)
Atlanta, Georgia ($1,660)
Denver, Colorado ($1,969)
Seattle, Washington ($2,112)
Virginia Beach, Virginia ($1,436)
It's worth mentioning that homebuyers — not just renters — are also flocking to a few cities where rent is falling. Phoenix, Las Vegas and Tampa are attracting homebuyers from larger metropolitan areas like New York and Los Angeles, according to a report from real estate brokerage Redfin.
More from Money:
You Now Need a Six-Figure Salary to Afford Rent in These 11 Cities
Why Vacancies Are Up for Summer Rentals in Some Classic Beach Destinations
How to Find Affordable Homeowners Insurance in a Tough Market