Coinbase Crypto Wallet Review
Money is not a client of any investment adviser featured on this page. The information provided on this page is for educational purposes only and is not intended as investment advice. Money does not offer advisory services.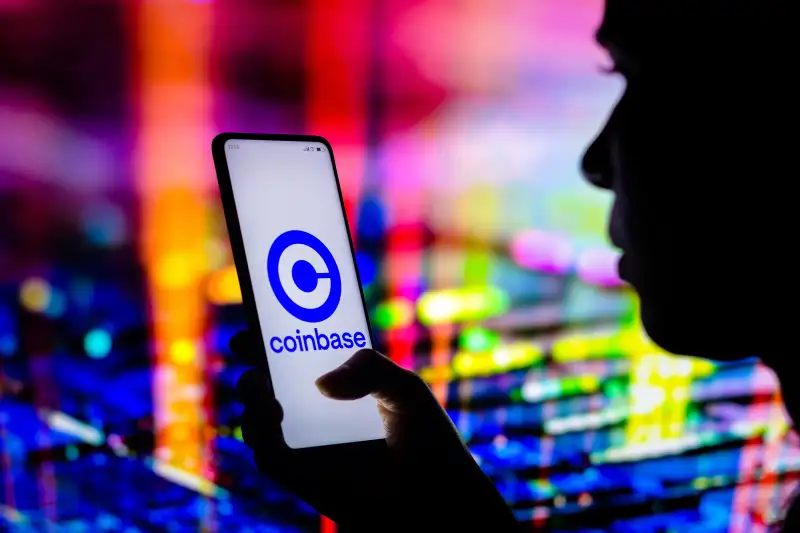 Best for beginners
Coinbase Wallet is one of the best crypto wallets for people just starting out with cryptocurrencies and digital assets. Coinbase's crypto wallet allows users to hold hundreds of thousands of coins, tokens, non-fungible tokens (NFTs) and other digital assets.
Coinbase also offers hours of learning modules to help complete beginners learn about cryptocurrencies and digital investments. Eligible users can earn learning rewards for completing online courses and training modules. These features make Coinbase one of the best crypto wallets for beginners.
Coinbase crypto wallet pros and cons
Pros
Supports a wide range of crypto assets
Simplified user interface and navigation
Two-factor authentication feature
Cons
Costly transaction fees
Not available on desktop
Pros explained
Supports a wide range of crypto assets
Even if you're just starting with crypto investing, you'll want to get a wallet that supports a wide range of crypto assets. Coinbase Wallet supports thousands of tokens across many popular networks, such as Ethereum, Bitcoin and Litecoin, as well as EVM-compatible chains and every ERC-20 token. These networks give you plenty of investment options as you explore the blockchain.
Simplified user interface and navigation
Learning about new digital assets like cryptocurrencies and NFTs can be challenging, especially if you also have to learn how to use a complex digital wallet. Coinbase Wallet's simple design makes navigating the app easy, so you can focus on more important things, like filling your wallet or understanding how crypto is taxed.
Two-factor authentication feature
Security features should be a top priority when deciding which crypto wallet to pick. Coinbase Wallet users can enable two-factor authentication (2FA) to enhance their account's security; any sign-in attempts from an unrecognized device and any attempts to send out crypto from your wallet will trigger the two-factor authentication.
To enable this security feature, you will first need to set up 2FA with a private security key, be it from an authenticator app like Duo or Google Authenticator or via SMS authentication.
Cons explained
Costly transaction fees
Coinbase offers ease and convenience in exchange for higher-than-average transaction fees. Coinbase will charge a fee on any transaction involving a wallet outside the Coinbase ecosystem, including transactions to fund your Coinbase crypto wallet and any withdrawals you make. This makes this product less competitive than other crypto wallets, which may offer a lower transaction fee or even free transactions.
Furthermore, Coinbase doesn't have a standardized pricing structure for its transaction fees. You will only be able to see a breakdown of the fees in the trade preview screen before confirming. This makes it challenging to objectively compare Coinbase's overall fees with other crypto wallet providers.
Not available on desktop
Coinbase Wallet is only available as an app for mobile phones and tablets. Although it does offer a Google Chrome extension, the full version of Coinbase Wallet is not available for desktop computers. You can still use the Chrome extension to manage your tokens, buy or transfer crypto and search digital assets, but you won't be able to create a new wallet — you must first use the Coinbase Wallet app to set one up.
Coinbase crypto wallet offerings
Coinbase offers crypto wallet products for individuals, businesses and developers.
Individuals
Coinbase Wallet is Coinbase's starter solution for individuals who are looking to trade digital assets for personal purposes. Opening a Coinbase Wallet account is free, allowing you to store cryptocurrencies, non-fungible tokens (NFTs) and cash without paying any fees. However, Coinbase charges a fee on every transaction outside the Coinbase platform, so you will have to pay if you want to buy or exchange digital assets with a non-Coinbase wallet.
Because it's a self-custody wallet, Coinbase Wallet users can store their private keys offline, giving them complete control over their digital assets. The Coinbase Wallet app supports thousands of coins and tokens, including popular cryptocurrencies like bitcoin and Ethereum. You can also use the Coinbase Wallet app to access decentralized applications (dApps) like DeFi, decentralized exchanges and more.
Businesses
Coinbase Commerce is a product designed for businesses that want to accept cryptocurrency payments. Like a personal crypto wallet, this product allows businesses of all sizes to accept over ten popular cryptocurrencies, including bitcoin, Ethereum and Tether.
Coinbase offers self-managed and Coinbase-managed Commerce accounts. Both accounts have a flat transaction fee of 1% and dedicated customer support. Self-managed accounts require businesses to convert currencies and manage private keys manually, while Coinbase-managed accounts handle that automatically.
Developers
Coinbase Wallet SDK is an integrated software bundle designed for dApp developers who want to connect their dApps to the Coinbase ecosystem. This allows Coinbase Wallet users to find and use your dApp, which is especially useful for decentralized finance (DeFi) apps. You can access the Coinbase Wallet SDK for free.
Coinbase crypto wallet pricing
Coinbase Wallet doesn't charge any fees for holding cash and supported cryptocurrencies or transferring primary balance crypto from one Coinbase Wallet to another. However, Coinbase does charge fees on all transactions involving non-Coinbase wallets and payment methods. This means you will have to pay a fee any time you want to buy crypto, NFTs or any other digital asset from a dApp or non-Coinbase wallet.
Coinbase doesn't have a standard pricing structure for non-Coinbase transactions. Instead, each fee is calculated at the time of the transaction and depends on factors like:
Your physical location
Payment method
Order size
Market conditions, including volatility and liquidity
You can review a detailed breakdown of the fees before you complete a transaction.
Coinbase also charges a fee for funding your crypto wallet with outside sources and withdrawing funds from your Coinbase Wallet to your bank account. Currently, you can use the following payment methods to fund your Coinbase Wallet:
Bank account (ACH)
Debit cards
PayPal
Apple Pay
Google Pay
Each funding method has a different fee depending on several factors. You can review the fee before you complete your transaction.
Coinbase crypto wallet financial stability
If you've been keeping up with the news, you probably wonder if Coinbase is financially stable. As of January 2023, Coinbase is not rated by AM Best or Demotech, two of the most reputable business credit rating agencies.
However, Coinbase is one of the largest global financial technology companies. With impressive stats like 108 million unique users, $101 billion in assets on the platform, and $159 billion traded every quarter, it's hard to imagine Coinbase would collapse due to financial issues any time soon.
It's also worth noting that Coinbase is not FDIC-insured. Because cryptocurrency is not currently recognized as legal tender, the Federal Deposit Insurance Corporation will not protect your digital assets if Coinbase goes under. However, all cash held in your Coinbase Wallet is maintained in pooled custodial accounts that are FDIC-insured. This means any funds you have in your Coinbase Wallet will be insured up to the FDIC coverage limit.
Coinbase crypto wallet accessibility
Coinbase Wallet is accessible in over 100 countries worldwide. Users can download the Coinbase Wallet app on their Apple or Android phones and tablets — the desktop version of the app is unavailable as of January 2023. If you run into any issues, you can contact Coinbase customer service 24/7 through email, live chat or by phone.
Availability
Coinbase operates in over 100 countries across North, Central and South America, Europe, Asia, Africa and the Middle East. If your country is supported, you can create a Coinbase Wallet account by downloading the app from the Apple App Store or the Google Play Store. You cannot use the Google Chrome Coinbase extension to create a new Coinbase Wallet account.
Contact information
Coinbase offers a comprehensive customer support system. You can contact a live Coinbase support agent via live chat from the contact page or by phone at +1 (888) 908-7930. You can also submit an email form to contact customer support if you prefer not to speak with a live agent.
Coinbase also offers a robust FAQ database with solutions to common problems and guides to troubleshooting basic issues.
User experience
We chose Coinbase Wallet as the best crypto wallet for beginners based on its stellar user experience. Its user-friendly platform enables even the least tech-savvy users to navigate this crypto wallet easily. And if you want to learn more about cryptocurrencies and digital assets, you can visit Coinbase Learn to access educational videos about crypto investments, digital assets and blockchains.
Coinbase crypto wallet customer satisfaction
Coinbase has an unsatisfactory track record of negative customer reviews. As of January 2023, Coinbase's average customer review rating on its Better Business Bureau (BBB) profile was 1.08 out of 5 stars.
Over 3,736 customer complaints have been closed in the past three years, with the most common complaints involving account access issues. Coinbase is rated F by the BBB and does not have BBB accreditation.
Coinbase crypto wallet FAQ
How does Coinbase Wallet work?
Coinbase Wallet works similarlyto a checking account but for cryptocurrencies and digital assets like NFTs. It allows users to buy, exchange and hold thousands of tokens, including popular crypto like bitcoin and Ethereum.
When you open a Coinbase Wallet account, you will be issued a public and private key. The public key is your Coinbase Wallet's account identification code, which allows other users to find your account and send you funds. The private key is a string of letters and numbers that works like a password, enabling you to access your funds safely.
What's the difference between Coinbase and Coinbase Wallet?
Coinbase is a financial technology company that offers a wide range of financial services and products. Coinbase Wallet is its cryptocurrency wallet service, which allows users to buy, trade and store digital assets like cryptocurrencies and NFTs. You can think of Coinbase as a bank and Coinbase Wallet as a type of checking account within that bank.
What security measures does Coinbase have in place?
Given the recent crypto scams plaguing the news, savvy consumers know that not every fintech company is trustworthy. Coinbase employs security measures like two-factor authentication and self-managed private keys to secure your digital assets.
By enabling two-factor authentication, you can add a layer of security to your account whenever a new sign-in is detected or a crypto transfer is initiated. Coinbase Wallet users can also self-manage their private keys, reducing the risk of compromised accounts during a data leak.
How we evaluated the Coinbase crypto wallet
We considered the following factors when evaluating Coinbase Wallet:
Range of crypto assets support
User interface and navigation
Security features
Pricing and transaction fees
Company's financial stability
Accessibility features
Customer satisfaction ratings
Summary of Money's Coinbase crypto wallet review
Coinbase Wallet is an excellent option for anyone just starting with the world of cryptocurrencies and digital assets. Its user-friendly interface allows for seamless navigation and easy access to your assets, Coinbase's NFT marketplace and thousands of dApps. Coinbase also offers a robust online learning platform with videos and training models to help beginners get up to speed with crypto investing.
On top of its wallet service, Coinbase offers other excellent products for digital asset investment beginners. Its crypto exchange boasts a beautiful and straightforward interface to help you navigate the world of blockchains, making Coinbase one of the best crypto exchanges out there. Moreover, its crypto-staking product, Coinbase Earn, is one of the best crypto-staking platforms for absolute beginners.
However, Coinbase's lack of transparent pricing structure and desktop app makes it a less appealing option for more advanced traders. Coinbase also has a poor average customer rating, with many clients citing problems accessing their accounts. Remember to consider all of your options before you begin investing in crypto.