92% of Americans Would Consider Delaying Dental Care Because of the Cost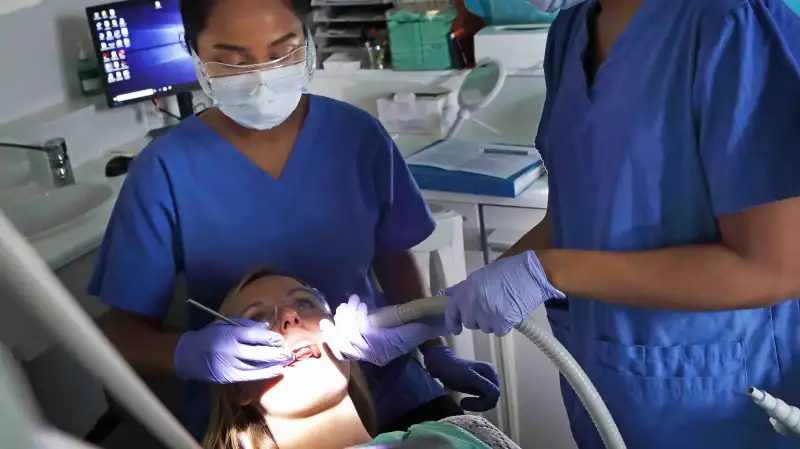 An overwhelming majority of Americans say they'd consider putting off dental care for financial reasons as costs for dental services continue to rise.
The October consumer price index report showed the cost of dental services is up 4.9% in the past year. With treatment becoming more expensive, 92% of Americans reported that they might hold off on care due to cost, according to a study by financial services company Synchrony.
Delaying dental care can lead to worse teeth problems, requiring more expensive procedures, but the costs of certain treatments are apparently too high to bear for many people.
"Rising out of pocket costs are preventing patients from accessing the care they want and need," Bete Johnson, senior vice president and general manager of dental at Synchrony, said in the report.
Americans delay dental care as costs rise
The survey found that many people would even hold off on treatment for more serious matters. Asked about emergency dental care, 83% of respondents still said they would consider putting off treatment due to cost.
Part of the issue is that dental care is expensive, but the report says that Americans also tend to neglect budgeting for it. According to Synchrony, 3 out of 4 people do not save for dental care, and among those who do the average amount saved is just $648, less than the price of many common procedures. A root canal, for example, can cost more than $1,000.
According to the American Dental Association Health Policy Institute, the cost of dental services is rising due to price increases for supplies and materials, higher lab fees and increased labor costs.
Is dental insurance worth it?
Unsurprisingly, people with dental insurance are much more likely to visit the dentist. The survey found that 78% of insured consumers visited the dentist in the last year, while the share was only 55% for those without insurance.
Premiums for individual dental plans range from $17 to $96, and annual deductibles are typically $50 per person. You also often have to pay coinsurance, a percentage of the cost of treatment even after you have met your deductible.
When you factor in deductibles, copayments and premiums, dental treatment can be expensive even if you have insurance, and it's not always clear if coverage is worth it.
So it's important to look closely at what is and isn't covered before signing up for a dental insurance plan.
Dental insurance generally provides coverage for checkups, routine cleanings and work including fillings, implants and crowns — though you'll have to pay some money out of pocket for many of these services. Pre-existing conditions and cosmetic dentistry services like professional whitening are typically not covered by dental insurance.
More from Money:
7 Best Dental Insurance Plans of 2023
Health Insurance Premiums Are Set to Surge in 2024
Workers Lose $3 Billion a Year in FSA Contributions (and Employers Get to Keep It)