Here's Why You Should (Maybe) Give Your Employees Free Snacks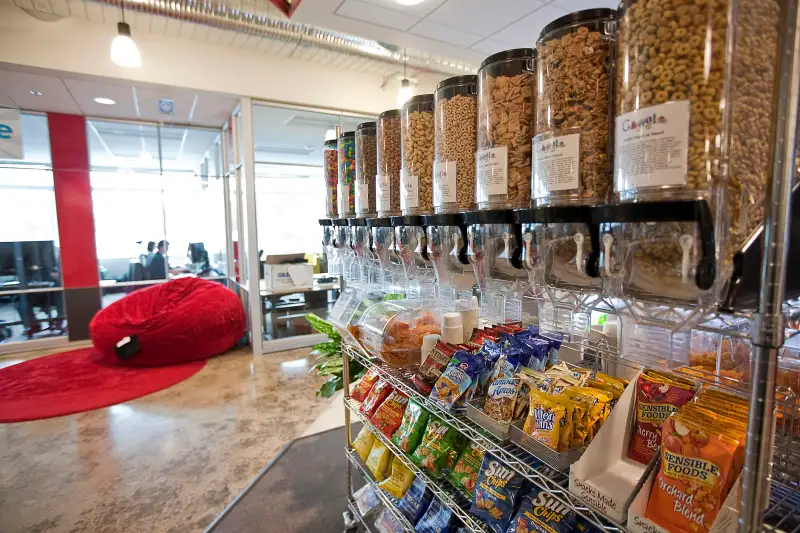 Stephen Brashear—Getty Images
Here's a no-brainer statistic that's still sort of fun: full-time employees are more than 10% more likely to dig their jobs when their workplaces provide access to free food.
That's according to a new survey of more than 1,000 full-time office workers conducted by grocery-delivery service Peapod (which, of course, would probably like your company to order some groceries.) USA Today reports: While only 56% of employees in workplaces without access to free food reported being "very" or "extremely" happy in the office, that number was about 67% in offices with free snacks (which is only about 16% of offices overall). Think places like Facebook, Pinterest, or Google—where the snacks are so abundant employees have been rumored to gain a "Google 15" upon joining the company.
It's millennials who seem to be most charmed by their employers rolling out the red carpet of comestibles—and they're also the age group most likely to pine for employers who offer more or better options. And that's a pining employers shouldn't underestimate: 48% of all survey respondents said that they would consider food perks in the decision-making stage of a job search.
Then again, it may not be all about the food so much as what it suggests about broader company culture. After all, extravagant food offerings in the workplace are commonly associated with creative class jobs in startups, or fun-park office compounds à la Silicon Valley. I'd be "extremely" happy to have a slide in my office, too. Or my bosses can skip the food and slides and pay a Facebook salary.