How Frances McDormand's Oscar Speech 'Super-Charged' a Significant Change in Hollywood Over the Last Year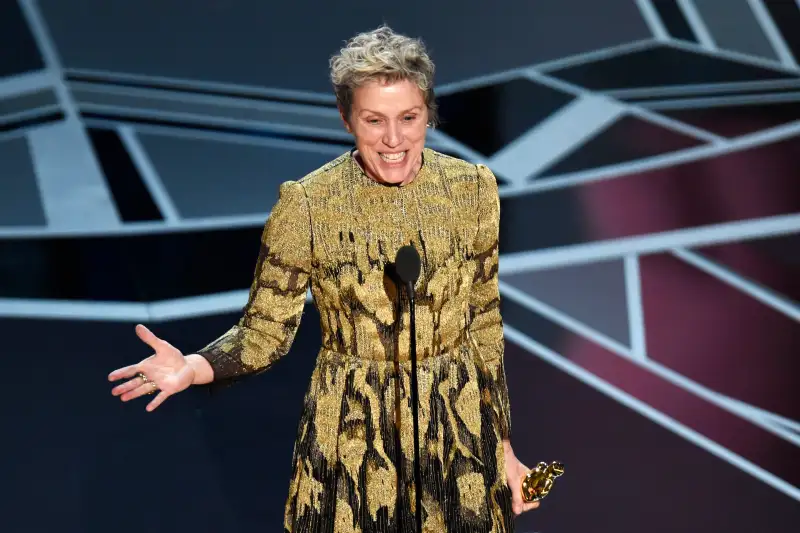 Chris Pizzello—Invision/AP/REX/Shutterstock
When Frances McDormand accepted her second Oscar last year, she ended her spirited speech with two words: inclusion rider.
The term, unfamiliar to most viewers who tuned into the Academy Awards in 2018, refers to a contractual stipulation that actors or content creators can require for a project to better ensure representation across the board for women and under-represented groups in Hollywood.
But McDormand's speech went viral, with searches for the term spiking on Google by 5,000% that night. While inclusion riders were a relatively unknown concept a year ago, the idea was floated in a 2014 op-ed in The Hollywood Reporter by Stacy Smith, the founder of the Annenberg Inclusion Initiative which tracks inequity in Hollywood. "What if A-list actors amended every contract with an equity rider?" Smith wrote at the time.
The idea became more of a reality when she partnered with Fanshen Cox DiGiovanni, an actor, producer, and head of strategic outreach at Pearl Street Films, and Kalpana Kotagal, a partner at Cohen Milstein who specializes in civil rights and employment law. They co-authored a template of a contract addendum that requires production teams to interview at least one woman and at least one person of any other underrepresented group for roles on and off the camera. It's an effort to "create a stronger pipeline, and will ultimately give rise to greater diversity" on- and off-screen, the co-authors say.
McDormand's speech brought their work into primetime, they say, and ignited change. "It super-charged the adoption of this strategy," Kotagal tells Money.
Though there's no data that shows the prevalence of inclusion riders in contracts, in the last year, a slew of A-list celebrities has vowed to use them moving forward. In discussions with Warner Bros. for his adaptation of Just Mercy, Michael B. Jordan included an inclusion rider clause. That conversation spurred further discussions with WarnerMedia that led the company to create a diversity and inclusion policy of its own. (That policy will include an annual report, published publicly each year, to keep them accountable, a representative for Warner Bros. tells Money.)
Matt Damon and Ben Affleck vowed to adopt the inclusion rider policy with their production company Pearl Street Films, where DiGiovanni works alongside them. Brie Larson, Keira Knightley, and producer Paul Feig have adopted them as well, and Hala, a film produced, directed, and written by Minhal Baig and executive produced by Jada Pinkett Smith, used the inclusion rider policy, too. Ari Emanuel, co-CEO of William Morris Endeavor, has also pledged to use inclusion riders.
With high notoriety from McDormand's speech, DiGiovanni, one of the co-authors, tells Money it's important to keep the ball rolling.
"I appreciate the pressure to walk the walk," DiGiovanni, who works with Damon and Affleck at Pearl Street Films, says. "That pressure is important, and you have to live to these standards. No excuses."
By putting more women and underrepresented folks behind the camera or even in bit parts throughout a film, the inclusion rider better ensures these films represent the demographics of the area in which they take place and of everyday life, the authors say. In 2016, for example, 47 of the top 100 highest-grossing films "did not feature a single Black woman or girl speaking on screen," according to research from Smith, who has studied diversity and inclusion in Hollywood for years. (Smith was not available for an interview.) Sixty-six films had no Asian female characters, and 72 films featured no Latina women. The numbers are even worse for native and indigenous women, Middle Eastern women, and those with disabilities.
The inclusion rider has a very specific target — one that aims to chip away at the diversity issues that plague the industry. "If efforts to deepen diversity were so easy to accomplish, we wouldn't need an inclusion rider," Kotagal, the civil rights lawyer who co-authored the inclusion rider, says.
To be sure, greater attention to these issues may have had an impact already. In 2018, women served as the leads or co-leads in 40 of the top 100 films at the box office, according to Smith's research. That's an increase of 20 percentage points from 2007, when only 20 of those films featured female leads.
But similar progress hasn't been made in the director's chair. Just 4% of directors in the top 1,200 films at the box office each year have been women, according to Smith's research. In 2018, just 3.8% of directors were women, and the majority of women in these roles are white. There was an increase in black directors, however, with 16 black directors working on the top 100 films at the box office last year — an uptick from six in 2017.
Little progress for directors — perhaps best exemplified in Natalie Portman's quip about the all-male director nominees at the Golden Globes in 2018 — is why Smith is focusing on another movement for change in Hollywood. It's called the "4 Percent Challenge," an initiative Smith is launching with actress Tessa Thompson and TIME'S UP to improve diversity in the director's chair. Each actor or producer who commits to the challenge vows to work with at least one female director on a feature film within the next 18 months.
Indeed, the co-authors of the inclusion rider say this past year is just the beginning of a long path toward ensuring inclusion and equity in an industry that historically has fallen short of it. The inclusion rider, along with other initiatives, aren't going anywhere, DiGiovanni says.
"We're nowhere near where we need to be," she says. "There's so much more to be done. In a way, unfortunately, I have a feeling we're going to need it for quite a while."